polyloop
SD Gashapon Super Robot



member is offline









Joined: Jan 2010
Gender: Female


Posts: 5

Hello! :D
« Thread Started on Jan 9, 2010, 10:13pm »

---

O hai thar.

I drop by the alabang branch every now and then and so does my big bro who loves gunpla. You might have seen me in a convention as well.

I started collecting figs around December 08. Still waiting to get my hands on a Kaito nendoroid and maybe the other characters from the Revoltech Queens Blade series. So far, I only have Airi. Planning to get a Melona soon.
qb
Global Moderator







member is offline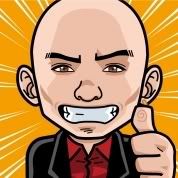 QB is good.





Joined: Jul 2006
Gender: Male


Posts: 7,190
Location: The Red Comet's Playground

Re: Hello! :D
« Reply #1 on Jan 16, 2010, 6:42am »

---

Hello polyloop and welcome to the GT Boards.

I drop by the Alabang branch quite often as well. Glad to see a new member here at the boards. Hope to see you posting pics of your collections soon. Enjoy!

---

Visit: My Blog
Visit: My Collection's Thread
kellyj994
SD Gashapon Super Robot



member is offline









Joined: Nov 2010
Gender: Female


Posts: 1

Re: Hello! :D
« Reply #2 on Nov 8, 2010, 4:41pm »

---


What's up everyone, I'm new to the forum and just wanted to say hey. Hopefully I posted this in the right section!


---
bujingyi201
SD Gashapon Super Robot



member is offline









Joined: Jun 2012
Gender: Male


Posts: 22

Re: Hello! :D
« Reply #3 on Jun 26, 2012, 5:31pm »

---

luxury gucci handbags A cheerful backyard barbeque
Very good time in regards to the several buddiesuse skewer, beer, chili lots of foodstuff, time to play outside so that you can barbeque! The weather may be sunny gucci outlet online, sun-drenched authentic gucci bags. Etc Weekend forced the entire family went along to this tank facet hiking barbeque. Once the stay to ready for any magnificent lunchtime has been.Nowadays is really a promise by using a little bar-b-q sets might be text message, plenty of for individual use Three luxury gucci handbags,Several, very convenient to carry, undertake is simple. I have to declare in regards to this ahead of time to get your bbq intended for co2, as opposed to selling price of the common as well as higher in price, yet , far too realistic very practical, the actual h2o and flooring towards the bottom, a little bit for the lighter weight, it is Rapidly fire receded gucci factory store, not smoke, it can be well-prepared meal shelf gucci factory outlet, plus Oh.Viewing a family chaotic for half an hour until the and also carbon ignition with, in that case great smoky, ugg come and go gucci bags outlet, I was privately acquire new music. And this time period gucci bags on sale, using qualified prolonged and also carbon bar-b-q authentic gucci handbags, your bar-b-que greater than Couple of hours, just 50 % of the as well as.
Janine Moochler