Post by cybernaut on Jul 7, 2012 23:44:09 GMT 8
Credit is due to Cybertron Philippines where this review first appeared.(RANT)
I'd like to get this out: Yes, these new Tf:G / FoC deluxe-class toys are freakin' small, almost 15% to 20% smaller, compared to releases in the same size class three to five years ago. Paint details are fewer and plastic quality has noticeably lessened as well, feeling much lighter and rougher compared to plastic of Transformer toys released 3 to four years back.

As for the engineering, admittedly, there are a lot of obvious corners cut across the line (simpler pieces, less parts, lower quality joint construction). I feel that part of the reason for the simpler designs across the line is due to negative reaction to the more complicated designs and transformation schemes of the TftM / RotF era, where most of the mainline stuff released proved to be too difficult to transform and play with for the casual customer, namely the parents and their children…



In the end, it's a really painful reality to accept, but yes, Transformers ARE getting more and more expensive nowadays, all the while shrinking in size and amount of materials as well. Bummer.
(END RANT)
Now on to the review…
Transformers: Fall of Cybertron Deluxe-class Shockwave
Part of the first wave of the 2012 TF: Generations line, this is Shockwave as he appears in the
War for Cybertron / Fall of Cybertron
(WfC / FoC) video gamefranchise. This figure was quite highly anticipated by fans, especially since the TF: Classics / Universe / Generations sub-line has yet to come out with an update for G1 Shockwave. While not a straight-up G1 update, Shockwave manages to pad out the small cast of toys of characters based on the aforementioned games.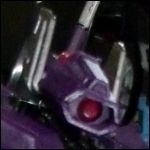 Shockwave
Allegiance: Decepticon
Function: Military Operations Commander(?)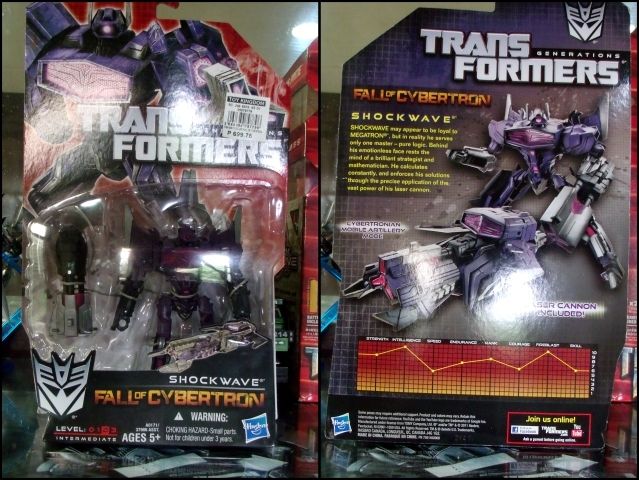 Shockwave, in package, front (left) and cardback (right).
Bio
Shockwave may appear loyal to Megatron, but in reality, he serves only one master – pure logic. Behind his emotionless face rests the mind of a brilliant strategist and mathematician. He calculates constantly, and enforces his solutions through the precise application of the vast power of his laser cannon.
Tech Specs
Strength: 8
Intelligence: 10
Speed: 5
Endurance: 7
Rank: 8
Courage: 6
Firepower: 10
Skill: 6
Hasbro seems to be taking a page from their Marvel Universe packaging, what with the large, eye-catching character artwork on one side of the card and big bold letters. What I don't like is that plastic bubble no longer has tabs to secure it to the card back.
And hey, the Tech Specs is in line graph format again!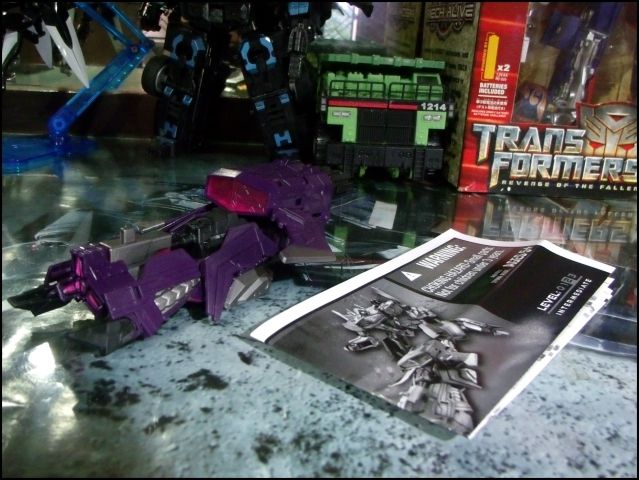 Out of Package, showing the contents.
Alternate Mode
Shockwave transforms into what the box calls a "Cybertronian Mobile Artillery", which, for all intents and purposes, can be taken to mean essentially an "alien flying gun"…

FoC Shockwave, Alternate mode (Artwork from FoC promotional material).
It's essentially brick, meaning to say it's a solid, pointy mass of deep, dark purple plastic, filled with oodles of sculpted techno-greebling, pink highlights and spiky bits (safety plastic, of course!) coming out of weird angles. There are no wheels, spring-loaded gimmicks or new colors revealed in this mode. Play value is limited to pretending it's a flying aircraft-gun-alien-whatever thing and zooming it around the room.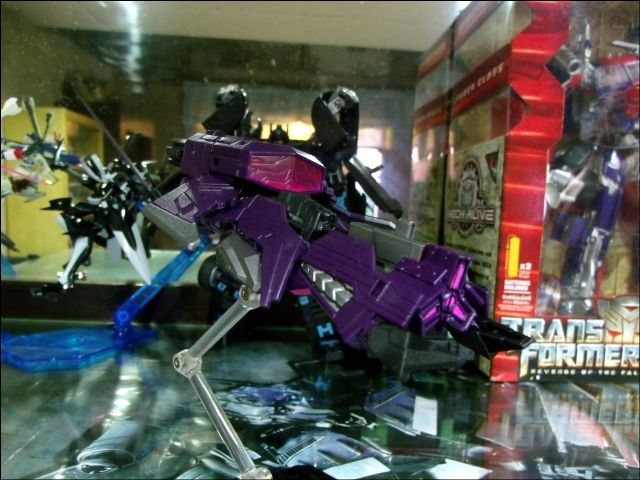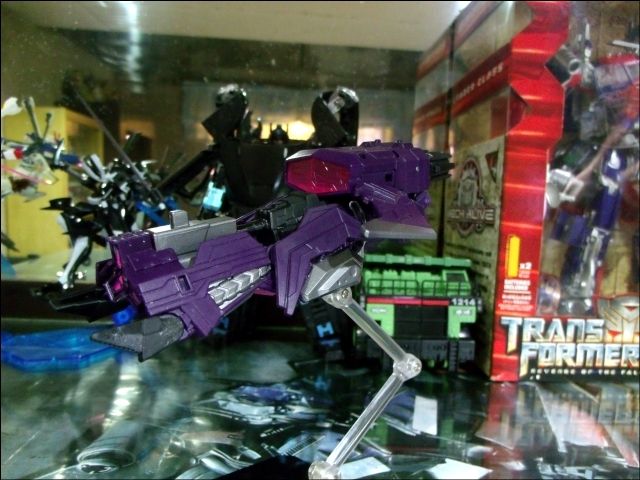 Front / side and Rear / side views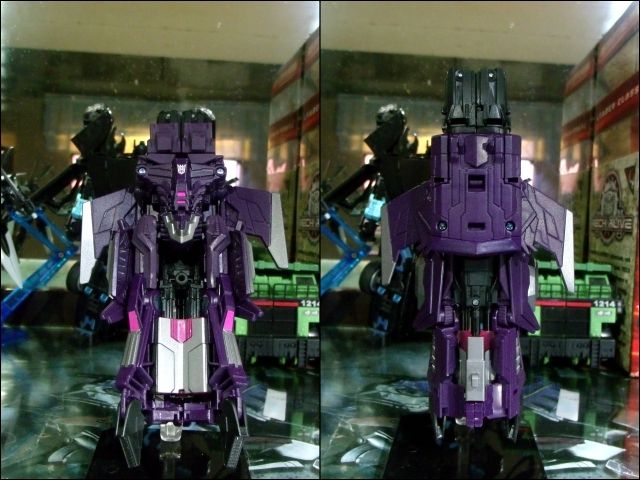 Shockwave, Alt mode Top (right) and bottom (left) views.
Robot Mode
After a very "flippy" transformation, you get Shockwave, as he appears in the Fall of Cybertron videogame. Suffice to say, it's a darker, edgier take on his G1 mode, but still retaining the skinny proportions. In other words, it's very recognizable as Transformers Shockwave.

He's rather quite dark and monotonous, with pink highlights brought out by pink paint striping and translucent pink plastic. One thing to note is that, like the previously released DotM Shockwave, he's got kick-ass lightpiping.
FoC Shockwave, Robot mode (Artwork from FoC promotional material).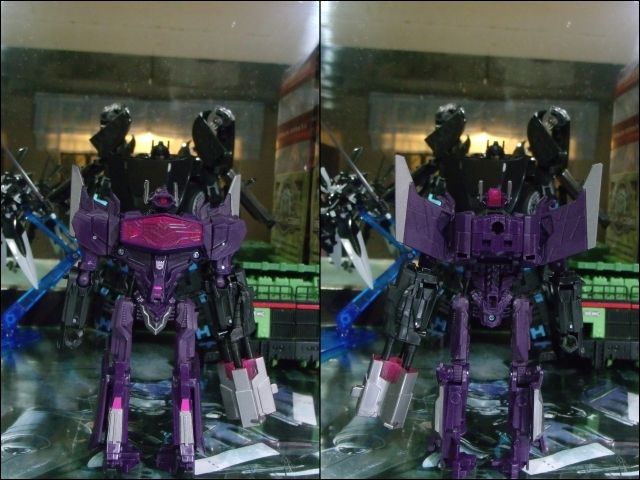 Robot mode, Front view (right) and Back view (Left)
Now we come to the my main issue with this toy: size. He's on the small side for a deluxe, and compared to most small deluxes, is also a very simple deluxe. A lot of the parts on Shockwave are composed of mainly single piece, hollowed out bits of plastic, of the style one can see on cheap, simplified knock-off quality toys. While the plastic isn't as soft as said knockoffs, it's of noticeable lightness compared to plastic used on Transformer toys from the last decade.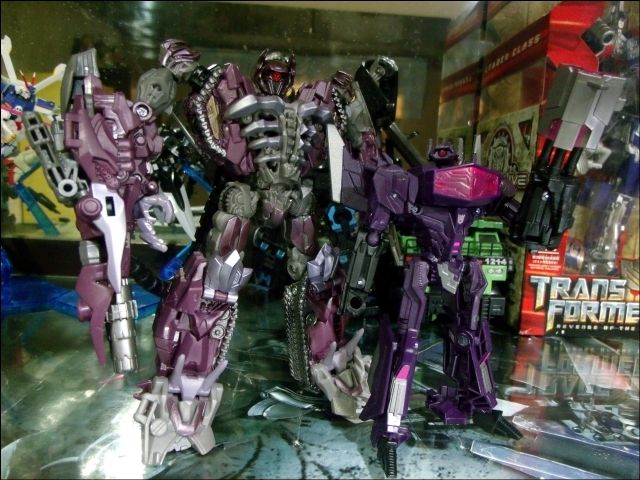 Robot mode, Comparison with DotM Voyager Shockwave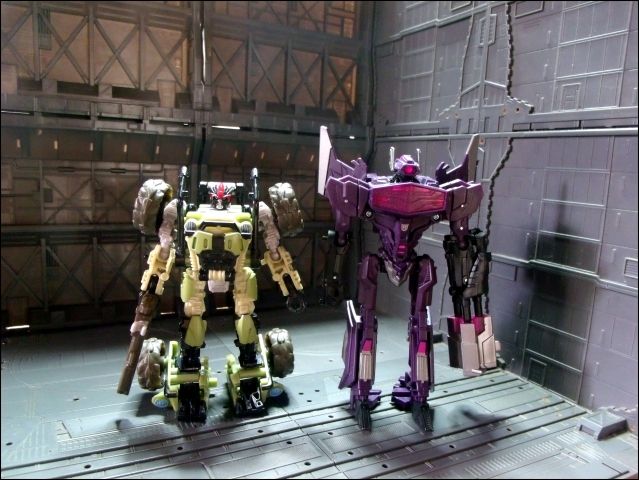 Robot mode, Comparison with DotM HA Basic Sandstorm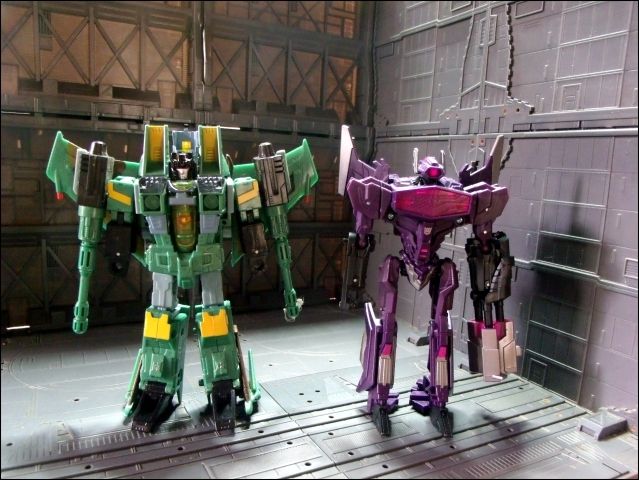 Robot mode, Comparison with TFU Acid Storm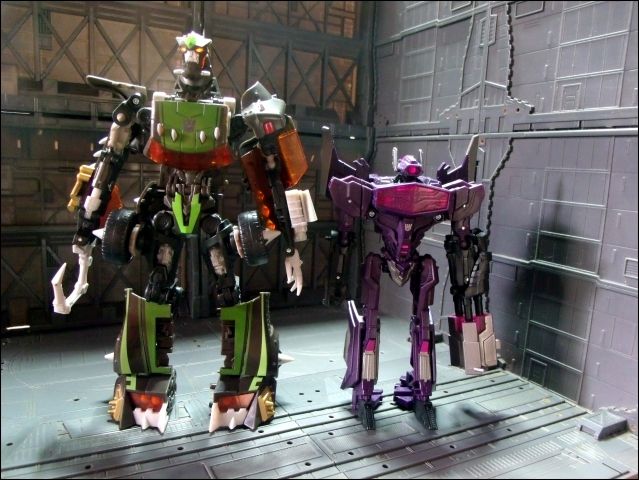 Robot mode, Comparison with RotF Deluxe Lockdown
It wouldn't be Shockwave without a gun arm, and in this regard, Shockwave does not disappoint (well, he does transform into an alien flying gun, so there..) The inner barrel of the "Mobile Artillery Mode" become Shockwaves weapon, which can be held as an arm-held weapon via a 5mm peg, or to please the rabid G1 fans, can be mounted on his forearm as a gun arm (you have to fold the hand in, first.). The gun can also store in his back via the 5mm peg. As a hidden bonus, the silver barrel can be removed to reveal a three sculpted barrels, probably to reflect a specific FoC game weapon.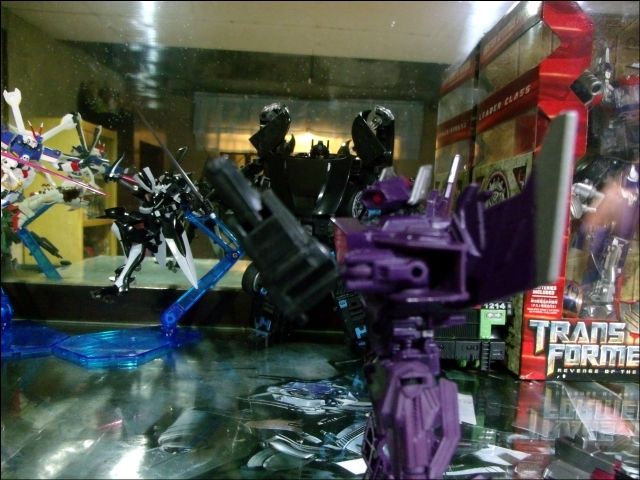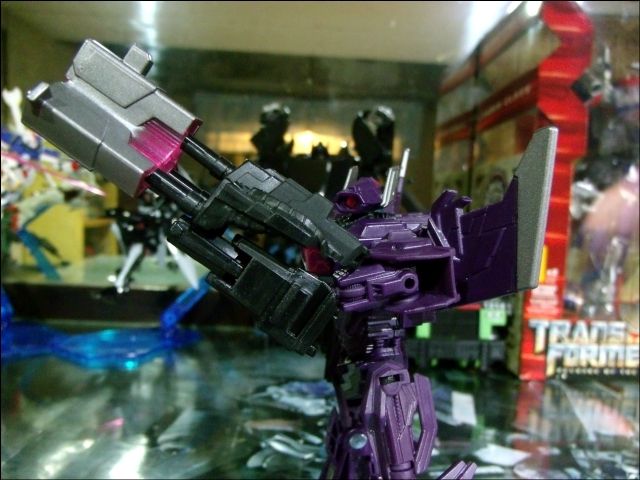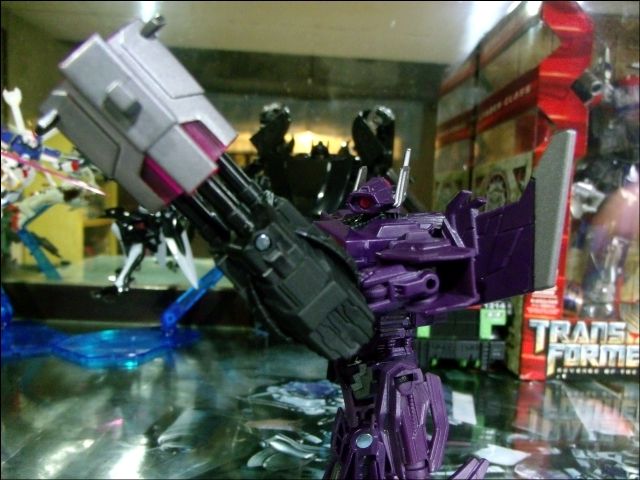 Shockwave, Forearm Detail (top), with weapon held by hand (middle), or attached as part of forearm (bottom).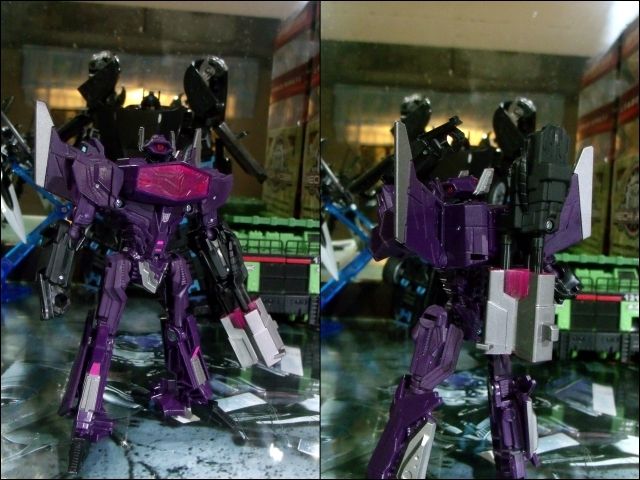 Shockwave, with cannon as part of forearm, ala G1 (left), back weapon storage (right).
Points of Articulation:
Neck: Swivel-neck, unlimited rotation.

Shoulders: Rotators on torso connection, unlimited rotation, pinned lateral hinge joint, sideways movement limited by shoulder armor.

Arms: Hinge joint below bicep, with ball jointed elbows. Wrists fold in due to transformation.

Torso: No torso or waist articulation.

Legs: Ball-jointed hips with thigh swivels above the knee. Hinged knees, feet fold in due to transformation.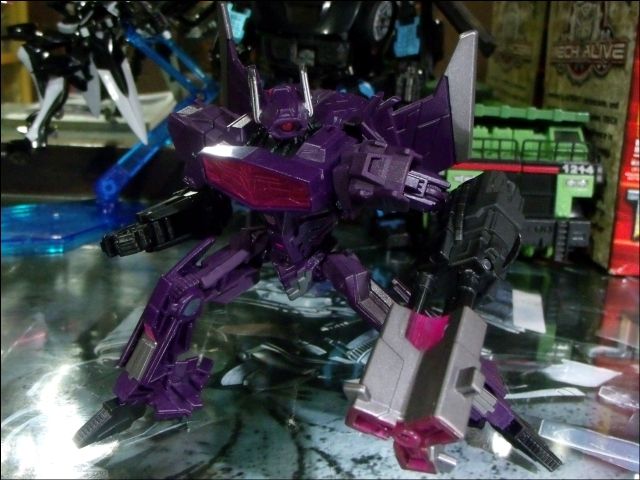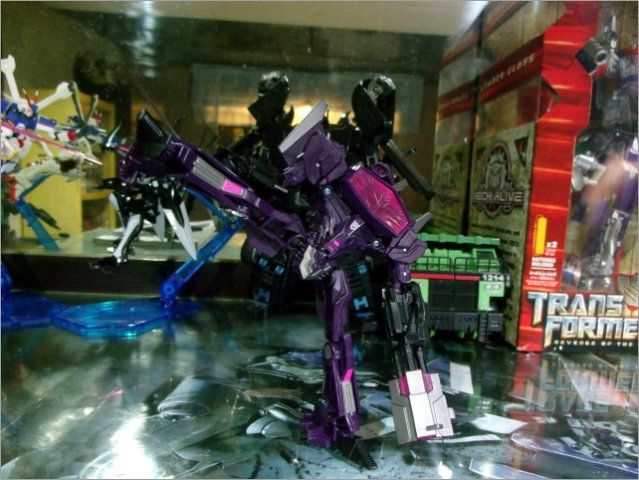 Shockwave, posed (top), Kick Test™ passed!(bottom).
Verdict
To be honest, I'm finding it hard to rate Shockwave.
As a character, he's not that iconic to me and I'm really not a fan of his trademark "logic is my only master…" quirk. He's not that popular a character to warrant an instant recognition reaction from casual buyers, compared to, say, Bumblebee or Optimus Prime, but for those familiar with the mythology, I think he'll be a sure purchase.
As a toy, Shockwave has a monotonous color scheme and has no outstanding features or gimmicks outside of his laser cannon and spring loaded, nicely light-piped head… While articulation and pose-ability are quite good and the amount sculpted detail is really nice, any menace that his character gives off is undermined by how tiny he is and a lot of his parts have visible hollow spaces reinforcing the "cheapness" factor of the toy.
In the end, diminishing toy standards aside, Shockwave's worth the purchase based on the strength of the character alone. While I do think the sculpt and articulation are solid overall, the niggling faults of the toy add up to make it a pretty much average figure at best.
Grade
out of
Jya na!