Post by cybernaut on Feb 24, 2013 14:57:13 GMT 8
Transformers Prime: Beast Hunters Deluxe-class Smokescreen

Smokescreen
Allegiance: Autobot
Function: Trickster (?)
Bio
This Autobot trickster strikes quickly, then disappears behind a black puff of magnetic smoke.
Technical Data
Strength: 5
Intelligence: 8
Speed: 8
Endurance: 6
Rank: 7
Courage: 9
Firepower: 7
Skill: 8
Electronet Launcher
- Generates a shadow field that makes Smokescreen very hard to see or target.
- Delivers powerful Bio-Electric shocks to enemies.
- Can also be used as an electrified axe.
Tales of the Beast Hunters Chapter 11
With Bumblebee injured and Bulkhead near total shutdown, it's up to Smokescreen to discover where the new and dangerous Predacons are coming from. Luckily, the Autobot trickster is also a capable spy, and soon he finds himself creeping through the shadows of a remote Decepticon lab. At first, he thinks the place is abandoned. Then he discovers a room lined with large glass chambers, each one filled with a strange, murky liquid, and the vague outline of a beastly machine. Satisfied that he's discovered exactly what Optimus Prime needs to know, he turns to leave, only to find Shockwave blocking his way. "You should not have come here," the Decepticon scientist says, raising his laser cannon. - Continued in Chapter 11 Voyager Shockwave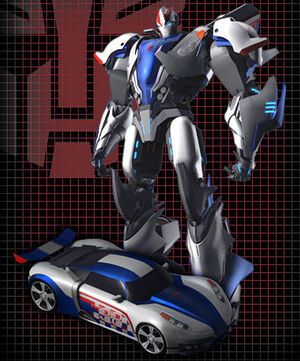 Tf: Prime Smokescreen, CGI render.
What, even the toy bios are now shortened to cut costs?

Really, this reads like a generic description of any Autobot Smokescreen. Even his weapons have longer descriptions.
(ooooh!)
Nice cliffhanger and segue into Beast Hunters Voyager Shockwave though…
Robot Mode
Smokescreen comes out of the card in bot mode. The likeness is good, at least compared to the Arms Micron version, but somehow, the toy looks less bulky compared to the screen render. He's got the familiar door wings and the headsculpt better conveys Smokescreen's carefree character than the serious mug of the Arms Micron version.
Unlike the Arms Micron version though, Smokescreen employs a panel with sculpting intended to emulate his car hood chest, while the actual car hood splits and folds up with the windshield and roof to form massive kibble pieces under his arms.
In hand, he feels thin and fragile, especially when you view him from the side. The robot back's not especially nice to look at since there are no car bits except the door, giving him an unfinished feel, kinda like those Lego Bionicle or Hero Factory figures.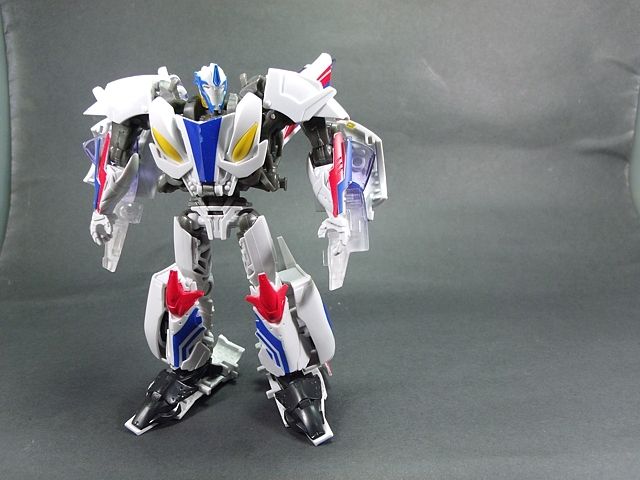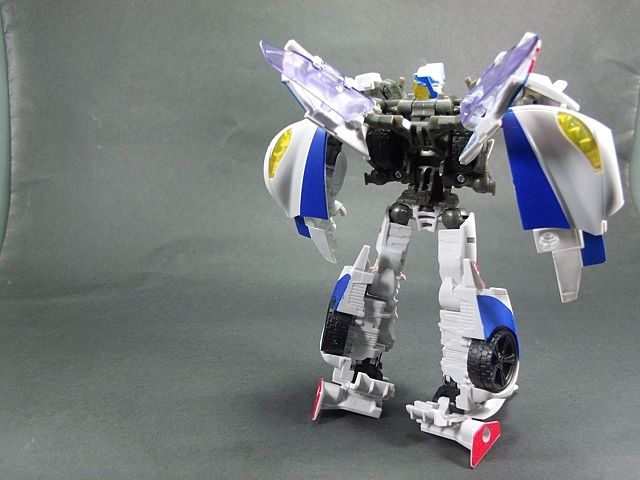 Smokescreen, robot mode views.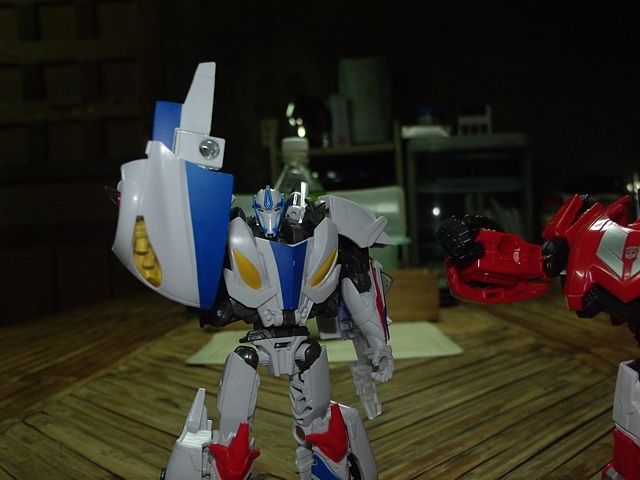 Smokescreen, arm kibble detail.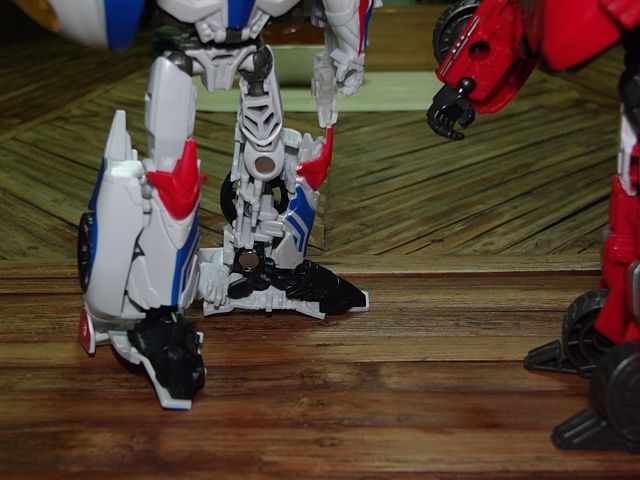 Smokescreen, leg detail.
Smokescreen has good articulation, though certain parts tend to obstruct movement depending on the position.
Points of Articulation:


Neck: Ball-jointed neck, severely obstructed by facial details. Lateral movement only.

Arms: Shoulder pads on ball and socket joints, attached to individual struts. Ball-joint shoulders, with swivel joint above elbow. Soft-ratcheting elbows with a over 90 degree bend; no wrist or hand articulation.

Torso: Swivel waist joint, unrestricted movement.

Legs: Ball-jointed hips, thigh swivels, 90° hinged knees and ankles.
Smokescreen, posed, showing Points of Articulation.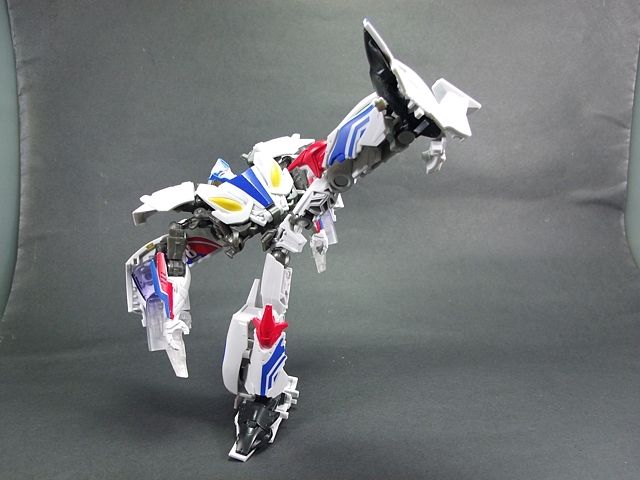 Smokescreen, kick test…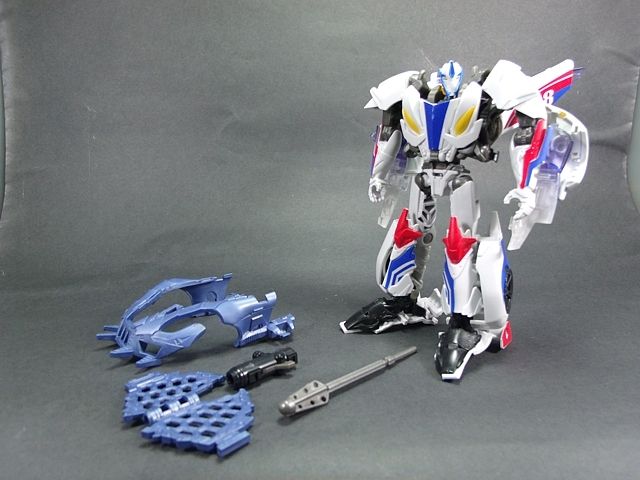 Smokescreen, robot mode, with Shadow Quill armor and Electronet launcher accessories.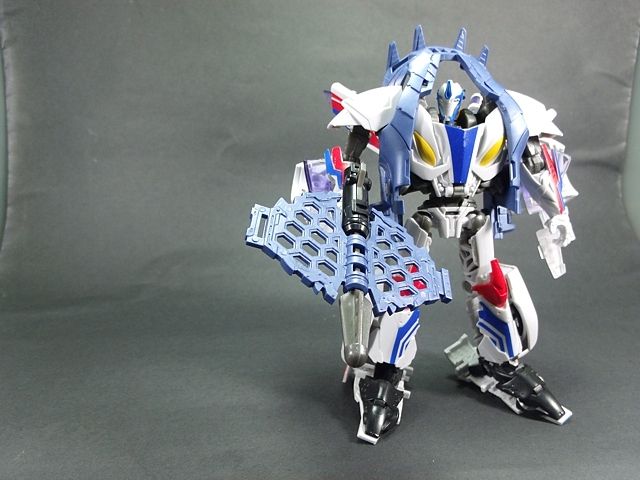 Smokescreen, robot mode, with Shadow Quill armor and Electronet launcher equipped.
Smokescreen, robot mode size comparison with Tf: Prime R.I.D Voyager Optimus Prime.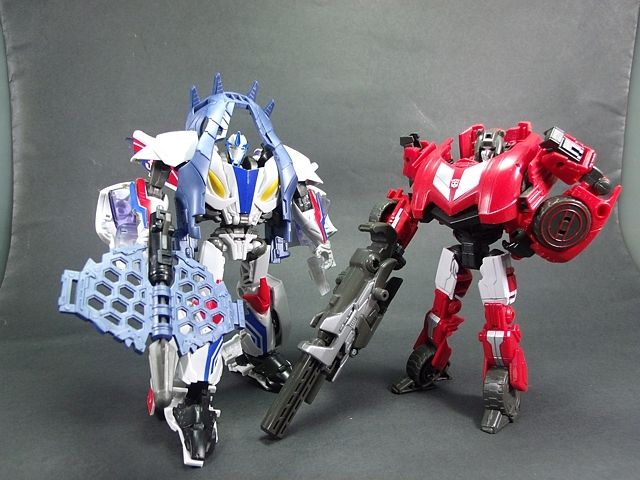 Smokescreen, robot mode size comparison with Tf: Generations Deluxe FoC Sideswipe.
Transformation
Clever but fiddly, and IMHO, too overly done for what it achieves. The leg transformation is pretty straightforward, standard fold and twist to form the rear. But shifting the chest assembly and wrapping the panels that unfold from the arm kibble around the internal assembly to form the car front is a panel-massaging exercise in frustration. There's very little clearance and parts end up getting in the way of each other either way you go.
And after all that, Smokescreen still needs a sculpted panel to simulate his car hood chest in bot mode.

Alternate Mode
Beast Hunter Smokescreen transforms into a sleek white sports car, quite different from the Arms Micron Smokescreen's alt mode, which was the same as Tf: Prime Knockout's, except with a new spoiler. It has the similar to the onscreen model, though somehow it doesn't look as aggressive, as if some of the curves got smoothed out in the transition. The car mode is quite solid, assuming you've managed to massage the parts properly, and the hood and windshield pieces can prove troublesome. There also very little ground clearance, which results in plastic scraping on uneven surfaces.
Though not quite captured in the shots, the off-white plastic takes to the molded details quite well. The transparent purple windows and amber headlights are nice. There are some painted details but they just barely do the job of representing this as Smokescreen (at the very least, he's got those screaming 38's on the doors…). The rims are unpainted, so is the rear window and tail lights and the layout of red and blue paint apps are off compared to the actual on-screen model (the checkered flag motif on the doors, the blue on the spoilers…).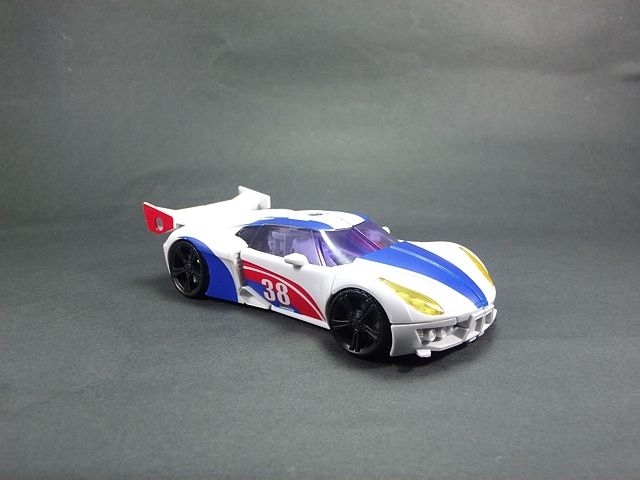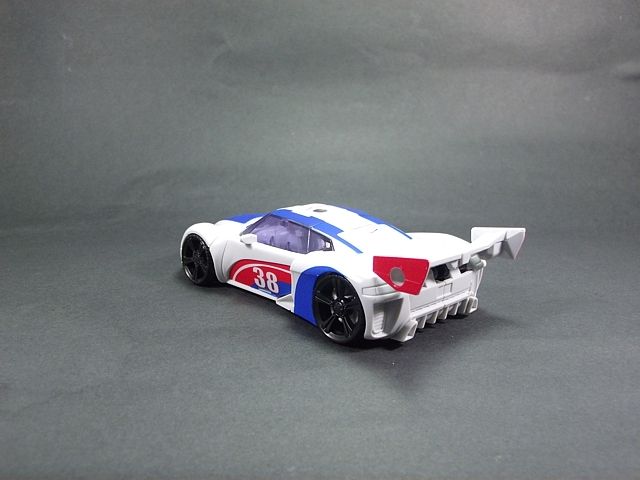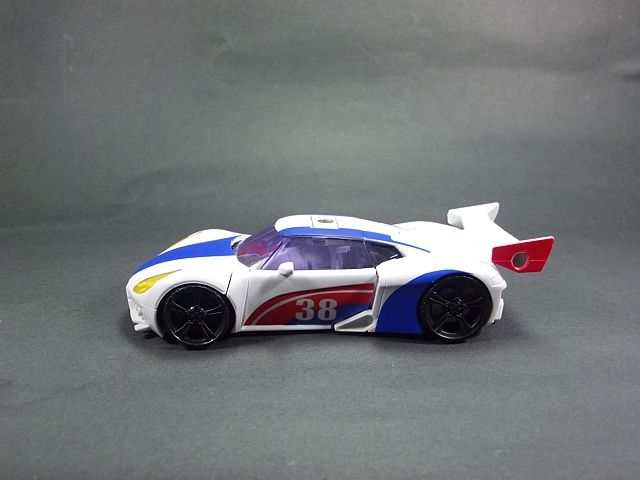 Smokescreen, alternate mode views.
The included accessories also come into play in vehicle mode. The huge rubber piece clips on the hood in some sort of mad-max style hood armor while the projectile launcher pegs onto a hole in the roof. It adds an aggressive touch to the alt mode, kinda like those RoadBlasters Matchbox released back in the 80's.
Frankly, I find it underwhelming. Due to the parts being rubber, the hood armor part tends to warp and doesn't quite lie smoothly against the curvy hood. Same goes for the rubber attachment on the missile, which tends to twist and droop in warm weather (which, in the Philippines, is most of the time…

) ,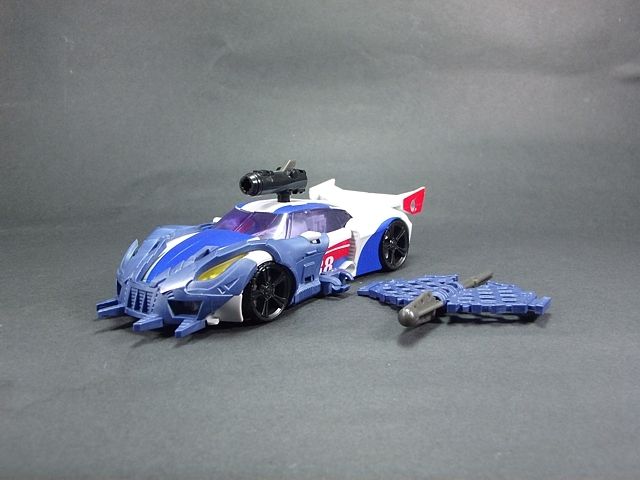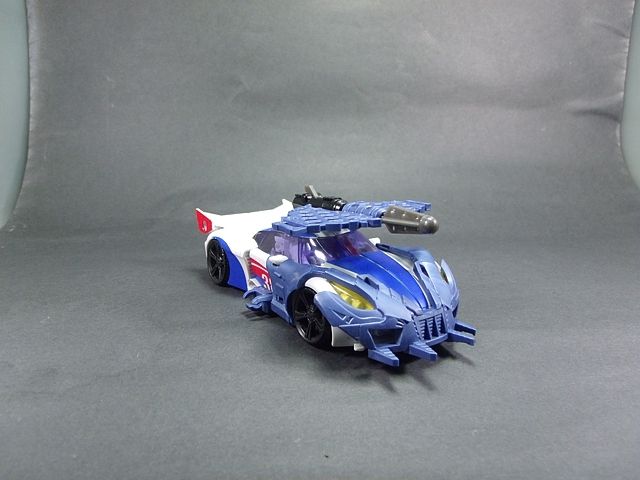 Smokescreen, alternate mode, with Shadow Quill armor and Electronet launcher attached.
Unlike the earlier BH figures, which were remolded PRiD molds, Smokescreen's car mode ends up on the small end of the spectrum. Small, flat and compact. Smokescreen's really folded up tight in car mode, with little hollow space inside. He does still look decently sized when placed alongside PRiD Voyagers, who are also quite small themselves.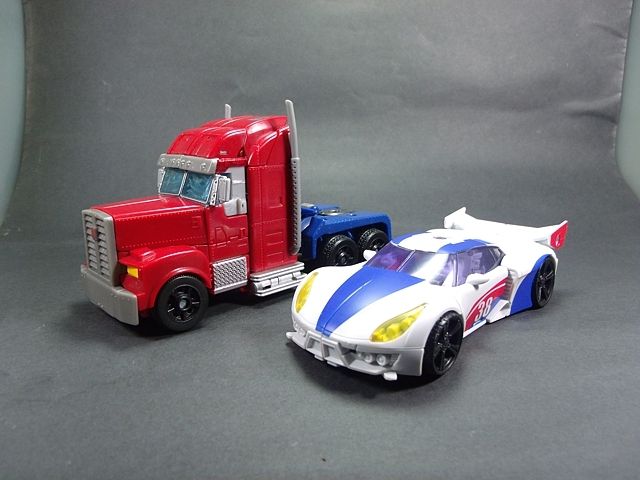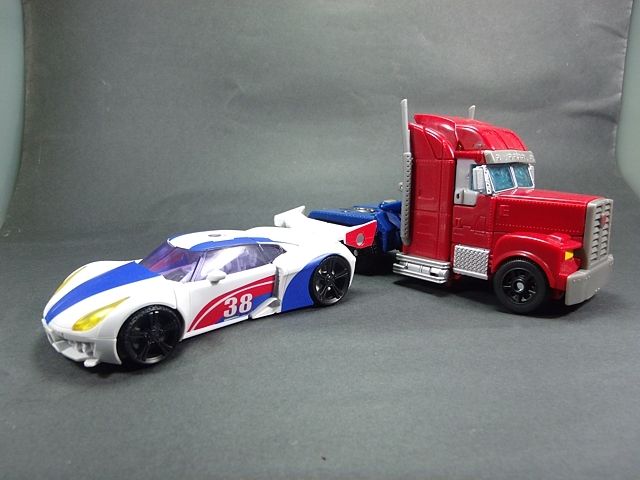 Smokescreen, alternate mode, size comparison with Tf: Prime R.I.D Voyager Optimus Prime.
Verdict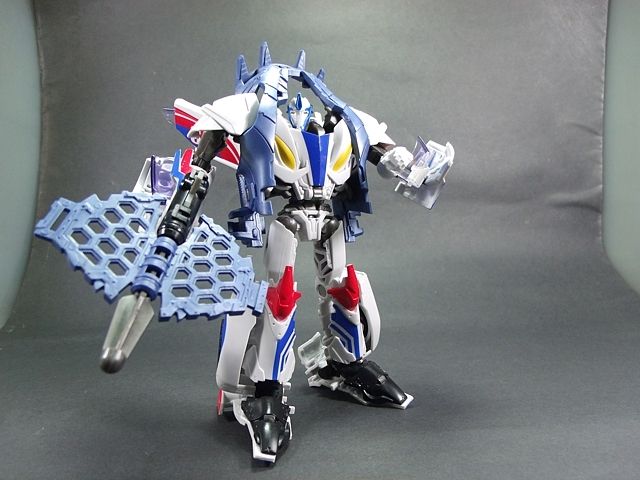 I think it's really great that Hasbro released a proper Smokescreen, but I can't help but be underwhelmed by this release. It's a decent, if average toy, nothing fancy. There's good articulation and nice play value to be had and it LOOKS LIKE Smokescreen, not Knockout in a new paint scheme and a new head.
It's too bad the use of lower quality materials brings the fun factor of the toy down noticeably, at least to me. The rubbery accessories don't add much to the toy and present the possibility of degradation over time. The robot I'm not going to pregnant dog about the plastic and the decreasing size of Transformers these days, but in Smokescreen's case, these factors hurt the toy a lot, especially since he costs PhP 800 (almost $18) over here.
For fans of the show and those wanting to complete the main cast, he's a sure purchase. As a stand-alone toy, however, it's average. It's definitely far from "Airachnid bad", but there are probably better stand alone Beast Hunters toys.
and a half stars out of
Jya na!