Post by Chainer on Dec 14, 2005 11:15:43 GMT 8
Mugen Liger has arrived!
Out of the box, you'll get the prebuilt liger body, 6 sprues (2 whites, 1 blue, 1 gold, 1 brown and 1 silver), 2 blades, a small plastic (containing the pilot, canopy, etc), stand, red caps, instruction manuals and sticker sheet.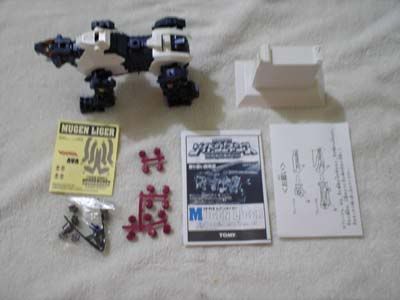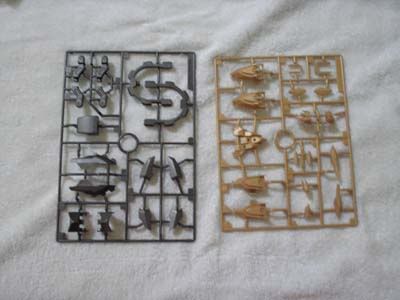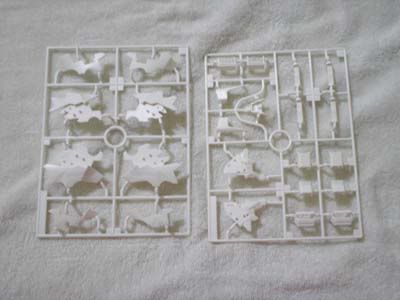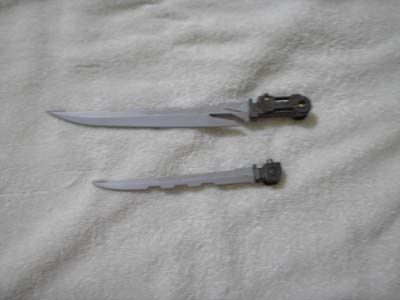 Building Mugen is fairly easy, as with the 2 earlier ligers of the genesis line. The only thing frustating is that the silver parts will likely darken on areas connecting them to the sprues, no matter how careful you are at cutting and trimming them.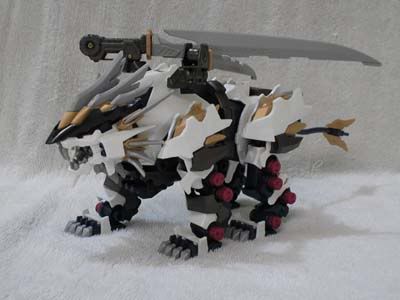 Once built, you'll see that the armor issue with Murasame is still there with Mugen. Tho the armors are easily removed, they are attached well enough that they wont fall off, but not tight enough for me. Then you'll notice that the belt thing on Mugen fits tightly, unlike the same part on Hayate, which is a good news.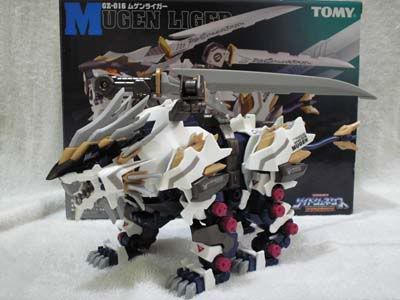 Of the 3 genesis ligers, Mugen has the best head dress. Tho care should be taken as the mane blades are easily dislodged.
Mugen's blades are big. Tho they dont have the Murasame blade gimmick, they are poseable nonetheless.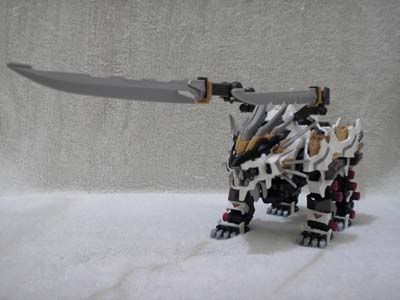 Ok, now that Mugen is built, its time to make him walk (btw, Mugen requires 2 AAA batteries). Once turned on, Mugen will walk, then stop, and roar (with his head tilting and red eyes lighting up).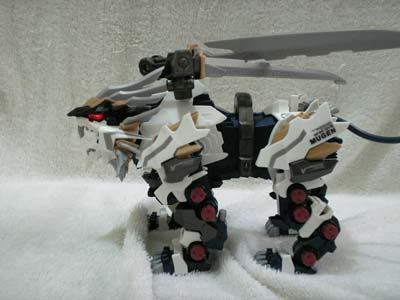 One thing i miss when building zoids is that the caps are used to hold parts together. With the genesis Ligers, they're there just for show, no function whatsoever.
The Good:
- Walk, Stop, Roar? This alone will make you want to buy a Mugen!
- Head design is good (is that a goatee?).
- Poseable Blades.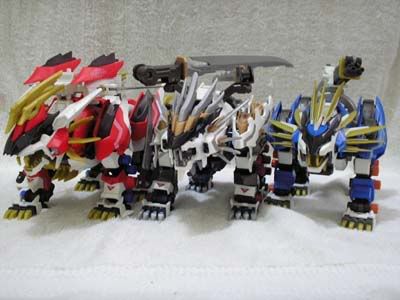 The Bad:
- I really dont like the canopy setup, really!
- The back area, below the blades, need details.
- some parts are a bit loose.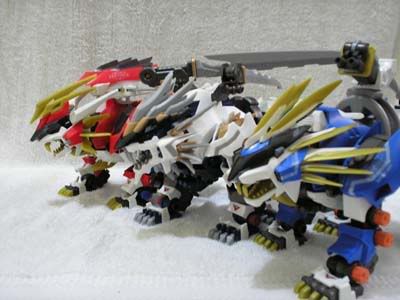 The Neutral:
- Prebuilt.
- Caps are just for show.
- Color scheme (boring for me but could be well appreciated by others).
Conclusion... 9 out of 10!... Get one now!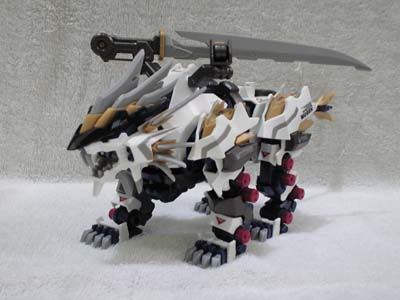 Thanks for viewing.
-wel