Post by V2 on Aug 5, 2009 22:03:02 GMT 8
1/8 Louise Gothic Punk version PVC
Figure Details
Manufacturer:
Alter
Series:
Zero no Tsukaima
Scale:
1/8
Material:
PVC
Release Date:
May 2009
Being called "Zero" isn't easy for Louise Françoise de la Baume le Blanc de la Vallière. Juggling between her bad success rate in casting spells while maintaining a status of nobility such a pain for her. Then suddenly - a guy named Saito from another dimension who ends up being her "familiar" and attaining the skill of a rare yet destructive magic, "Zero" begins her adventure (love, magic and a helluva lot of beating the crap out of Saitoh) - all three seasons (and an upcoming fourth) of it.
So many Louise Françoise de la Baume le Blanc de la Vallière figures, so little time.
It was pretty hard to choose the best of the best figure of this violence-driven tsundere (even to the point where in some were under clearance) but somehow they just didn't feel right to acquire. Then one day, Alter suddenly released news of this version of Louise - in which was perfect as it fits one fact: I prefer meido versions and I've always liked gothic punk fashion (but not to the point they'll look like KISS and the like). Getting this wasn't easy - as there were problems in the supply chain as Alter-based figures were hard to acquire. Nonetheless I took the initiative to get it from the most reliable source despite the higher cost.
PACKAGING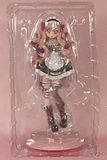 The packaging follows the usual format: the box has windows for the figure on all sides, and images of the figure on the sides. The blister packaging holds Louise pretty well - protecting her from the elements and rough handling.
SCULPT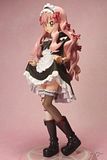 The sculpt and pose is pretty good as it depicts Louise - a typical
Tsundere
wearing something she doesn't want to unless she's forced to - with that facial expression, you'd think she'll be saying:
- "what now?"
- "how does it look?"
- "higher?"
- "bed? floor? counter or here?"
- "wanna see what's under?!"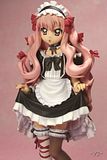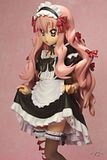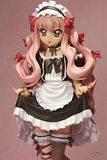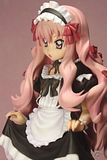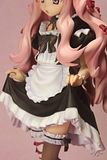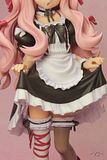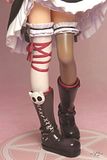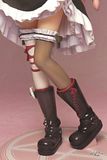 The frills, pleats and creases on the outfit are well done - just as how a meido outfit should be. As some say:
"If it's a meido, it's all about the frills"
. As for the "gothic punk" side, it's all found in the boots and stockings wherein has a nice cute taste in design and detail.
ACCESSORY
The only accessory this comes with is the base, in which has that magical star insignia on it. The pegs give her a secure fit - just be careful, as they might break when handled without care.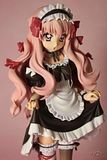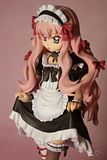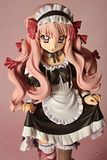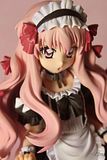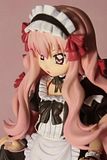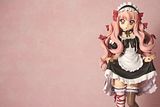 CONCLUSION
Interesting enough, this is the 3rd Alter-based figure I've acquired for the month... but then, can I help it if Alter does such fine work?!? With the elements of meido, goth and tsundere are all combined together into this one design, this is definitely one of the best pvc incarnations of "Zero" ever released!
Need I add that Louise's voice actor is also Shana from Shakugan no Shana!?
photoshoot notes: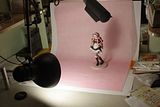 - 17-55mm kit lens.
- the last few pics were taken with 1 light source only to try out shadowing effects.