Post by V2 on Aug 5, 2009 22:08:38 GMT 8
1/8 JORDH PVC
Figure Details
Manufacturer:
Alter
Series:
Megachu!
Scale:
1/8
Material:
PVC
Character Design:
Hajime Kouzuki
Release Date:
May 2008
At some point in your life you manage to come across a certain item that you know is a good buy and you can afford to acquire it on the spot, but for some unexplained reason you don't - thinking that you'll get it next time. Despite the multiple opportunities later you still don't get the item as your mind confidently says "I'll get it next time" - thinking it'll still be there.
THEN one day when you think expect it to be in the usual spot at the store, it's not. POOF. It's gone. You think of many things and experience many emotions - and one of them is regret.
This is what happened with this figure.
Now then, I really don't acquire figures that are non-standing and for some unknown reason, the design reminds me of a fish. Yet still I'm attracted to this particular figure - mainly because it's made by Alter and at the store selling has it posted at a good price. Months later after losing the opportunity
a shop set it on their clearance sale
and I proceeded to get it with the thought of redemption (plus, it was priced waaaaaaaaay cheaper than the original store!)... though AGAIN I still have doubts on getting it. After opening the box however... heck - I realized I've been missing out on a great item.
Now then, I really don't know much about Jordh but I do know a one fact:
She's from
Megachu!
- an eroge & hentai anime.
With that sufficient explanation, on to the review.
PACKAGING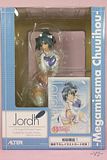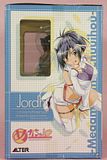 Jordh's box follows the same design as
Fauna's
- with windows on each side to showcase the item inside. On the left and right side of the box are the lineart it was based upon and sample pic of the figure.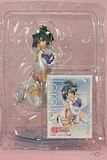 Like Fauna's, the clamshell cover has a slot wherein the card is mounted and is viewable right outside the box.
SCULPT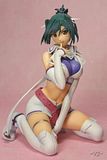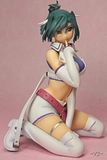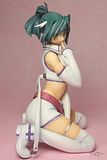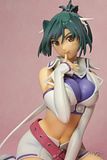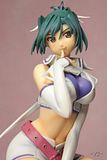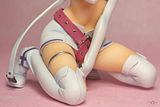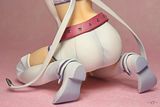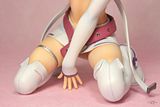 Simply flawless. The sculpt is perfect as there are creases and folds are according to how it should be, the details are astounding (especially the belt) and there aren't any seam lines whatsoever.
"This is the lowest she can go, captain!"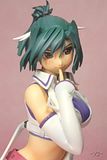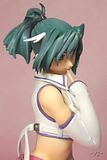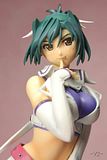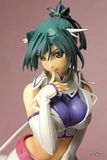 The facial expression is priceless as it follows the lineart perfectly. With that blush and little tongue sticking out you'd think she was teasing you or asking you to come inside for coffee or breakfast. And those fins / wings on the head, they're the ones that give me the "fish" thought .
ACCESSORIES
Aside from the card, Jordh comes with a simple display base molded in translucent light blue. Though it's pointless as she's kneeling, it's still a nice thought from Alter.
CONCLUSION
The accurate sculpt, detail and "tease" factor for such a small scale gives this figure's value well worth the price you paid for it (even better if you paid it under clearance!). One of the best releases ever!