Post by V2 on Aug 5, 2009 22:17:33 GMT 8
1/6 Tamaki Kousaka Seduction PVC
Figure Details
Manufacturer:
Kotobukiya
Series:
To Heart 2
Scale:
1/6
Material:
PVC
Character Design:
Masato Abe
Release Date:
June 2009
In most forms of visual entertainment, there are always certain exceptional characters that are iconic in their respective series. For example - in Evangelion there's Rei Ayanami while in Gundam, there's Char Aznable. These characters tend to have certain physical attributes (tall, beautiful, perfect 10 body, etc.), characteristics (calm, caring, klutz, deadpan) and background (ace, older sister, childhood friend, junior, etc.) that make them what they are. In the popular Japanese visual novel / eroge / anime series titled To Heart 2, there's this fine woman named Tamaki Kousaka.
Born from a rich family and most knowledgeable in what a traditional Japanese woman should know (and still have a "lewd" side), she's the typical "senior high chick next door that would've been the ONE" whom the player (yes, you in the game) get to hang out with - and if you follow your senses and do your maneuvering well in the game, well...you get to bag her (both in breakfast, relationship or whichever your desires see fit).
Being one of the most favorite characters in the series, Tama-nee ("nee" is like a respective shortcut slang for "ate" or something like that) has a commendable fan base as proven in the demand of any forms - fanarts, doujins and figures alike. When Kotobukiya released their
4-Leaves 1/6 Temptation
figure of Tama-nee, I was able to resist it because I find her face not similar to the actual artwork based upon and I find her too "malaman" for my preference (slim and sexy types). However, when I saw the pictures of the
"Seduction" version
in which is basically a recolor BUT with an extra accessory AND has that devilishly lewd face I realized two facts:
- waiting/resisting/hesitating can a good thing sometimes.
- screw if she's a bit chubby. that face is priceless.
And so fast forward sometime later at a local shop that brought her in at a good price, I decided to get her YET I was still skeptical on her chubbiness... but all that has changed after shooting her.
PACKAGING
The box seems to have this "green leafy" motif that seems to be the standard design for kotobukiya's release under the "4-leaves" selection. The window on the front on the box provides a good view of her, while the back showcases her displayed glory and the accessories provided.
Here's her all packed up on the plastic clamshell (and boy is she packed real good! gotta love the maderpackers at Kotobukiya who did this!). Unlike the usual packaging of two plastic shells conjoined to each other via button tabs, this one is a single-piece but has 3 folds: front, back and bottom that are secured via button tabs.
SCULPT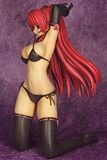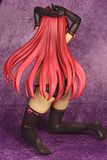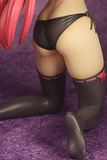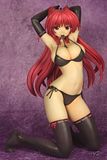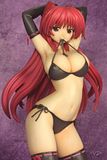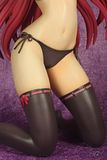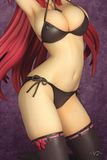 Despite myself liking slim and sexy types (I'm really that meticulous in real life too) I guess I was mistaken on her being chubby - she is scaled at 1/6 after all so that's how she should be - buxom yet sexy. The curves (especially the abs), skin tone (creamy mestiza) and lingerie details are simply astounding! Kudos to Masato Abe for such excellent work!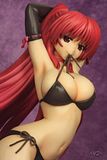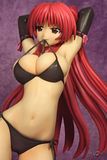 Now as to the face... holy shrikes... what kind of facial expression is that? here are the following song / movie phrases that perfectly describes the expression:
- "be a little bit wiser baby... put it on... put it on..."
- "caaaaaan you feel the looooooove tonight?!?!"
- "tama, tama... are you ready naaaa?!"
- "ooooooh, lumapit kaaaaaaaa... kung gusto mo akong haplusin... di kita sasawayin..."
- "GROOOVY BABY! YEAH!"
ACCESSORIES
Like the
Temptation version
, this release comes with a soft "pillow base" that's lets Tama-nee "kneel down" decently - I'll comment that the softness is just right (least "bouncing resistance" that'll lead to falls if one is not too careful).
Also here's the best part - she comes with an extra accessory exclusive for this version - a belt chain with jewel.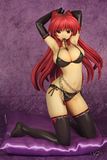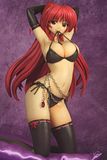 Being in-scale, it absolutely adds an extra kick to the devilish spice of this figure.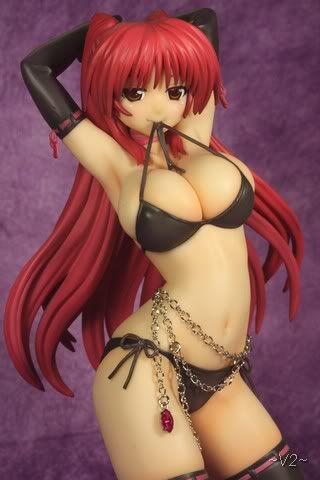 CONCLUSION
I would have to admit, I had doubts when this figure was stuck on my storage (to the point that I'll sell her since I favor
Clayz' versions better
but heck it doesn't hurt to get both anyway!) but after making the photoshoot for the review, everything changed. This variant's features, accessory and big scale justifies the hefty price tag. If one would choose the best figure release of Tama-nee in all her "dark side glory", then this is the only one that I'll recommend.
Nothing more, nothing less.

Anything else, is worthless.photoshoot notes:


- canon 50mm EF-S II 1.8F
- this setup was the result of an idea while relentlessly walking around the mall with no direction. i brought some of those thin lavish gift wrappers and placed white cartolina behind it (to put in a more solid look)... and heck did it fit well!
- originally I was attempting to shoot this figure at a "special location" (an establishment with a "sshhhh!" logo since it somehow compliments the figure in my opinion) but decided to ditch that plan as it was somewhat disturbing (probably next time for two-birds-with-one-stone).
- honestly I felt like austin powers while making this shoot (note that I have around 42 images of her!). she's perfect in every angle given - be it dutch or haden!