Post by fenrir72 on Jan 13, 2010 20:40:24 GMT 8
Volks Moe-Kore Queen's Gate Iroha(guest warrior from Samurai Shodown VI)
Based on the artwork from the Queen's Gate manual:
Reference pic is owned by the respective creators (SNK,Hobby Japan)
Background:(to quote wiki)
Her name is taken from the Heian poem of the same name.She is a crane who transforms herself into a Japanese maid. She serves her master and appears to think of him as the most important aspect of her life. Her master is unknown (rumored to be Andrew as in the previous U.S.A. President Andrew Jackson back in the day when America forcibly opened Japan to the world using "gunboat diplomacy"), but is likely to be the player him/herself as she often bows and speaks to the player before and after her fights.
She fights with two butterfly swords and relies on her speed for close ranged combat. She can also double jump. Several of her moves hint to her original form as a crane such as her projectile (a white feather) and her normal fighting stance. The most obvious reference is her POW move, where she grabs her opponent and, behind shoji doors, disrobes and physically beats her foe. Her silhouette during this sequence briefly changes into a crane.
Based on her Queen's Gate manual a more updated take on her:
Legend tells of a young man living on the outskirts of a small town in Edo-period Japan who one day saved the life of a crane wounded by a hunter, bandaging her leg and setting her free. Feeling indebted to the kind young man she returned to him in the form of a mysterious girl, calling him danna-sama (husband) and swearing to devote herself to him.
This girl of legend was reborn as Iroha in the popular SNK fighting game Samurai Spirits (Samurai Showdown), and now she comes to the world of the Queen's Blade combat artbook game via the new series Queen's Gate, which brings popular characters from other franchises into the game book format. As in Samurai Spirits, Iroha fights with her twin blades Hourin and Ousai and will do anything to protect the man she calls husband. Illustrated by explosively popular doujin artist Iizuki Tasuku,
Manufacturer: Volks
Designer:Takashi Tamotsu "Nanoha StrikerS Moekore PLUS Series"
Moekore an acronym I deciphered on the box. It should mean:
M: Model
O: Of
E: Entertainment
Kore: Collect on(So in Japanese that's like koreksyon)
PLUS
Contents:
#1 Box
#1 Blister case
#2 weapons "Horin and Osai" (btw, don't ask me which is which......)
(attached to her hands which you attach to her arms)
#1 Iroha figure on a 1/8 scale
#1 Maid apron ribbon
#1 white stand
Description:
Box:
(Notice Iroha's silhoutte?)
(Her actual default form......a double crane logo)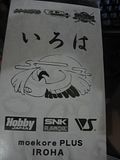 franchise acknowledgements
The lady herself at full body shot
her weapons (actually transparent plastic painted over with a metal finish)
her stand
Front pose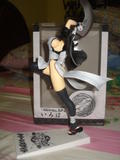 Left side
Right side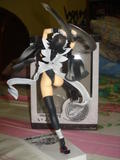 Back side
Some details (owing to her origins as a magical crane)
red hairpin (the eye of the crane......well sort off)
head dress (you know, the crane's frilly like crown)
lacquered japanese sandals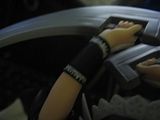 simulated lace wrist bands plus her butterfly weapon
attachable rear bow (made of hard PVC)
apron frills(also hard and sharp)
face shot
oppai (Kasumi of DOA sure has a rival in this department)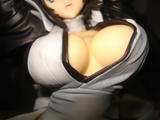 face and torso shots
cute butt

and slight camel toe :haunted:
The review:
Been wanting to own one for quite sometime. But sadly, haven't seen one locally. If you are lucky, you'll only find SNK figs of either Mai Shiranui and Mai Shiranui and......Nakororo T_T . Well lo and behold, after getting bitten by the Queen's Blade bug collecting, the astute businessmen behind the series diversifies using more guest characters from other franchises. And one of them was Iroha! So I said to myself, I won't let this girl get away (Alice (young girl) from Nitro got away T_T ). Heck, even Mai Shiranui would have sufficed but those cruel taskmasters of Hobby HAD to make them HTF exclusives! >:<
I assigned myself to despair because it was really hard to order one (even from my usual sources)

Either it was fate or something but for the fun of it I checked ebay and found one for sale...........from tokyohunter nonetheless. From what I heard, he supposedly charges high (well it is understandable, they are exclusives X)) ) But the price he was offering was just right so I took my first dive at ebay........and the rest is history.
Now for the figure. Was she worth all the effort of creating a PayPal account, going through customs etc?
Well yes and YES!!
Character wise, unlike some figures in the franchise who tend to look somewhat different when rendered in actual PVC figures, Iroha looks the same way as she is presented in the manual. Very kawaii in a dynamic battle ready pose.
Not to say that this figure hasn't have any faults( I'll get to that later), I just can't stop staring at her and appreciate her beauty. She just is as breath taking as her other sister figures in the series.
Now the faults...........sort off.
Already an exclusive, I'd have expected more "icing" in the cake (as in some cast-off features) :haunted: , but then I realized, maybe SNK may be doing an Itagaki (you know like overtly sexualizing a character design but throw a fit if you expose a nipple or pudenda, just look at the DOAXV brouhaha.) For the price you pay, it kind of feel unfair that the regular figs, you see the "extra" features absent in the exclusive.
Still on the same subject, I have a conjecture that cast-off might have been considered early on but dropped in the final release. Why do I think that? Well take a look at this part:
See the division? Well talk about sloppy design in the sculpt.It looks like it can be pulled apart but I didn't want to risk it.
One more thing, her dynamic battle pose remains true to her attacks in both video game and manual(like that of the crane who occasionally stands on one leg, but be sure to expect future bendy leg syndrome.)
Last but not the least, her wrist bands that have simulated lace design. The "simulated" lace as in painted over patterns. IIRC, a previous figure of Iroha by Lilica had actual molded laced wrist bands. Well maybe sculptor's preference but it would have been better if it was molded and not "simulated".
Overall, in a scale of 5, I'd like to have given her a 4.9, but the lack of cast-off features and the very prominent split on both the sides of her costume knocks it down to 4.5.
Price wise and availability, I HATE YOU HOBBY Japan! I HATE EXCLUSIVES............ >:< okay, I'm breathing fine now........
Worth all the time and effort she imposed on my fragile psyche.........no, I won't do this again mommy.........
Addendum:Moekore an acronym I deciphered on the box. It should mean:
M: Model
O: Of
E: Entertainment
Kore: Collect on(So in Japanese that's like koreksyon)
PLUS