Post by fenrir72 on Feb 5, 2010 23:06:04 GMT 8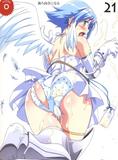 What do you get when you mix Giga Wing's Devil Angel Jbril and medieval RPG? Well Jbril and Aries' baby sister Nana El.
Pics are for reference only. All respective images are owned by Hobby Japan and Flying Buffalo
Now the main event........Nana-El.
Background
Claiming to have descended from earth with a command from on high to restore holy order across the land, Nanael is actually scheming to create a country of her own, exile all women, and fill it with men to act as her willing servants! Due to her dunce-like behavior in the holy realm she was put on probation and exiled to the mortal world, tasked with undertaking the Queen's Blade tournament by the head angel. Not only that, but she couldn't allow a single drop of the "holy milk" she carries to be spilled throughout the course of the tournament... Unwilling to treat dwellers of the "lower world" as equals, her combat technique involves the telekinetic manipulation of her celestial saber to keep opponents at bay.
Designed by:
Kuuchuu Yousai
Contents:
#1 box
#1 Nana-El "angel of light"
#1 skirt(?) night gown(?)
#1 "celestial sword"
#1 belt with "holy milk" (holy milk my @ss :haunted: )
#1 sword stand
#1 stand
The items
boxThe Rant:
If sexy angels and in-your-face yet coquettish fan service is your cup of "milk".....errrr tea then Nana-El is your type of girl. A little backgrounder on the holy nymph. All angels in angelic lore are kind of like members of God's family hence the family name "El", short for Elohim, also like a surname for Yahweh bin Sabbath. Heck, even DC comics' Superman's surname is El as in Kal-El (see the Jewish influence?)Okay we go fast forward to the Q'ran where some biblical characters are pronounced differently. Gabri El is pronounced Gibrail which was then "japanized" by ecchi PC game manufacturer Frontwing into Jbril the Devil Angel.
Jbril is technically Nana-El's inspiration for her design (both were designed by the same artist). With exception of her hair style and costume (Jbril looks like a cross between a sailor school uniform cum gymnastic leotard while Nana-El is, well looks like a night gown)both look very much alike.
img109.imagevenue.com/img.php?loc=l...9_123_144lo.jpg
Now back to the figure. Again with her characteristic mid flight pose looking back over her left shoulder (same as Jbril),Nana El is simply so coquettishly kawaii

Unlike Jbril though, well she's got a right wing defect
while her "sister's" wings are made of energy. The defect btw is a part of her back story being an "apprentice" cherub.
Honestly speaking though, though kawaii, it took time for me to get to like her face. Sure it's kawaii and all but compared to her manual,
it kind of looks a bit well off. In fact I sort of prefer the Griffon version.
Quality wise however, she does not disappoint! How could that be? Well let me enumerate.
img210.imagevenue.com/img.php?loc=l...7_123_378lo.jpg
img109.imagevenue.com/img.php?loc=l...9_123_144lo.jpg
img166.imagevenue.com/img.php?loc=l..._123_1115lo.jpg
Sculpt...very dynamic pose
img170.imagevenue.com/img.php?loc=l...9_123_413lo.jpg
img262.imagevenue.com/img.php?loc=l...8_123_452lo.jpg
img18.imagevenue.com/img.php?loc=lo...6_123_566lo.jpg
Details.........very nice, from her kawaii face to her cute oppaii down to the pink and perky nipples and her sexy navel.
From her wings
Gloves
To her costume down
Polka dots pantsu
(not as sexy as blue stripped ones but it does do the job X))
To her armored boots.
Need I mention her "holy milk"(?) belt

What about her "celestial sword"? It's mounted on a transparent figma like triangular spinning wheel stand

Molding seams? Well I tried looking for one.....nada.......zilch!Very nice an smooth
Rating:
How do I rate her then? 4.7 out of 5. -3 Because of the lack of full cast-off and well the face design, cute but not necessarily photogenic....but it does grow on you.