Post by fenrir72 on Mar 6, 2010 22:31:55 GMT 8
One of the nastiest "Valkyrie" fetish eroge games by Lune was also given the anime treatment. Boy was it sick or what :haunted:
Basically, I'll be posting a review of the figure in this section because...........oh well you all know why X)) . So kiddies, stay away!
As a teaser I'll post a pic of Aaliyah in a state of extreme discomfort courtesy of Tentacle Armada by Persecom.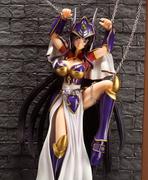 Background:
Ever since Valkyrie Profile by SE, the Norse Mythology genre has literally been flying high. Not counting Ragnarok Online, a lot of developers have capitalized on the legend behind it.
Most especially the Valkyries (Odin's choosers of the slain). Accuracy aside, Valkyries (the angels of death)are actually "fat ladies" hence the saying............"not until the fat lady sings". So we have a lot to thank SE for designing Lenneth as a hot and sexy warrior ( secondary mention to Jack Kirby for making Brunhilde(aka Valkyrie) in The Mighty Thor equally sexy.
Now the character I am profiling is based on an eroge game by Lune(Rune). Basically a "training simulator" where you break the "will" of the heroine Silmeria....ooops wrong company(she is blond right?) .
So how come a bad@ss warrior like her got caught by the denizens of the underworld? Her superior Freya sold her out with a bunch of "enchanted" metallic panties. That's how far I'll go.
Well Hrist.........oops, wrong game again, Aaliyah, the raven haired heroine comes to rescue her sister. She is much more hard boiled bad@ss than the blond bombshell here.She also gets captured, but this time, the blond lady herself betrays her sister by taking Aaliyah's "ring of protection". So let the "training" begin..........(btw, a silver haired Valkyrie who came to rescue Aaliyah was also featured.........Sigurd if I'm not mistaken (see the pattern? Blonde, raven and silver haired, good thing SE isn't going after Lune)
Contents:
#1 Aaliyah head
#1 helmet
#2 bodies (one with clothes the other fully nude, the clothed one btw is magnetized at the breast)
#2 pairs of feet (one armored the other.........)
#2 armored shins
#2 armored forearms
#2 hands( manicured of course)
#3 chains
#2 pairs of wooden "I" beams
#1 wall
#1 cobblestone floor
#2 transparent foot stands
#1 golden dildo(detach able)
#1 useless strand of hair
Details
Giga pulse really went all out for this fig(btw this is version A,version B has her skirt made of semi transparent pvc). Count the accessories and compared to the first two Valkyrie figs they released(will review them later)and you'll understand why this fig is slightly expensive.
all tied up
Just look at hte expression in her eyes.the eyes on her head guys! X))
close up
If Aaliyah joined Queen's blade and lost to Aldura: :haunted:
The Rant:
This figure won't win any awards that's for sure. And displaying her the way she was meant to be displayed is kind off a feat itself(especially with the opposite gender present X)) ) But then again Gigapulse's specialty is ero so, well if try finding yourself your own personal "top secret" room and the like.
Quality wise, it is a marked improvement over their previous works (I especially like the pained expression Aaliyah exhibits(makes me wonder whats going on within her head as we...........okay okay X)).I did find it odd though that she came with an extra piece of hair that seems out of place useless.If I'm not mistaken, there is an indentation that was filled up on her hair's right side, maybe that option was planned but not implemented on the final cut.
Body proportion? Well this is anime, ero at that so expect some assets to be "augmented more than others.You'll noticed that she is sporting a D cup breast line on her partially clothed component, which seems out of place (sticking out and all), well it's due to the magnet incorporated to keep her metal bra attached. The full nude body, well the breasts are now proportionally apart each other 'cause..well she is fully naked.(at least the sculptor followed "some" natural breast physics (not counting silicon augmentation hehehe X)) )
Considering the paint job on her. well Gigapulse did her right pardon the pun.No paint bleeds or the like and the "diorama" accessories are also top notch (go easy with the chains and the simulated wooden beams though)
Rating:
4.99 out of 5. Why not perfect? No frickin' d@mn instruction(do we need one?)and one useless strand of hair that seems out of place.