Post by fenrir72 on Nov 21, 2010 14:06:36 GMT 8
MGT-01 Delicate Warrior "Arcee"
Somewhat of a misnomer but this product is just distributed by iGears. They are technically not getting the credit for her design and manufacture

Content:
#1 box
#1 blister case of transparent plastic
#1 biocard(reminds me of a credit 'cause it's so tough)
#1 instruction manual
#1 label sheet ( I was lucky 'cause I got 2 packed in)
#2 blasters
#1 posing stand
#1 mounting for the stand (way @ss heavy)
#1 removable antennae
#1 Arcee figure
Pics to follow.
Background:
We've waited and waited for an official 2006 Movie release for nearly 30 years.
What we got were plans which never materialized in the form of Chromedome in pink or a weird orange version of her.
IIRC, the current designer of the Binaltech series also submitted his own design during his early years as an unemployed designer (this got him hired at Takara)
Later on, there came the garage kits and mini figure of our fave fembot, all made in Japan

which never really reached our shores.
The official incarnation of her, Supelink finally got a close render of her in pink, except she was a motorcycle

. Not a bad version but, well a bike. A titanium version never went past the proto phase, what with those butt ugly hips.
The closest we ever got of her in car mode was in TFA (not counting her butch Binaltech incarnation), and look where it got us...........like she sold out everywhere

.
Now we finally have one........with die cast parts.
She transforms into a cybertronian or if we put it, earth concept car that is wee curvaceous. Infact, if compared with the offical G1 Takara/Hasbro designs, she reminds me a lot of the Pretender vehicles.
A fine line had to be made between being robotic and being anime accurate. Unlike NitroConvoy/Override, who looked boxy, the designers manage to pull off the film to reality transition with minimal hitches (given the fact that they all had years to prepare and compare if many scratch and build designs.........why Hasbro let this go on for sooooooooo long boggles the mind) if at all.
Transforming her to robot mode is a bit complex at first, her arm position during car mode reminds me a bit of the G1 cars like Jazz/Prowl.
Unfold them, fold down her die-cast chest, twist her head and lock both of them tight.
Flip down her legs and lock them to the hips then pose.
That simple. If you want a more dynamic pose, remove her pink antennae and connect it to the blue beads poseable stand.
My Rant:
Design wise I describe its closest competition IT version as more compact and more humanoid, this one looks a lot like the art work of Studio Ox (down to her sexy heels) and this pic from the 2006 movie.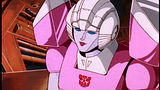 1. Quality wise though..................light years ahead of Impossible toys, feels sturdy. The design avoided the sloppy paint job noticeable by IT by actually molding separete colored components and screwed them together. The only painted part in fact are her die-cast chest, shoulder,elbows and knee caps.
2. Plastic molding not cheapo, smooth, smoother than some original Hasbro/Takara releases
3. Paint apps, smooth with no smudging
4. Great articulation (21 POA), tight and not loose. The die-cast knee joints hopefully will prevent breakage. Check how well designed her feet came out
5. Light piping gimmick + she's got lipstick
6. Weird display stand, quite heavy in fact + a somewhat unorthodox looking connector (reminds me of @nal beads)
7. Anime accurate weapons
8. Rubber tires.......a lost art these days
9 She comes with a decal sheet but no instructions on where to apply them (What the....?!)
10. She comes with a tough abs/pvc bio card and a neater colored instruction sheet
Drawbacks:
Expensive hehehe but worth it.
It is indeed expensive but on a somewhat unrelated/related issue, waaaaaaaaaaaay back in 2006 ( I must have been sleeping under a rock), in one of the TF related boards, tfw2005 to be exact. There was like a flame fest against the owner of rabid squiirel production.
The words released would make you wince. Anyway the products from that particular site specialized in ARC aka 3rd party garage kit creations of Arcee. Well they cost around
US$ 750.00
, not quite sure if that includes assembly and painting.
Some of the kits looked good including the Japanese version (kawaii looking) but it's pic has been pulled out already. Compared to "Delicate Warrior", the garage kits do have some passing resemblance to this product. And the price...........from a whooping US$ 750.00 (that was back in 2006 when the US$ really packed a punch) to US$ 98.00 figure from another company which did it right. Well you be the judge, but IMHO, way worth the price.
Btw................already it's sold out at iGears site.
How do I rate her?
4 out of 5.
Pics owned by copyright : SONY/BMG used for reference only.