Post by cybernaut on Dec 4, 2010 14:53:16 GMT 8
PCC: Stakeout with the Protectobots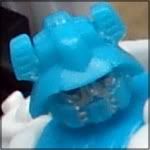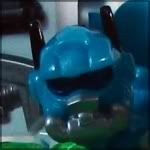 Stakeout
Allegiance: Autobot
Function: Protectobot Commander (?)
Bio
Before he became a team commander, STAKEOUT was considered a loose cannon by many AUTOBOTS. He often ventured out on his own, against orders, determined to win the war on his terms or not at all. Undergoing the Power Core process has mellowed him. He has learned that with power comes responsibility, and is determined to use his new power for the greatest good.
Tech Specs
Strength: 7
Intelligence: 5
Speed: 7
Endurance: 9
Rank: 4
Courage: 9
Fireblast: 8
Skill: 7
Must stop associating this guy with the G1 Protectobots… Must stop associating this guy with the G1 Protectobots… Must stop…
Packaging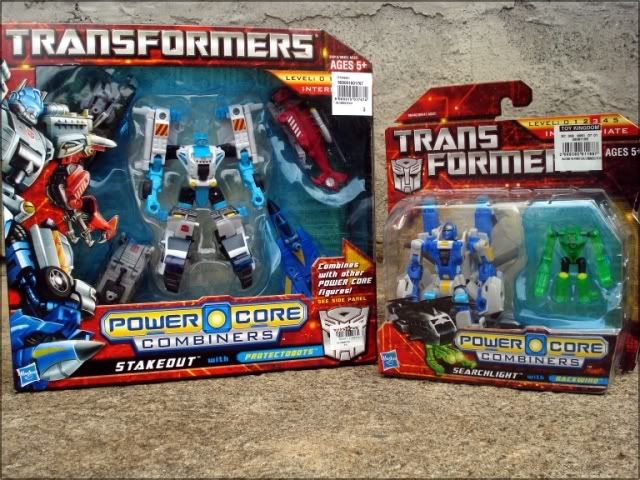 Front view, Stakeout and the Protectobots in packaging. PCC Searchlight included for reference.
Standard PCC 5-pack box, I was really surprised at how small the toys were compared to the size of the packaging. Oh, and the box art makes the toy look cooler than it actually is…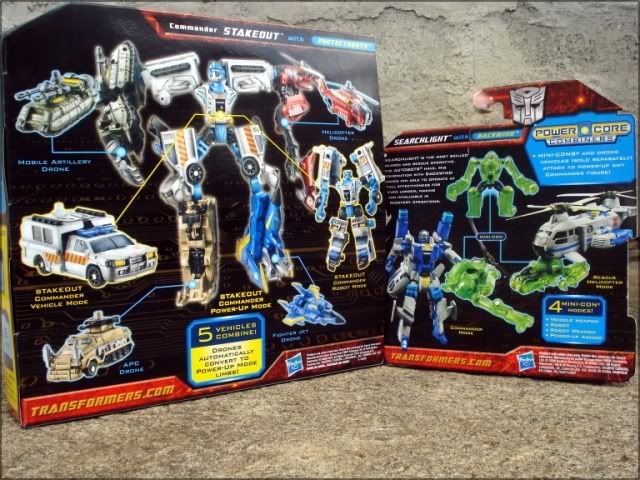 Back of the box view, Stakeout and the Protectobots in packaging. PCC Searchlight included for reference.
I said this during my
Battle Blades Prime review
, I REALLY dislike the new packaging graphics, especially the way Hasbro's boring product photography makes the toy look way uglier than the actual item, made worse now by the solid black background.
Stakeout and the Protectobots belong to Wave 3 of the PCC line, which are basically repaints of the Wave 1 PCC's with different drone combinations. I won't dwell too much on the individual figures themselves, so should you want more info on the base molds, I suggest looking up the main reviews for these guys.
Stakeout is a
redeco
of
PCC Smolder
, without the Chopster minicon, while two of his drones (the Mobile Artillery drone and the APC drone) are from PCC Bombshock while the other two (the Helicopter drone and the Fighter Jet drone) are from
PCC Skyburst
.
Stakeout
Unlike Smolder, whose deco designated him as a
Fire Department Brush Truck
, Stakeout is obviously an EMS Vehicle (read: Ambulance). The red plastic on Smolder has been replaced by white plastic with painted EMS stripes and window / grill details. The cool translucent orange sirens on Smolder are now a dark translucent blue.
Stakeout, vehicle mode.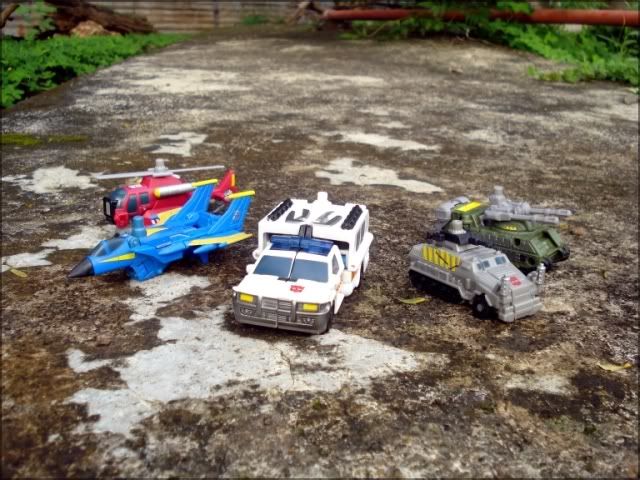 Stakeout, vehicle mode, with Protectobot drones.
As shown in the image below, the minicon port on Stakeout's roof opens up a whole lot of interesting play options with the new PCC minicons. It's too bad being a drone commander, Stakeout no longer comes with a cool minicon like Smolder did with Chopster.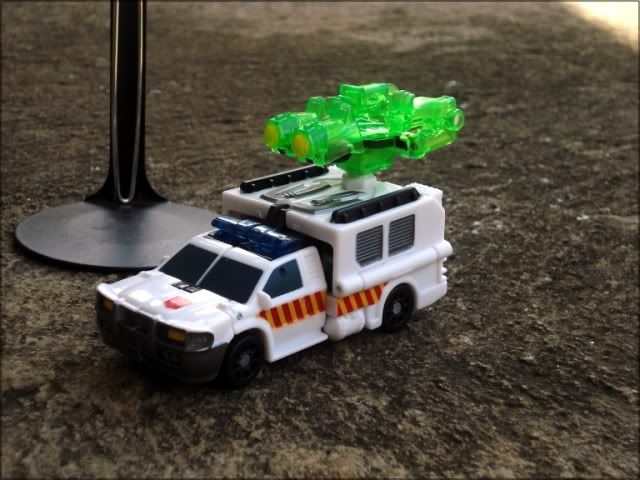 Stakeout, with Backwind minicon attached.
In robot mode, Smolder's black plastic was replaced by fluorescent blue with the gold paint now silver. Instead of faction symbols like Smolder, Stakeout has rescue stripes on his shoulders.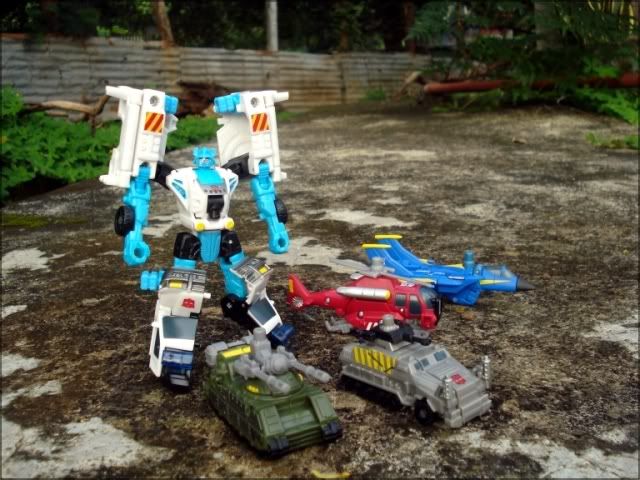 Stakeout with drones
IMHO, the blue is really too bright, making Stakeout look more "kiddy" than he needs to. I wish they'd use a more subdued shade of blue so that it fit better with his rescue vehicle persona (similar to the shade used on PCC Searchlight or Skyburst).
IMHO, while Stakeout is quite a fun Scout, he feels "incomplete" without a minicon, since much of his play value revolves around the little guys.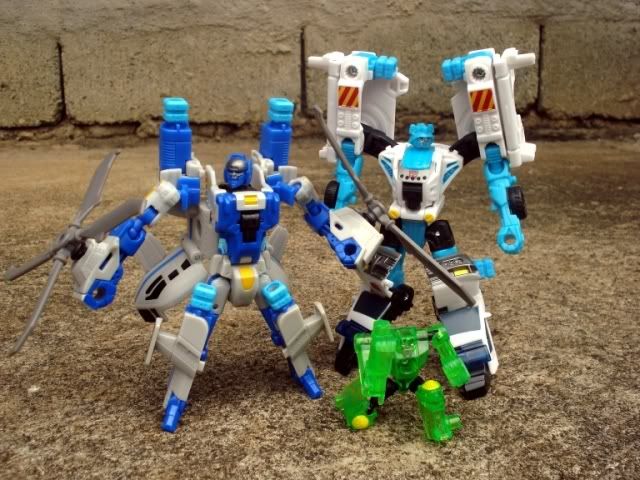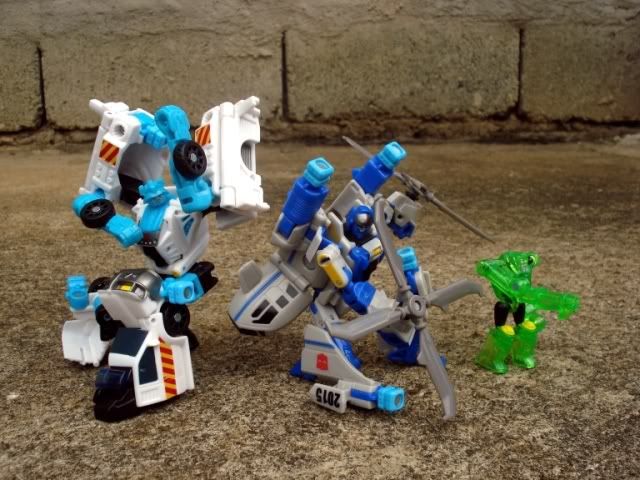 Stakeout with PCC Searchlight and Backwind minicon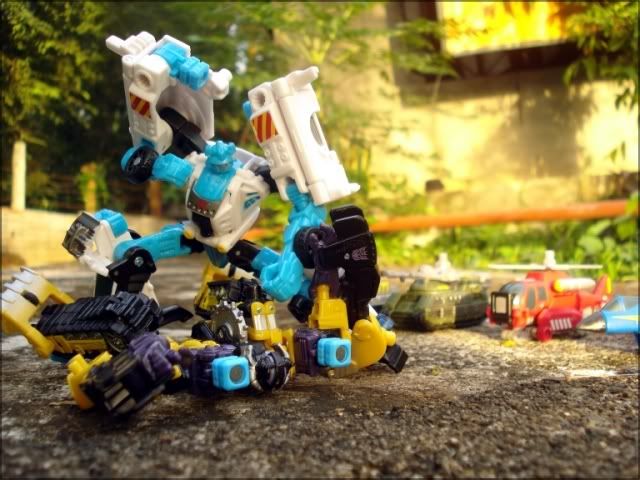 Stakeout, posed, with PCC Sledge
Drones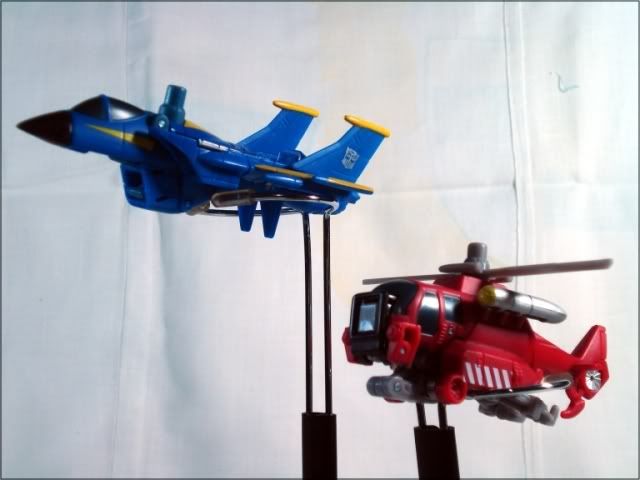 Protectobot Helicopter and fighter Jet drones.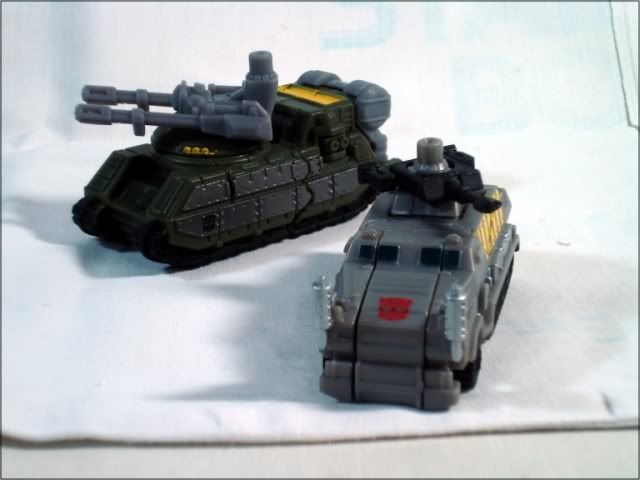 Protectobot APC and Mobile Artillery drones. Note that unlike the in packaging, the APC drone is actually gray instead of desert brown.
To be honest, I think compared to his wave-mate
Crankcase
, Stakeout got the short end of the stick and is the weakest of all the PCC 5-pack sets. The drones are mismatched, the color schemes clash with each other.
Taken as a set, the theme is a mess, with only the red rescue chopper staying in theme with the rescue vehicle motif. I also think it would have been better if the designers decided to put a repainted Jeep drone mold in rescue colors as the leg instead of the APC.
Powered-Up Mode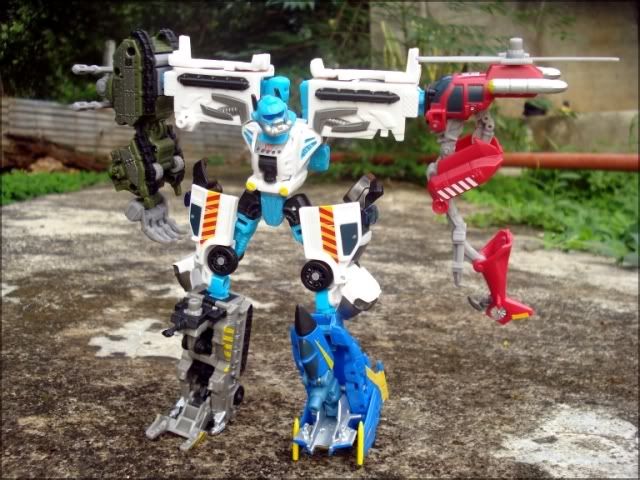 Stakeout, powered up mode, default configuration
Stakeout, powered up mode, with Minicon Backwind in Chest armor mode, with PCC Searchlight in the back.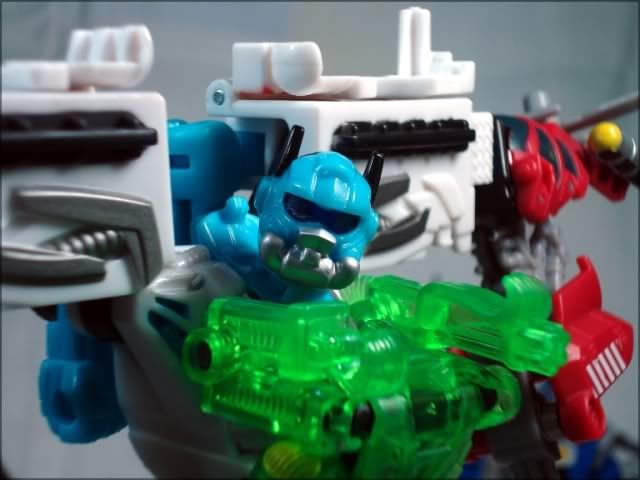 Stakeout, Close-up of Powered-up mode head.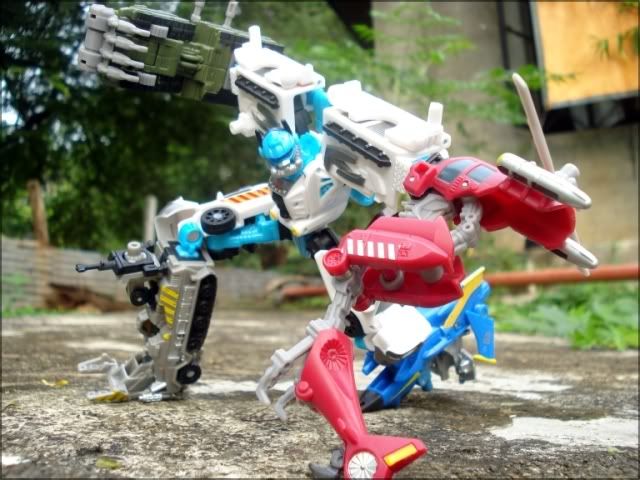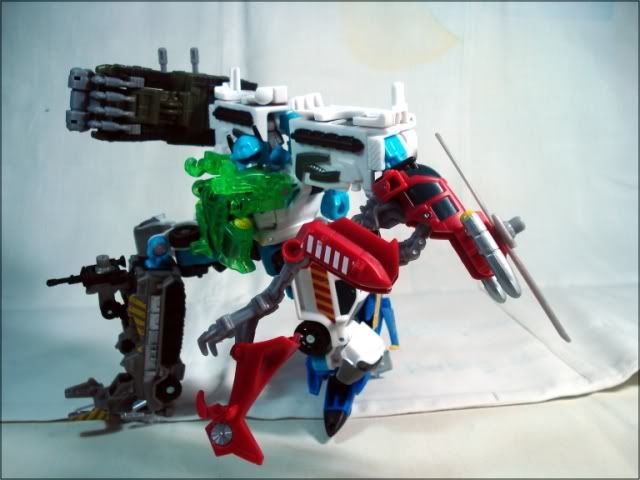 Stakeout, Powered-up mode, posed.
Verdict
A mediocre set at best, a disappointing set at worst, Stakeout is THE weakest PCC 5-pack IMHO. He's got a poor choice of drones, a mismatched color scheme and inherits the worst problems of th sets whose drones he uses. While Stakeout is an okay scout on his own, the lack of the minicon brings the shortcomings of the set to the fore.
It's too bad really, since if done well, with just a little more thought and effort, even for a repaint set this could've been done well.
Easy pass, unless you're really a fan, and even then, the issues are too glaring to ignore. I'll give it a passing score since Stakeout is decent on his own, and I DID have fun trying to find cool poses for him.
Score
and a half out of
Addendum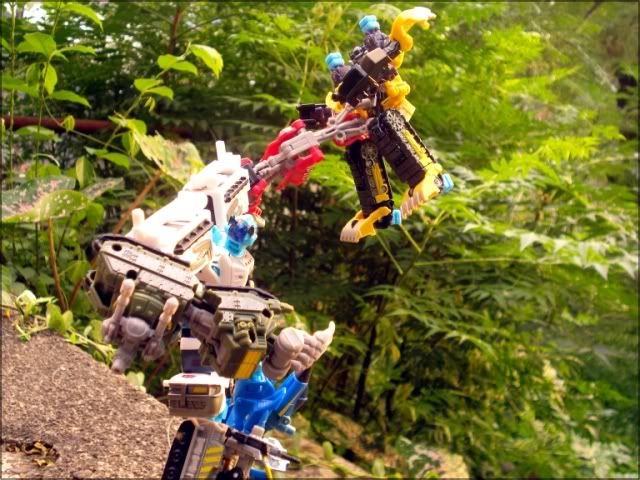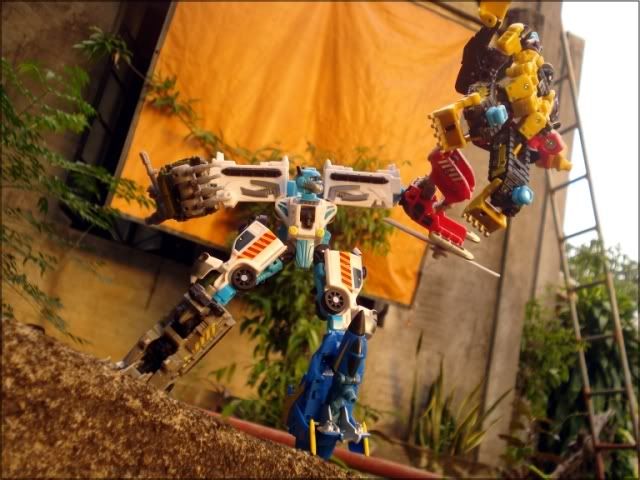 Jya na!