Post by fenrir72 on Feb 15, 2011 23:35:56 GMT 8
This review will be focusing on one of my fave gestalts. Superion! Does the mold hold up compared to the latest version ( Superlink's Superion Maximus)?
SuperionFunction:
Super Warrior
Components:
Air raid=F-15 Eagle
Fire flight=F-4 Phantom
Skydive=F-16 Fighting Falcon
Slingshot=Harrier Jumpjet
Silverbolt=Concord SST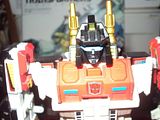 Superion helmet (with added gold and blue visor high lights)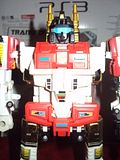 Chest plate and hip guard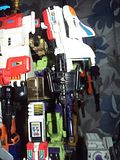 Electrostatic rifle and 2 fists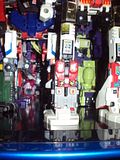 and
2 feet pads
Note: You can use Silverbolt's "launch pad"(not pictured) as a sort of shield if you will for me lee attacks.
Various angles
full front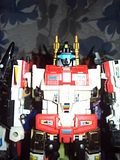 close up front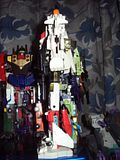 Side
Back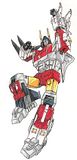 Studio Ox line art
Looks awesome right? The art I mean
. Well, sometimes the artists at Studio Ox did let their imagination get a way with their rendering of the guy. Though an awesome toy in his own right, he is not without his flaws.........
The Review:
Optimus Primes answer to challenge Megatron on his supremacy in the skies, these former cargo/transport ships(depends on which continuity) are one of the many fan faves of the G1 gestalt teams. The eternal opponent of Menasor, Superion always seems to get his @ss kicked by the former (except on the Cosmic Rust episode). Personality wise, according to his bio, he as not so much different from psycho Menasor. Though a good bot at the core, his programed simply to either Protect humans or destroy the Decepticons, and in the comics, he did more damage to the former.
Now back to the figure. Utilizing the scramble gimmick, Superion is composed of Silverbolt who makes up the torso and head. Add the helmet,chest plate and hip guard and you get 90% of Superion done.
He comes with chrome and a die-cast under carriage. My version though, being the USA iteration, has the spring launcher gimmick gutted.
The rest of his appendages is made up of the four smaller jets. Their placements owing to the "scramble gimmick" can be jst about anywhere. Though nominally Fireflight and Airraid make up his arms.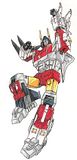 As stated I follow this pattern.............looks more kick@ss
The aforementioned limbs have die-cast parts with an oddity in Slingshot's design, the front landing gear folds in a different manner.
He also shares a similarity with
Predaking
and
Piranacon
with his fists being solid and not hollow.
And now the flaws

..........he is so d@mn frickin' unstable. Whereas Menasor, after experimenting with certain combinations is quite stable, Superion keeps on slouching forward. And the placement of his hip guard makes his thighs look too long. (IIRC Crazydevy released a new lengthened chest plate that gives a more proportioned illusion.)
*Special mention to the the limb/jets' hip sigil /decals. They are mis positioned, minor design flaws that reprolabels' version corrected.
Is his Superlink version any better? No sirreee! After burners' nose cone keeps on dislodging. ( It seems all Superions are flawed
).
Does the mold stand the test of time? Well if you grew up with G1, maybe, for nostalgic reasons but imho, it may be 50/ 50 for our younger collectors. This guy is not only a brick, but a fragile brick! Heck, I'm so afraid that I might pull out his legs.

.
Rating:
Even as a ogling fan, in a scale of 1 out of 5, I'm giving him a 3.9. And I'm being generous at that. His slaggin' legs are like too floppy/ fragile. Sure Silverbolt can interact with Metroplex but.................on an objective side, I'm giving him a pass of 3.5 (okay, it was the 80's and the aesthetics then are quite different from now.
I hope this review will be help give the latest generation of fans some idea on what the first gen combiners looked like and felt like.