Post by fenrir72 on Feb 16, 2011 20:07:49 GMT 8
This review will focus on the Defensor gestalt and not the individual 'bots.
Defensorfunction:
Super warrior/protector
Components:
Hot spot/ Hot zone Fuso Fire Engine
Groove Police Honda "goldwing" motorcycle
First Aid Toyota Light Ace Ambulance
Blades Bell I helicopter
Streetwise Nissan police car
Accessories:
? head (where's his head?)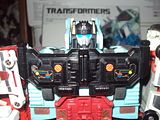 2 part/piece chest plate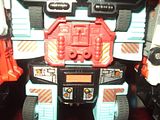 1 hip guard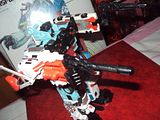 and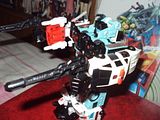 2 "fire ball" canons
2 fists
2 foot parts
Various angles: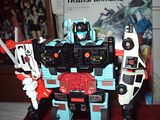 Front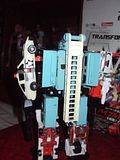 Back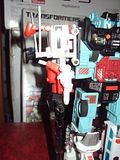 Left and right arms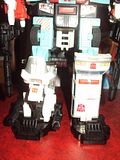 his legs
So where's his head? More in the review
The Review:
The implied counter balance to Bruticus, Defensor made his first and only official appearance in Season 2 in
B.O.T.
. The component parts did show up in
Bruticus Revenge
doing what they do best, rescue people.
We saw more of him in Season #3 though imho, he didn't get the respect and fan loving that Superion received

Now on to the figure. Like the previous Scramble gestalts, he is composed of the leader who makes up the head and torso. In this case, it's Hotspot. But a peculiar difference is that Defensors' head
is
incorporated into his body unlike the others who have to wear a mask or helmet. This kind of reminds me of G1 Inferno.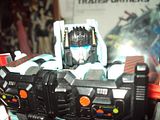 It also allows his head to have a 180 degree articulation.
*Note: The blue optics and gold highlights are just enhancements I added.
Add the two piece chest guard and hip guard and voila! 90% Defensor. He doesn't have any die-cast parts btw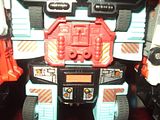 (first versions had it on the red part thighie.)
Being  a "scramble" gestalt, you can mix and match the limb placements. Though nominally, Blades takes the right arm, First Aid the left and so on.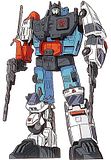 Studio Ox rendered him in a much more "proportional" form
And he actually looks like this: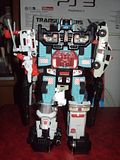 Full body shot
Surprisingly, he is verrrrrrrrrrrrrry stable. Either position of the limbs and still very stable. Like a brick
. This stability is what make him a fave of mine. He doesn't at all flop or slouch. His weight is right, not too heavy that will cause a limb to fall.
Based on the description I made, expect a very limited articulation concentrated on just the head/neck and shoulder connection. But for it's time, having a neck articulation is like groundbreaking. The only 'bots that had the feature IIRC was Shockwave,Jetfire and Omega Supreme (all came from different companies and not Takara).
So how do I rate him? Does he stand up to todays standard? I give him a 5 out of 5. Proportional form design. Very little kibble and not slouching. Kudos for the neck articulation. Honorable mention to his "interaction with Metroplex.
Miscellaneous
There is a KO version of Defensor. It is based on the first pressing with die-cast parts. So be on your guard unless you really are after the KO. The version I have on the other hand is a mix version, Hotspot is the USA non metal version I acquired more than a decade ago. The limbs on the other hand are recent acquisitions whereas all are the Euro Classics versions (as in no rub symbols). Also, only Groove and Streetwise retained their die-cast parts.
I hope you'll all find this review helpful in acquiring Defensor.