Post by cybernaut on Mar 20, 2011 12:03:22 GMT 8
Credit goes to
Cybertron Philippines
where this review first appeared.
Transformers Generations Warpath

Warpath
Allegiance: Autobot
Function: Warrior
Bio
Wherever the fight is, that's where Warpath wants to be. His super heavy armor and powerful weapons mean he doesn't have to worry about things like orders or tactics. He just heads straight for wherever the fighting is heaviest, pouring fire into the enemy, and hoping there's someone left standing to give him a good fight when he gets there.
Tech Specs
Strength: 6
Intelligence: 6
Speed: 5
Endurance: 8
Rank: 3
Courage: 7
Firepower: 7
Skill: 5
Uh… Ka-BOOOM!
In and Out of Package
Warpath, in package, front (left) and back (right)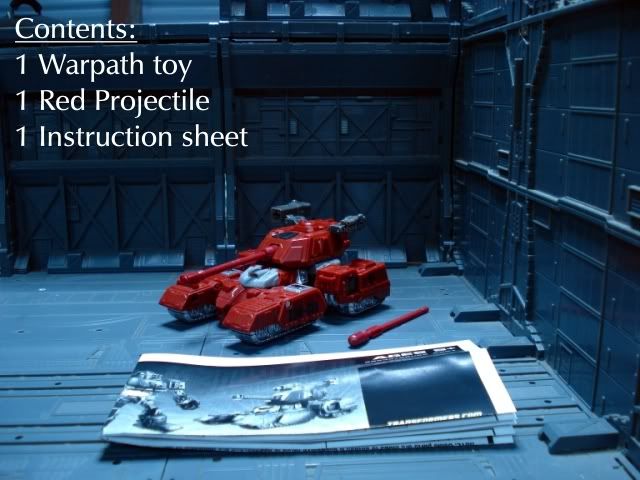 Warpath, out of package, showing the list of contents
Alternate Mode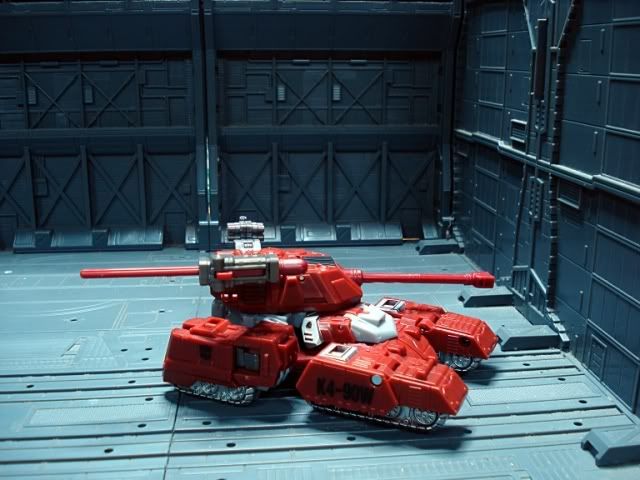 Warpath, vehicle mode, front / side (top) and rear / side (bottom) views.
Alternate mode is a tank of made-up model (dubbed an "H-Tank" by some...), done almost entirely in brick red / maroon, with a dash of black and silver here and there.

Tank mode is solid, no floppy bits. There are tiny red plastic wheels under the molded treads to make it "roll".

Turret can turn full 360°, while tank canon can lift up and down. Unfortunately, both gray weapon attachments (the missile launcher and four-barreled cannon) are pinned in place, instead of removable bits with c-clips, much to my disappointment.

Since the turret weapons ARE NOT on ball joints, they cannot be aimed or repositioned other than facing forward. Bummer...

Projectile for the missile launcher sticks out, due to US Safety laws, similar to HftD Tomahawk's missiles. I'm okay with it, but some MAY find it annoying.

Plastic used on toy is noticeably of lower quality compared to earlier TF Classics, but that's pretty much normal already for TF's nowadays…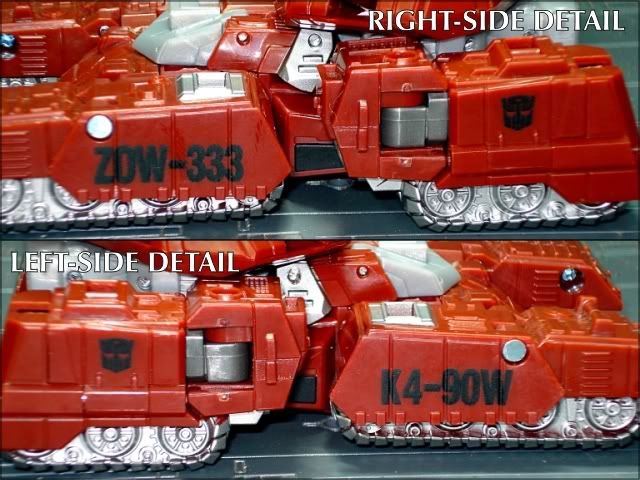 Close-up of vehicle mode detailing, showing Warpath's famous phrases. (Note: Directions are oriented with the tank facing the user…

)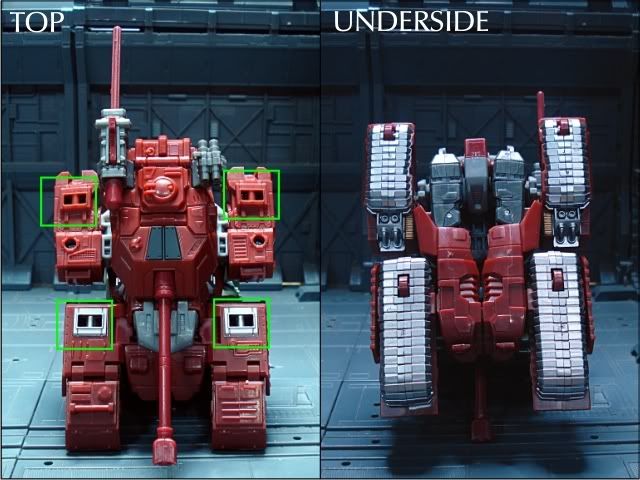 Warpath, vehicle mode, top (right) and bottom (left) views. The C-clip rails are highlighted.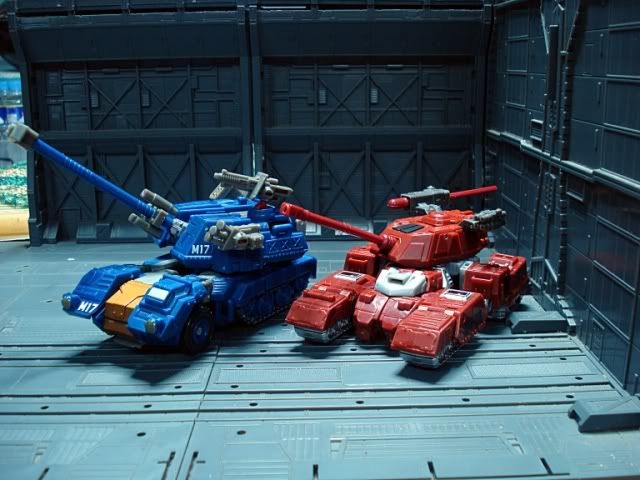 Comparison with fellow TF Generations Deluxe Darkmount. The picture shows the maximum range the tank turret lifts up, as compared to Darkmount's cannon.
The tampographed identification codes on the tank's sides are a nice touch

While the turret weapons are permanent attachments, Warpath has four C-Clip rails, all situated over each tread section, which can accommodate any weapon with a compatible C-Clip attachment point, available with recent TF releases.
Transformation
Transformation is on the simple side (almost too simple, IMHO), mainly involves unfolding the limbs out from the treads and swinging down the turret to form the torso.

The turret has a nifty bit of auto-morph where pushing the barrel of the cannon flips up the head. This step can be done either as the first step or last step of the transformation. Ger-head mode!

Care must be taken when moving the hinged panels as they are a bit tight. The plastic seems flexible enough, but it never hurts to be careful.
Robot Mode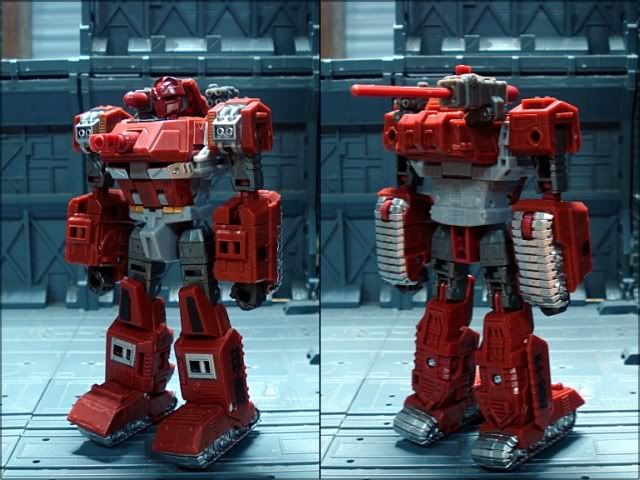 Warpath, robot mode, Front view (right) and Back view (Left)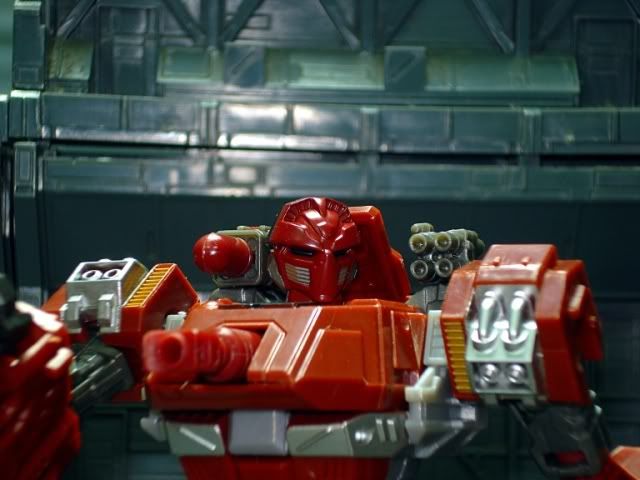 Close-up view of head sculpt
Like the vehicle mode, bot mode is nice and compact, nothing floppy, except probably the ankles. Everything folds nicely into place and the robot is stable thanks to his large feet.

Warpath is still solid red, but a few more black and silver highlights appear, even some yellow on the shoulders and waist.

Warpath's robot mode is a VERY faithful update to his G1 Minibot self, with his trademark cannon on his chest, tank tread feet. Even his solid red color scheme is similar, including the gray on his shoulders, the black optics and vents on his face.

That being said, Warpath is full of sculpted detail, with special mention to the shoulders, which have cool machine bits. The headsculpt is interesting, almost alien-like, vaguely Protoss / Predator - ish.

The proportions are good, with a very muscular / powerful look. Must be his wide chest and Popeye-forearms and thighs… ;D

Unlike recent TF Generations and Reveal the Shield releases who feature open-palmed hands, Warpath has the traditional molded fists with 5mm holes, similar to the Classics and TFU toys.
Warpath, posed, showing the extent of articulation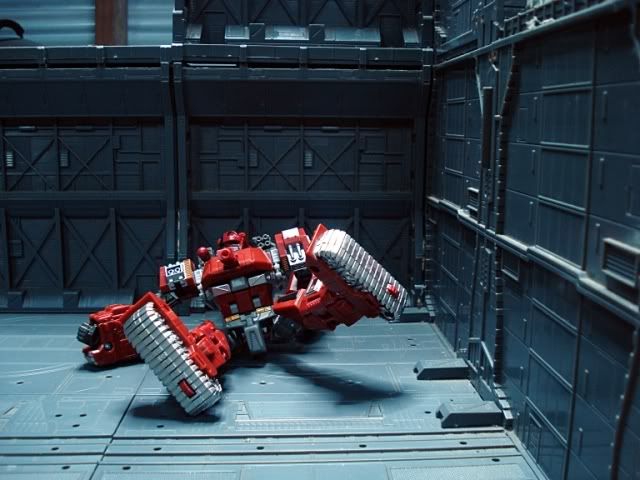 Kick-test, FAILED
Warpath has good articulation, with lots of useful joints, but not as much compared to other recent releases like RtS G2 Prime and TF:G Darkmout / Skullgrin.

Neck: 360° swivel joint
Shoulders: Universal rotators with another set of hinges for lateral arm movement
Arms: Swivel biceps, 90° hinged elbows, hinged wrists due to transformation. No wrist rotation
Torso: No torso or waist movement
Legs: Ball-jointed hips (slightly limited), thigh swivels, 90° hinged knees, no real ankle movement.


Unfortunately, despite Warpath's large feet, he cannot pass the kick test due to the small plastic wheels on his feet.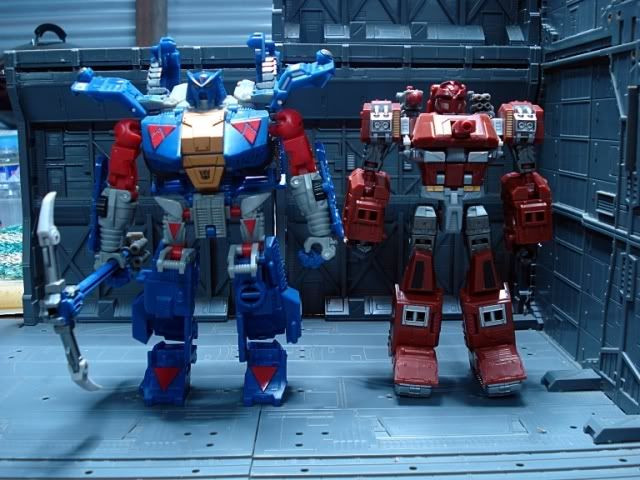 Warpath, Robot-mode size comparison with TF:G Deluxe Darkmount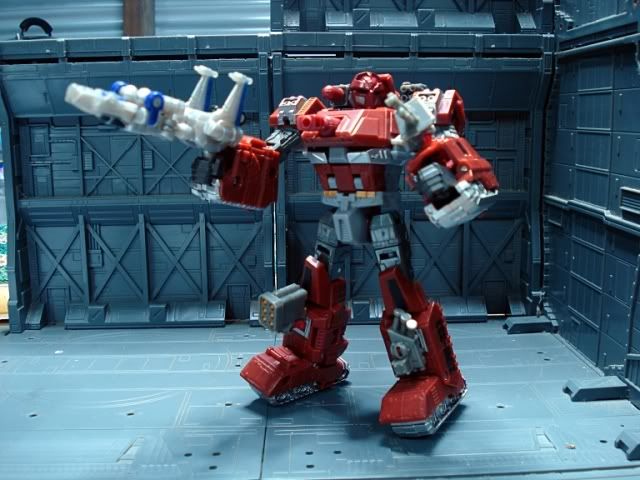 Warpath, demonstrating Darkmount's clip on accessories and carrying Mini-con Over-run in gun mode.
Compared to Darkmount, Warpath is relatively smaller, and less bulky. Also, it's noticeable how Warpath lacks accessories compared to Darkmount.

Once again, the long missile sticks out significantly in robot mode. While it doesn't affect Warpath's balance, it's an eyesore.

Thanks to the new universal C-clip system, Warpath can use any weapon with a C-Clip connector, though only the ones on his forearms serve as useful hardpoints. It's a shame that Hasbro decided NOT to make the shoulder weapons as C-Clip accessories.

Warpath can also utilize weapons (also Energon and minicon weapons) with 5mm pegs, though the forearm / wrist armor may limit the choices of weapons one can use.
Verdict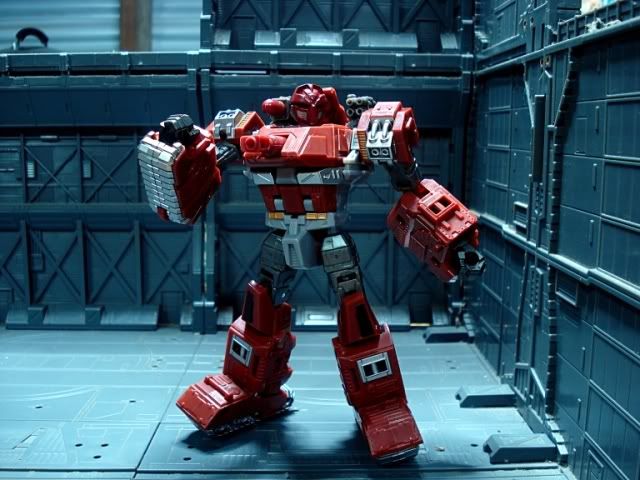 Highly anticipated, Generations Warpath is another great offering from Hasbro. While I feel that, in some ways, his transformation, engineering and aesthetics are a bit dated, hearkening back to the days of TF Universe (as compared to his contemporaries in the Tf:G and RtS lines), Warpath is a solid toy and a great update to the old G1 Warpath toy, with modern engineering and style.
Warpath's tank and bot modes are fun to play with and display, and will look right at home in any Classics shelf. While some may say he would've been better a Voyager, I'm quite pleased that he's in the Deluxe class.
It's just too bad he's the last of the better toys we'll see before the DotM toys hit the shelves.
Grade
out of
Jya na!