Post by fenrir72 on May 7, 2011 16:17:52 GMT 8
She is imho one of the most beautiful figures ever sculpted! Not to mention she was based on one of ero master Tony Taka's artworks:
Background:
Sculpted by:
Chieri (one of my fave sculpters  ;D )
Contents:
A yellow banana yellow box + die-cut black book case like cover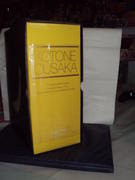 a banana
a well designed/detailed school desk (with some leg and buttock molding which is pictured)
Tony Taka postcard of Kotone
and a two layer blister plastic holder
The figure herself
Kotone at all angles: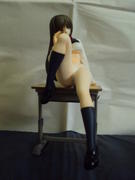 * see her well rendered pantsu?
Close up of her face:
Beautiful!!!!!!!!!!!
Details:
nail polished hands
faux banana
school girl shoes
Now the "piece de resistance", no self respecting Native figure would never be caught with her clothes on right? Well yes, she does comes with some cast-off elements as seen here: Just detached the two components that cover her breast and bra and voila!
NSFW links!
img270.imagevenue.com/img.php?image=748496695_DSC01360_123_493lo.JPG
img272.imagevenue.com/img.php?image=748355148_DSC01358_123_173lo.JPG
img143.imagevenue.com/img.php?image=748087559_DSC01357_123_379lo.JPG
img107.imagevenue.com/img.php?image=747890223_DSC01353_123_156lo.JPG

You can actually take of her panstu but because of this #@$%*& design (which took me nearly 6 months to figure out,) well I just didn't want to risk it
The rant:
Being like the 2nd or 3rd of Native's premier classy ecchi figure line I am at a loss to find anything wrong with the figure (except, I'm not sure if it's just my eyes but there seems to be a seam line on her left leg (which can't be seen in the pics but noticeable when angled to a light source)
The details (from well her Tony-rrific face sculpt) which makes her look more beautiful than her source art material (5/5 Chieri  

),her cute nipples and breast and  "sweet-spot", nail polished finger nails, shoes(shiny as a mirror with a faux leather like appearance in the soles), the banana, her pantsu and finally her desk.Again, I'll repeat I'm hard pressed to find flaws in the sculpt.
But being O.C., I did find the flaw: (as repeated in one of the pics above)
This d@mn connection piece to fasten her pantsu is located in a very out of reach spot. You detach it now and it takes like forever to re-hook.
Minor complaints aside, this figure is a must have! I give her a 4.999999 out of 5.0.
Honorable mention btw to lillybelle from whom I got Kotone.