Post by cybernaut on May 23, 2011 4:29:44 GMT 8
Transformers Dark of the Moon Deluxe-class Optimus Prime
Optimus Prime
Allegiance: Autobot
Function: Autobot Commander(?)
Bio
Optimus Prime, the leader of the Autobots, earned the right to be called a Prime by virtue of his courage, intelligence and skill in battle. But the discovery of the long-missing Sentinel Prime means he may have to share his role as commander. The Decepticons don't stand a chance with these two mighty Autobots fighting side by side!
Tech Specs
Strength: 10
Intelligence: 10
Speed: 7
Endurance: 10
Rank: 10
Courage: 10
Firepower: 10
Skill: 9
Not one of the best Optimus Prime bios, but it gets the job done.
In and Out of Package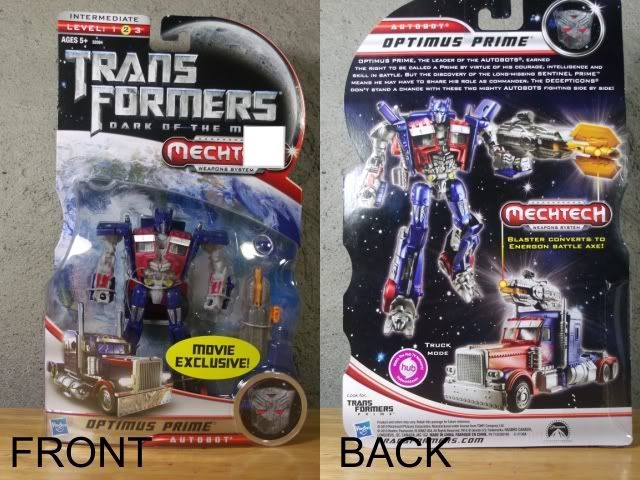 In package, front (left) and back (right)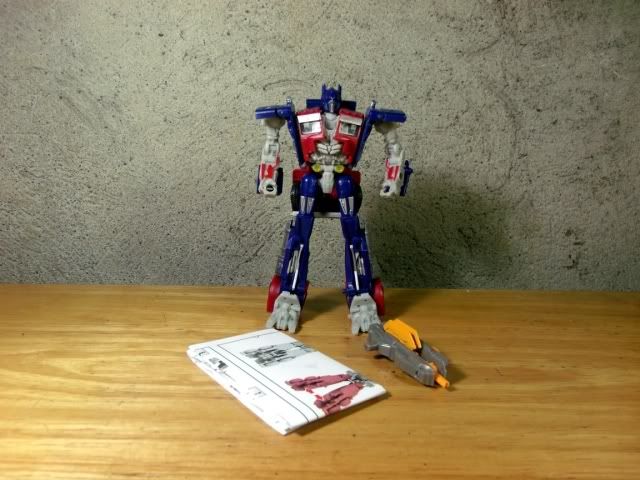 Out of package, showing the list of contents
Alternate Mode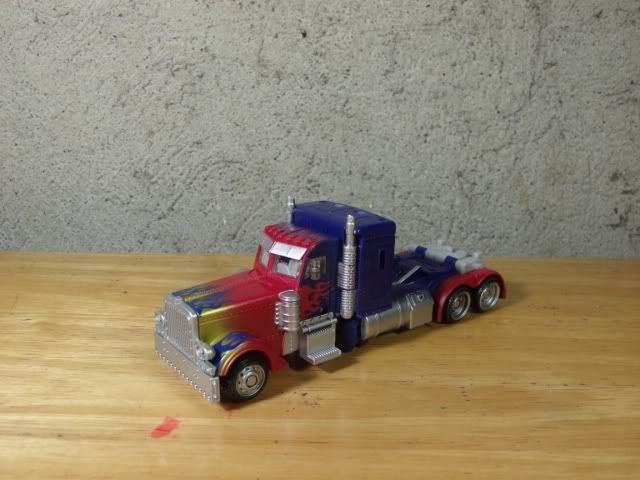 Vehicle mode, front / side and rear / side views.
Alternate mode is, I assume, still the Peterbuilt 379 Long-nose Truck, done in dark blue and that pinkish red plastic that Hasbro's been fond of using lately. The windows are clear plastic.

Just like RtS G2 Prime, it is a small deluxe, but still a whole lot bigger than scout class.

Plastic used on toy is noticeably of lower quality compared to earlier TF Movie toys, but that's pretty much normal already for TF's nowadays…

Paint apps on the truck mode are decent. The recognizable flame paintjob is still there and, surprisingly, there are a lot of metallic silver paint apps, from the grill, fuel tanks smokestacks, even the wheel rims. I just wish they'd also painted the "headache rack" behind the sleeper cab (they become Prime's arms in bot mode) silver as well.

Truck mode is solid, no floppy bits. All six wheels touch the ground and roll nicely. Ground clearance is pretty low, but not enough for the bits to scrape the ground / table / surface / what have you.

One thing of note is what seems to be trailer hitch on the back of the truck, which may be for an intended trailer somewhere down the line.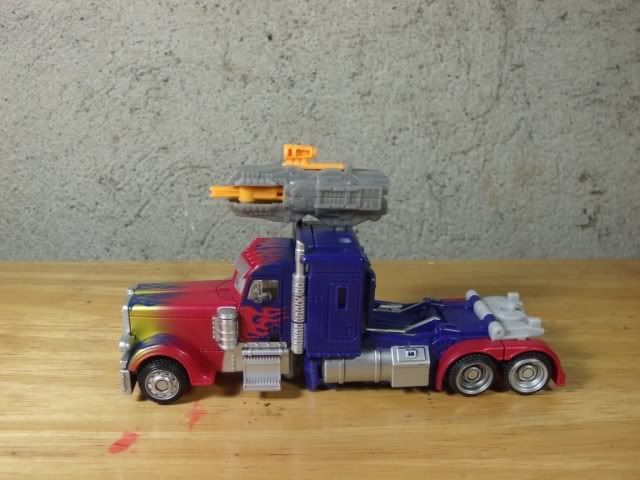 Vehicle mode, with Mech-Tech accessory attached.
In truck mode, Prime has two available Mech-Tech ports, two on the roof of the sleeper section. Unlike some DotM deluxes, no panel pops up to cover the holes.

The Mech-Tech blaster can be attached on the roof of the truck, though like most Mech-Tech weapons, looks quite out of place (and, as an axe, quite useless).

For those curious, the smokestacks have hard points for weapons with C-clip attachments.
Transformation
Transformation scheme is engaging and fun. There are some new tricks here, which results in the robot mode looking a bit awkward in places. It's a whole new setup, which is intuitive given the size, but leaves a whole chunk of truck in the back, ala, TftM Voyager Prime. At least he has no fake kibble; the truck windows actually become his chest armor.

There's a bit of spring-loaded auto-morph in the chest where pulling the chest halves apart pops up the head. Nice, but I can't help but think it was unnecessary.
Robot Mode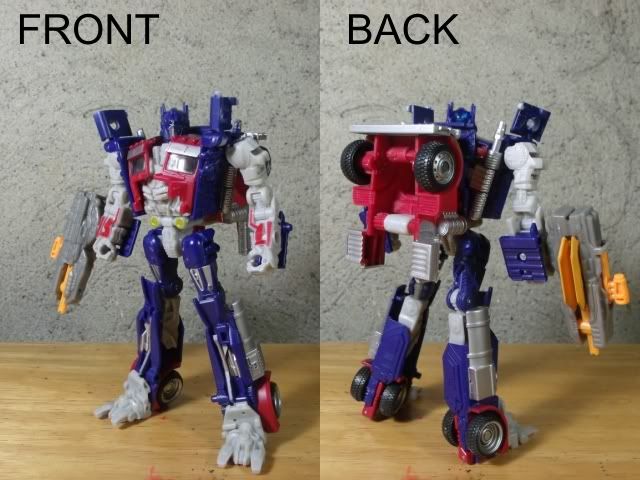 Robot mode, Front view (right) and Back view (Left)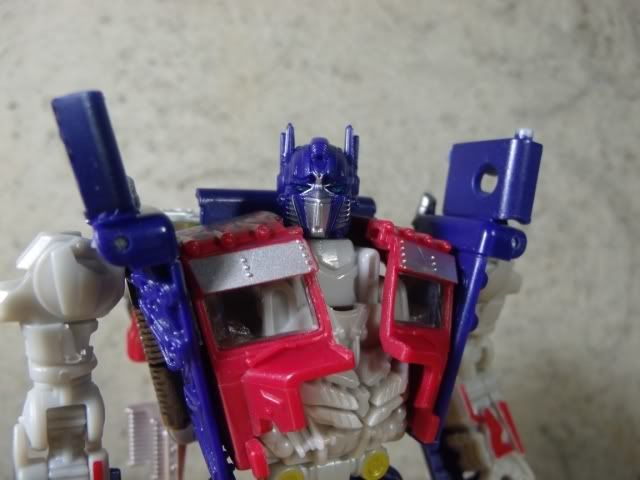 Close-up of head and upper body details.
Like the vehicle mode, this mode is nice and compact, nothing flopping around, except perhaps a slight shakiness in the chest portion due to the automorph.

The ENTIRE nose of the truck does not in any way transform, but hinges up on Prime's back. It makes him somewhat back-heavy.

Optimus Prime's robot mode manages to resemble his on-screen model, though the chest is quite square-ish, thanks to those blue panels on his sides. The arms are different and have Mech-Tech ports, while those blue shoulder pylons look awkward as stand-ins for those metal things Movie Prime has on his shoulders.

He's a small deluxe, but still a bigger than scout class. Think RtS G2 Prime, though this is slightly bigger and IMHO, better in some ways.

The sculpted detail is quite good, if a bit stylized in places. He really needs decent paint apps! As it is, aside from the scant paint highlights, everything in bot mode is the stock plastic color. The arms look bare, being cast in one shade of plastic with some feeble red detailing.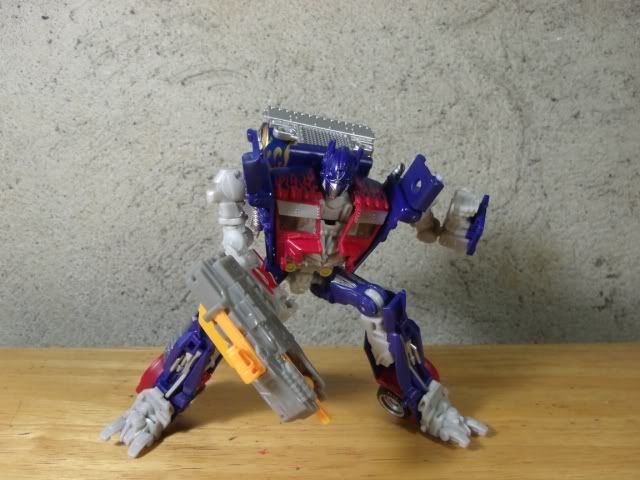 Posed, showing the extent of articulation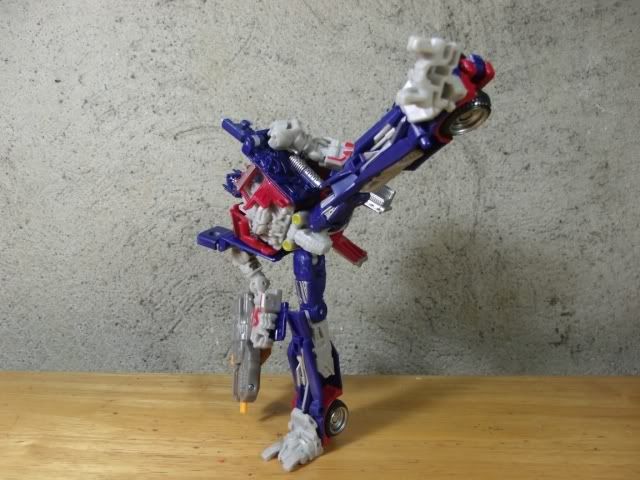 Kick-test, PASSED!
Prime has good articulation, with useful joints. The arms have a good range of motion, thanks to the double-hinged elbows. The legs are okay though the awkward foot setup, as well as the lack of any ankle articulation or heel spurs, makes posing tricky.
Neck: 360° swivel joint
Shoulders: Universal rotators with another set of hinges for lateral arm movement
Arms: Swivel biceps, double-hinged elbows, no wrist rotation
Torso: Waist movement restricted by backpack / truck nose.
Legs: Ball-jointed hips, thigh swivels, 90° hinged knees, no ankle movement, but has toe(?) articulation.
Mech-Tech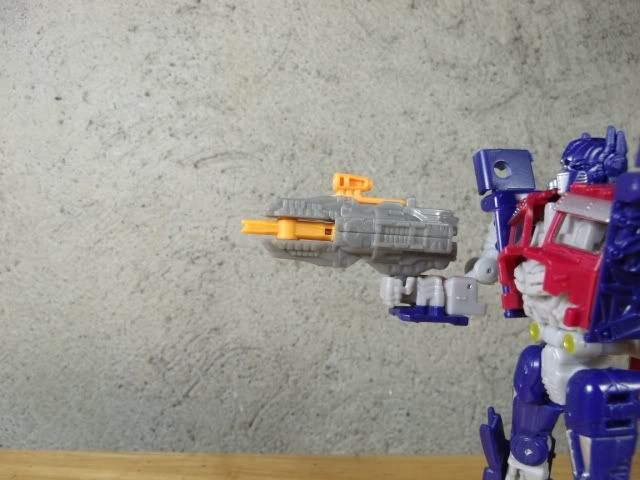 Mech-Tech weapon stowed (top) and deployed (bottom).
The Mech-Tech weapon is initially some sort of blaster with a scope. Pulling the scope forward engages what the package calls an "Energon Axe". It can be mounted on Prime's forearm or held in his hand. Prime can also use any Mech-Tech weapon from other DotM toys.

Unfortunately, like all Deluxe Mech-Tech weapons, there is no way to lock the weapon in the "Axe" configuration.

Prime sort of loses the universal C-clip system connectivity, since the smokestacks are now on his back, obstructed by the shoulders.
Verdict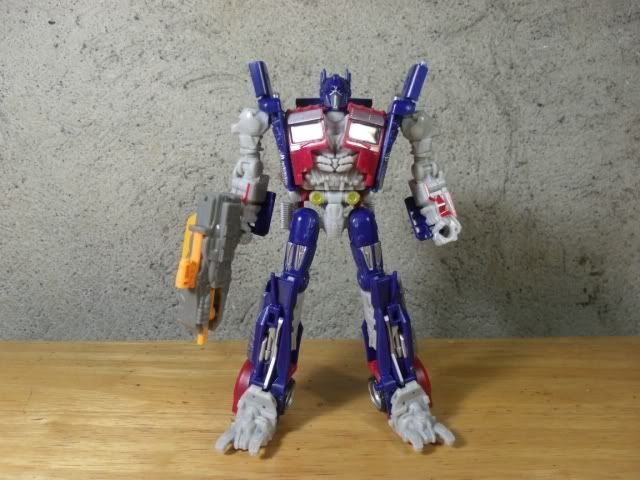 Apparently a Wal-Mart Exclusive, DotM Deluxe Prime is a nice mold great truck mode and a decent robot mode. There are nifty ideas here and there, but the lower-quality plastic and sparse paint apps lessen the overall impact. Considering that he's a bit more expensive than a regular deluxe (at least at local Philippine SRP), some may have misgivings on paying for another DotM Prime, given his size and especially if one already has the Voyager version.
But despite the small size and missing detailing, I'd still say he's worth a look, especially for those looking for a handy DotM Prime to fiddle with. The truck mode is nice (better than the Vyager, IMHO) and the bot mode is fun to fiddle with. While it may not be the best Movie Prime out there, it's not a bad choice either.
Grade
and a half out of
Jya na!