Post by cybernaut on Jul 11, 2011 5:25:53 GMT 8
Notes:
- Credit is due to Cybertron Philippines where this review first appeared.
Transformers Dark of the Moon Voyager-class Fireburst Optimus Prime
It hasn't been that long since the Dark of the Moon Voyager-class Optimus Prime was released on mass retail and already we're getting a repaint of it, in the form of Fireburst Optimus Prime, with a slightly different color scheme and a different Mech-Tech accessory. And like any fan of the character, I snapped him right up without hesitation.
Note
:
This review will center on the significant changes present in DotM Fireburst Prime versus the regular Hasbro DotM Voyager Prime, which fellow member zephon has already made an excellent review about
here
.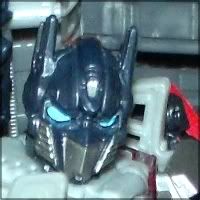 Optimus Prime
Allegiance: Autobot
Function: Autobot Commander (?)
Bio
OPTIMUS PRIME® fights with the utmost valor, courage and power. His dominance over the DECEPTICONS® is due to countless centuries of battle experience, a mighty armament and a virtuous Spark. Even so, widespread threats to the AUTOBOTS® and OPTIMUS PRIME still exist - there is no time to rest, there is no time for defeat, there is only time for victory!
Tech Specs
Strength: 10
Intelligence: 10
Speed: 7
Endurance: 10
Rank: 10
Courage: 10
Firepower: 10
Skill: 9
Dare I say "
BURNING JUSTICE!!!
".
In and Out of Package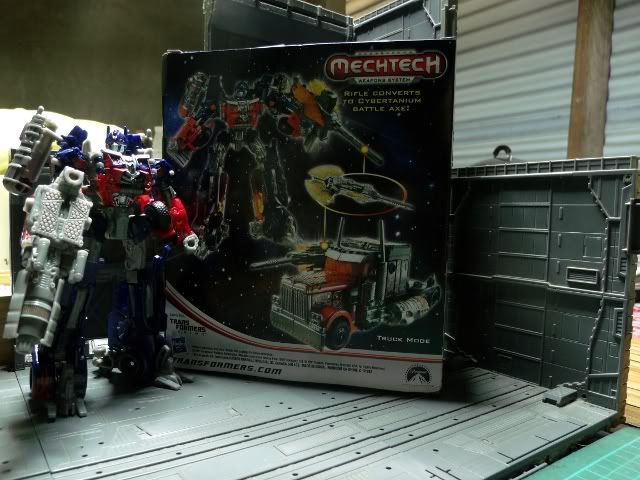 In package, front (left) and back (right)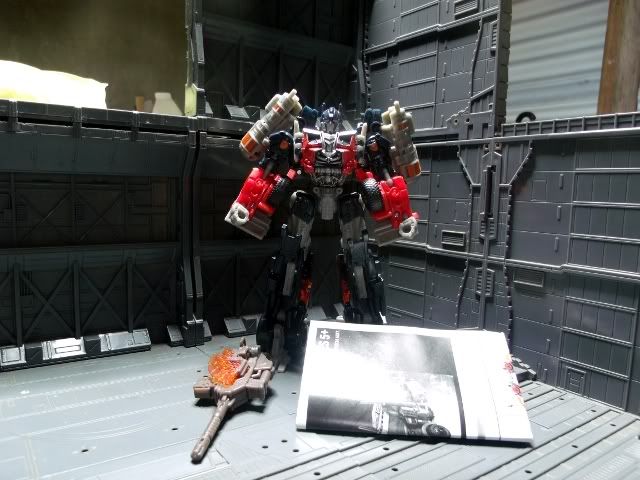 Out of package, showing the contents
I still think DotM packaging is SOOO generic looking, but I can't help but appreciate improvements on the presentation.

Plus points to whoever thought to add a slot in the cardboard insert tray for the instructions!
Note
:
This isn't actually the first Fireburst Optimus Prime toy to be released. There was an
HftD Fireburst Optimus Prime
released as a Legends-class repaint of RotF Prime. If you're lucky you can even spot him on markdown along with the other HftD Legends-class pegwarmers.
Alternate Mode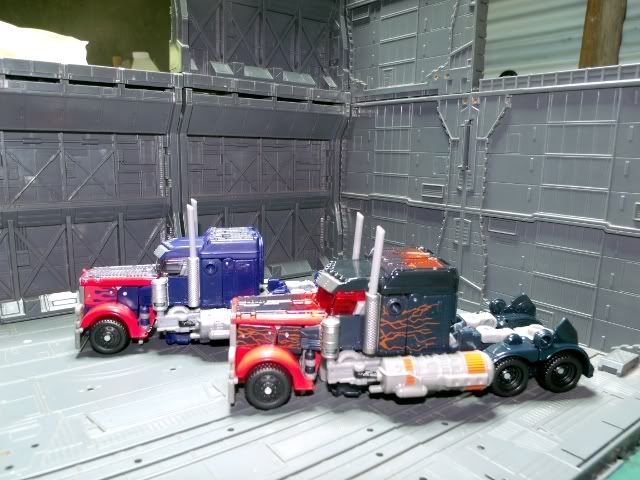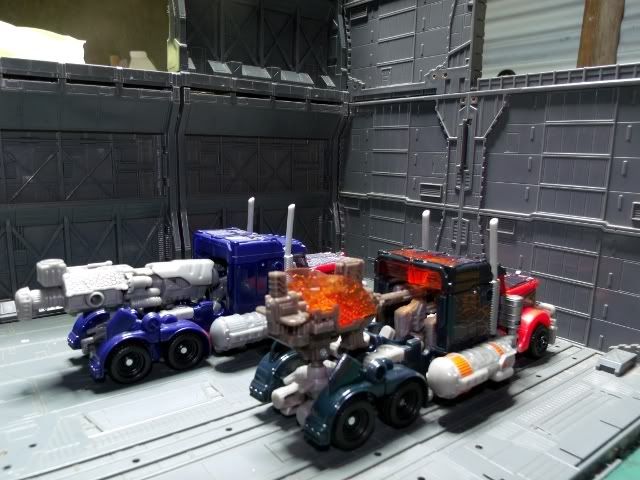 When initial pics of Fireburst Prime surfaced, I thought he was remolded with exposed engine bits like DotM Nitro Bee, but on hand, I realized he's just a straight repaint of Hasbro DotM Voyager Prime, right up to the visible "solar panels" and over-sized gas tanks.

The deco carries an eye-catching lava / magma / volcanic theme, which I think is more interesting than the original DotM Prime's in terms of impact and cohesiveness.

The blue plastic is replaced by very dark grayish-green (I really can't describe it…) plastic which contrast with the now-orange-y red plastic used, while the clear plastic on DotM Prime is replaced by red-orange transparent plastic, which adds to the "fiery" theme. The orange "solar-panels" have some sort of "lava" paint apps that match the plastic of the toy, though I think it would've been better if the paint was UNDER the shields.

At least on mine, the truck mode is solid, no floppy bits or signs of mold degradation yet. All six wheels touch the ground and roll nicely, despite the low ground clearance.

I'd say this deco by far improves on the unfinished look of the first Hasbro DotM Voyager Prime, even if the deco is very far from the traditional Optimus Prime deco we're used to.
Transformation
Since Fireburst Prime's essentially a repaint of DotM Voyager Prime, converting him from alt mode to robot mode is EXACTLY THE SAME.

Special care must be taken with transforming the chest part. The tabs that secure the breastplate are very tight and may break if forced.
Robot Mode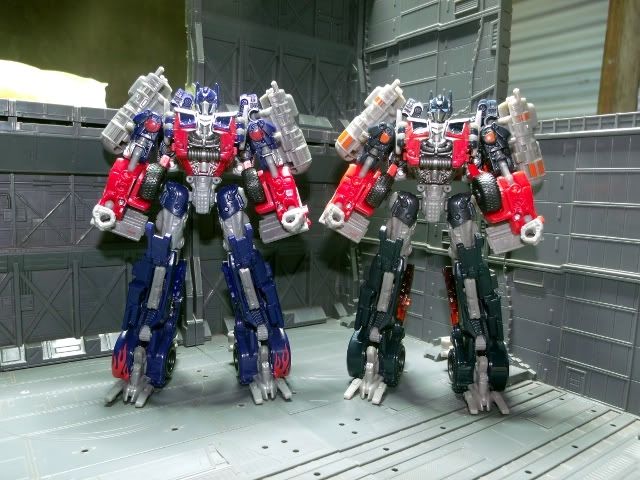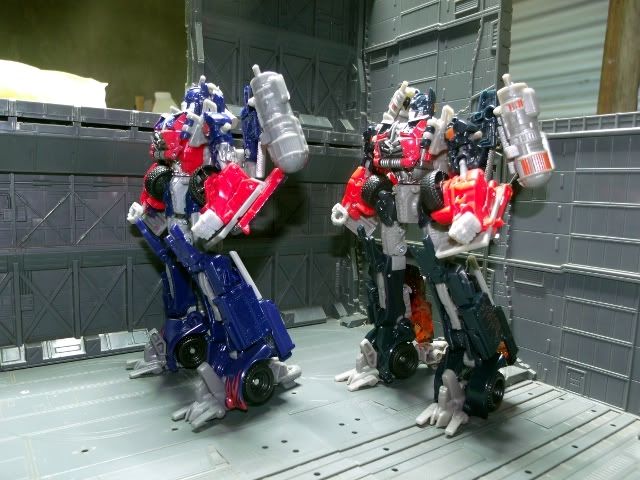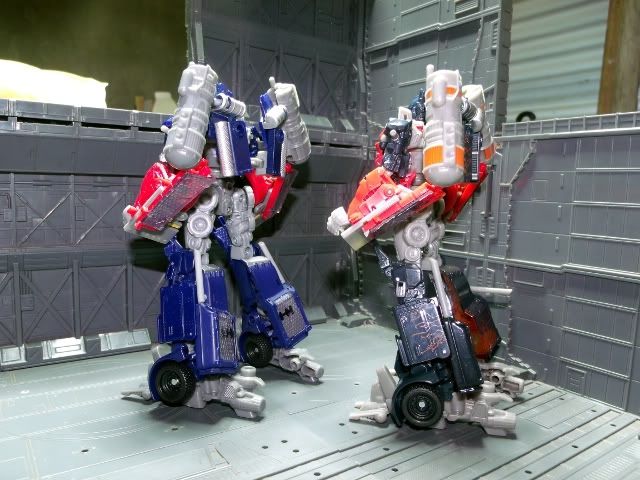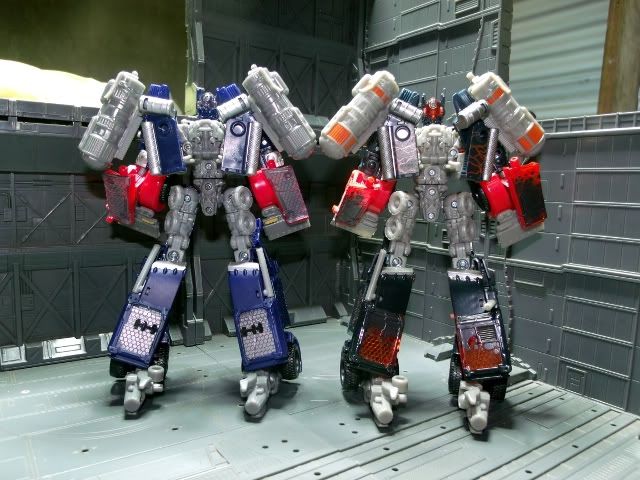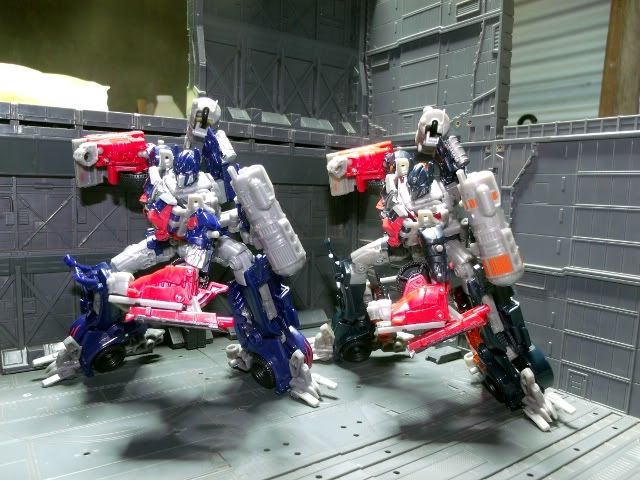 In robot mode, the impact of the new deco isn't as pronounced since the magma / volcanic deco is broken up into theparts that make up the back panels, arm guards and leg armor. In fact, side by side, you'd just think Fireburst Prime was the same as DotM Voyager Prime, only darker.

As mentioned earlier, the pinkish-red plastic of Hasbro DotM Voyager Prime has been replaced with a more orange-y plastic, which IMHO, makes it lookmore vibrant. The blue is replaced by a darker blueish /greenish gray plastic, while the Hasbro-gray parts are now cast in a brownish-gray plastic.

For those with scrutinizing eyes, you can see that the paint apps on the head are different (there's silver on his forehead while his mouthplate is painted differently) and that his giant fuel tanks have orange paint apps that make it look like it's charging up energy or something.

Compared to my Hasbro DotM Voyager Prime, I find that my Fireburst Prime's joints are tighter, especially during the waist and thighs. If I had to comment, I wish Hasbro had just used the Takara version of DotM Prime (without trailer, mind you) as their official DotM Prime, then released this mold (with giant fuel tanks, remolded knees and translucent solar panels) as the a standalone Fireburst Prime, similar to Nitro Bee.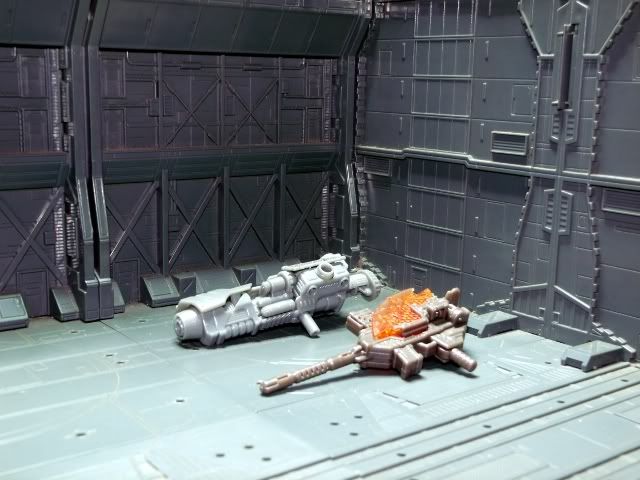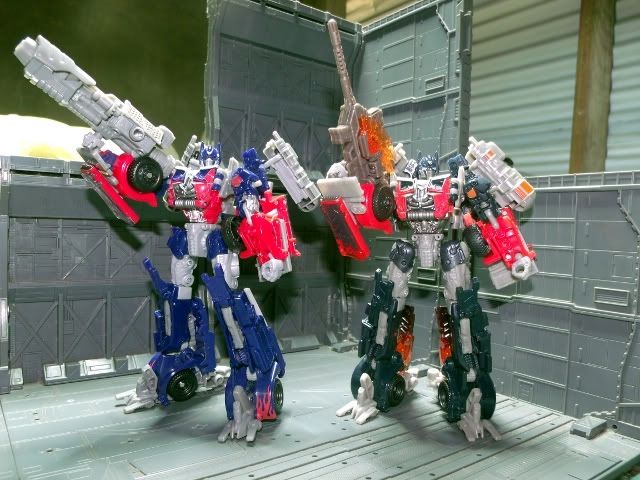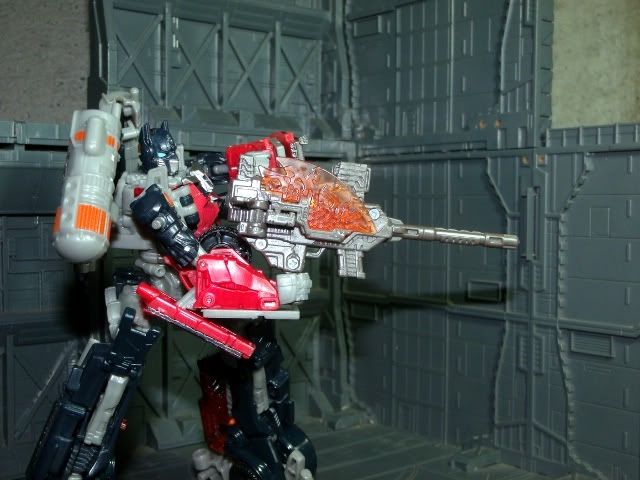 The main selling point of Fireburst Prime is that his Mech-tech weapon is different from the regular Voyager Prime's.

Instead of the huge cannon / shotgun seen in the film, Fireburst Prime comes with what looks like an energy rifle of sorts, with an extended barrel, and parts that look like energy magazines or something.

The rifle sports translucent orange core (hence the energy rifle vibe) and translucent orange "fins", which tend to make the rifle a bit goofy a times, but is essential because…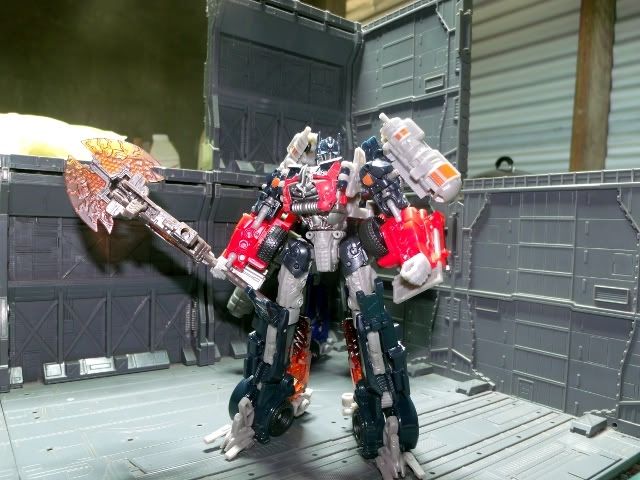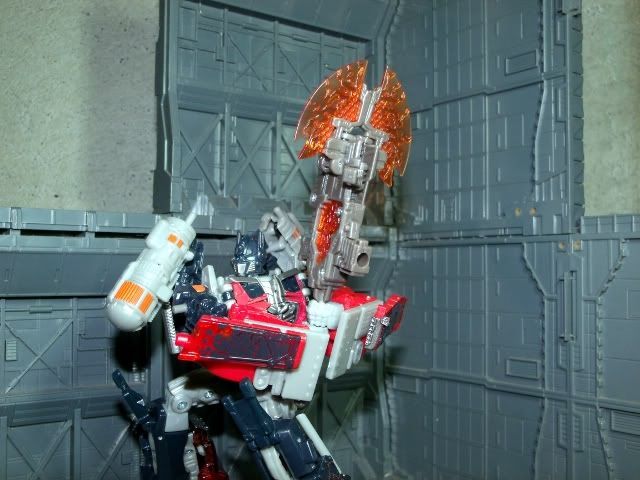 …pulling on a cleverly disguised tab converts the rifle into what many see as the biggest draw to Fireburst Prime, his "Cybertanium Battle Axe"!

The "Cybertanium Battle Axe" is isn't actually an axe, in the conventional sense of that word as it is more of a bladed pole arm. The long barrel of the rifle serves as the handle while the orange fins sweep up to form the blades. It's too bad the rifle's chassis is too prominent that in certain angles it looks weird.
Like all Voyager-class Mech Tech weapons, turning the tab to one side locks the weapon in its secondary configuration.

Special care must be taken with this accessory due to the fact that the mechanism to convert the rifle to the axe easily moves out of alignment, though it is easy to realign.

The most common problem is that the Mech-Tech tab slips through the gears, keeping the blades from either fully forming or properly retracting. Many on-shelf samples show signs of this, so scrutiny is best exercised when choosing.
Verdict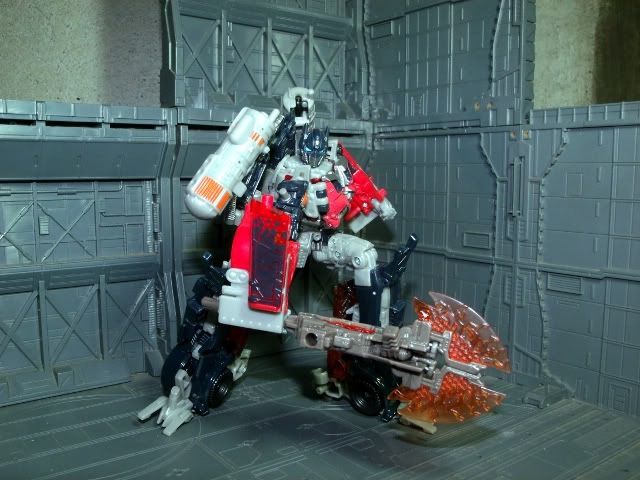 Like any repaint / retool / remold, Fireburst Prime isn't as high on everyone's priority lists, since he's not screen accurate, and his Mech-Tech weapon is an acquired taste. If you're buying this just for the axe, I dare say you might be a bit disappointed since it's far from the best Mech-Tech weapon out there (and is really doesn't work quite right as a stand-in for War for Cybertron Prime's axe). But, if you're looking for a good Optimus Prime toy and don't quite feel the deco of original DotM Prime, then this one's a good choice.
Grade
out of
Jya na!