Post by fenrir72 on Feb 11, 2012 13:58:08 GMT 8
Manufacturer: Takara
Subline: E-Hobby #67
Year: 2005-2006

Contents:

1. "Orion Pax" figure/vehicle w/ die-cast body, feet/wheels
2. weapon/laser musket
3. "Dion" figure/vehicle
4. "Barrel roller" figure/electromagnetic lift accessory
5. #67 biocard
6. decal sheet
Background:
Before the Prime series, the Bayformer movie, Beastwars.......there was G1! The iconic ba@ss hero we all know and revere, well, he wasn't a hero back then. As the old adage says "Heroes aren't born, they are built". In the case of these robotic lifeforms, that statement is a literal fact!
Optimus or Orion, as he was called 10,000,000 years ago, was a dock worker who wouldn't give a cr@p as to what was happening to his surroundings. So long as he had his girlfriend Ariel and his buddy Dion, working together happily in an energon collecting plant..........life was good. At least until another bad@ss tyrant put a damper in their little paradise they called the Golden Age of Cybertron.
Hence the premise of the episode "War Dawn", written by David Wise way back in 1985/86.
Anyway, ever since that episode, fans have been wanting a pre-TF Orion Pax to be officially issued by either Hasbro or Takara (that and a few other fembots that also made their respective appearance in the series). Orion's design btw had coincidentally some striking similarities with the upcoming character from the 1986 Movie Kup. I remember speculating that maybe, just maybe, an Orion figure would be released using the same mold(?)
Fast forward in 2006, what with Takara's reissue of the TFC series, Kup's "target master" version bundled with Wheelie, E-hobby announced an official release of a limited edition Orion Pax figure. Oh joy! Finally an official release, but alas......just a lazy repaint with nary a re sculpted part at all. I mean......this was Optimus Prime/Convoy for Pete's sake, doesn't such a release deserve a new head sculpt?
Well, thanks to an enterprising customizer, an unofficial copy of a limited edition decal sheet from a Japanese Hobby magazine (one that mimics G1 Optimus Primes' pattern) and a lot of patience scurrying ebay..............finally got one!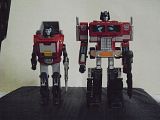 Comparison shots of What Optimus Prime looked like before his upgrade
front
back angles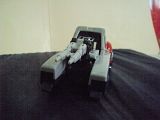 Back with Barrel Roller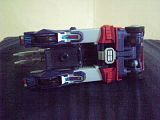 Bottom
Orion's vehicle mode(which was never presented in the show btw) at all angles including "Barel Roller" who serves as an electromagnetic lifting device. Being a straight repaint of the Targetmaster Kup , his function isn't offensive as the original "Recoil" weapon/figure was described but more of an accessory for his work as a dockworker.
Orion in his robot form together with Barrel Roller who would later be upgraded to "Roller"
Full body shot
Now "Roller" (Who seems to have been downgraded from a humanoid bipedal form to a six wheel drive vehicle/scout car)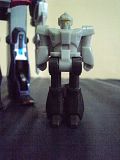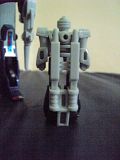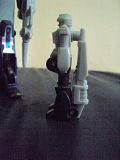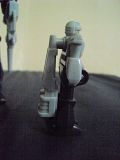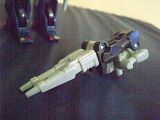 He'll eventually end up looking like this: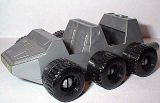 Notice the subtle nods of the color applications? The original "Recoil" figure is colored the opposite of "Barrel Roller" which coincidentally is what the first release Rollers appeared as.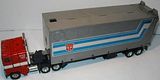 And of course, the custom decals that also gives a nod to Optimus' Trailer designs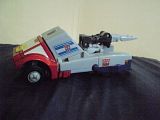 The rant:
I've had mix feelings for this figure since its release. I'd go gaga over any Optimus Prime related product, at least, a product that really packs a punch for such an iconic character.
It is quite surprising that Takara/E-Hobby(Who else? Because Hasbro always seems to play catch up) who could present a re sculpted head for a second tier character Blurr ( from the ML,SL and GF series) and go lazy on Orion Pax?
Unacceptable! What more, being an expensive limited release didn't bother to release the G1 inspired decals with the figure but instead sub distributed it to a Hobby mag?! I mean, talk about milking the promotion and all.........at that part, maybe I shouldn't complain about the decals, this being the Japanese collector market we are talking about here............but the head, at least a re sculpted head!
Anyway, this figure would have been relegated by yours truly to oblivion until I heard that an enterprising customizer from the US had not only released several custom heads but also included the decals from the magazine in a one figure fits all package. Now that attracted my attention!
So I scrounged ebay for any opportunity to get one of those releases..........alas, only 2 were put on auction by different owners at ebay this past year or two. Thus I was lucky enough to snag the second item offered.
Why mention the effort on the last two paragraphs? Well that's where my rating comes from. Without the custom head............color changes aside, I'd give it a 2 out of 5.0.
Really, such a waste of packaging effort. And another thing, the Kup head comes with his "robo wrinkles", Orion was a youthful Cybertronian...so what the?
Buuuuuuut! As another saying goes " clothes do make a man....." though technically not "clothes", but a new head, coupled with the custom decal plus the Optimus Prime colors of the good old Red, white and dark purple blue............I give the figure a 4.9 out of 5.0!
It's the head that gives the figure the personality! Quality wise, being an independent customizers work, I give the custom head a 4.0 out of 5.0, not perfect smooth glossy but more than enough change the figure's personality!
If you really are into this figure and have the patience to scour ebay, I suggest a go, but given that I just got lucky last holiday season............
P.S.
As for "Dion", I haven't forgotten you yet old buddy..............next on to Ultra Magnus!