Post by fenrir72 on Feb 20, 2012 23:56:59 GMT 8
Manufacturer: Hasbro Takara

Subline: Powermaster

Year: 1988

Contents:

ICBM Carrier (Doubledealer aka Doubleclouder)
Knox Powermaster engine block (humanoid form)
Skar Powermaster engine block (bat form)
ICBM(splits into a photon rifle and a shoulder mounted missile)
Engine block breastplate/guard
Background:
Aside from name/minor paint application difference, he was released in both the international and Japanese market. Unlike the the former (where he got a bit of exposure in the UK comics), he was a "whatever" in allegiance in the anime.
In the former, his Powermasters were separate robotic beings( not even Nebulans) while in the latter, the Knox and Skar figures were the same being who could change the appearance of his armor.
The pics:
ICBM vehicle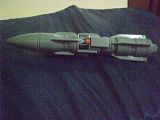 ICBM/Missile launcher/Photon canon
Powermaster/engine blocks
Vulture/Falcon(?) mode
Mercenary Mode
The Rant:
In my opinion,
despite being a brick
, his transformation was both simple and advance for his time. He even employed mass shifting abilities

'cause in a Voyager size ICBM mode, he expands to a Leader sized mechanoid/mechanimal form.
Stick the Knox figure in engine mode, he transforms to the Autobot mercenary form (you can stick the extra engine Skar in his robo butt). If you want to transform him into his bird mode( falcon or vulture fits the description), stick him again in the engine block socket . The Skar engine differs from Knox in a sense that his knees have extra long pegs which pushes a deeper positioned buttons that allows you to unlock the bird mode.
Again, as mentioned before, he is quite unique and advanced for his time. With the exception of Overlord, he was the only Powermaster to sport two different "engines". For such a small package, you get 3 modes of fun filled moments of play soldier.
If there is a downside to this mold, it is the Knox figure gets his paint job scrapped with constant plugging into the socket compartment. Wished the painted parts were "molded" in the colors they came from.
And his d@mn metal parts gets corrode easily ( seems like the same " cosmic rust" syndrome that also plagued the USA version of Powermaster Optimus Prime)
It is quite hard to find him in a complete state and at affordable price levels. More or less he costs above US$ 100.00. In MISB or boxed maybe higher. Not to mention his recent exposure in the "tion" story arc by Furman.........
Regardless, even before the Furman love fest, already been wanting to get this figure back in 1988 but missed the boat. So if you find one of this high tech bricks....go for it!
Rating:
I give him a rate of 4.99 out of 5.0 (hey..........nobody is perfect
)