Post by cybernaut on Jun 17, 2012 3:02:00 GMT 8
Transformers Prime : Robots in Disguise Deluxe-class Cliffjumper
Note:
Credit is due to Cybertron Philippines where this review first appeared.

gaoJP has a review of the Tf: Prime First Edition Cliffjumper here.

sluman has a review of the Takara Arms Micron version of this toy here.
Ah, Cliffjumper.
Arguably one of the more interesting characters of the Transformers: Prime TV show, given that he was hyped to be one of the starring characters and voiced by none other than Dwayne "The Rock" Johnson himself but ended up having the shortest episode appearance ever, being killed by Starscream before the first episode was even over.
As a toy, TF:Prime Cliffjumper also bears the distinction of being one of the few Cliffjumpers to not be a body double / repaint of the concurrent Bumblebee toy, and having been part of both the First Edition Prime toyline as well as the more recent Robots in Disguise Revealers subset, the latter of which we are reviewing.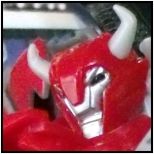 Cliffjumper
Allegiance: Autobot
Function: Warrior(?)
Bio
Few Autobots are as fierce as Cliffjumper. The Decepticons long ago learned to fear the loudmouthed warrior for the incredible skill with which he wields his battle hammer.
Tech Specs
Strength: 8
Intelligence: 5
Speed: 6
Endurance: 6
Rank: 4
Courage: 8
Firepower: 7
Skill: 5
Interesting how even in package, Cliffjumper is subject to inaccuracies, as despite the card art showing Cliffjumper brandishing his triple-barreled wrist blasters, the toy DOES NOT have them. He comes instead with the battle hammer mentioned in the bio, despite him never using it in the show.
Out of Package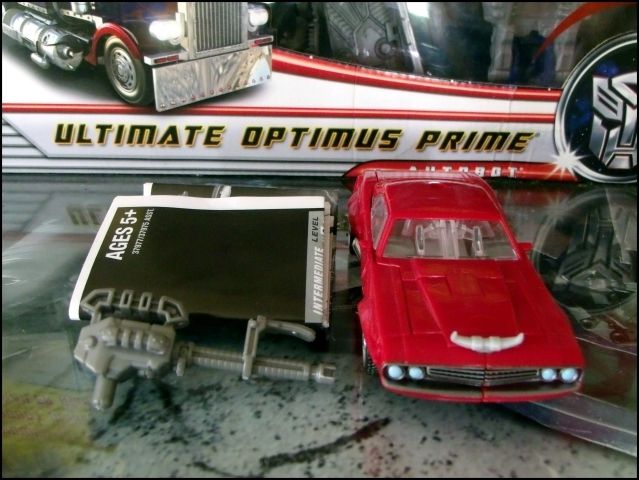 Out of package, showing the contents.
Alternate Mode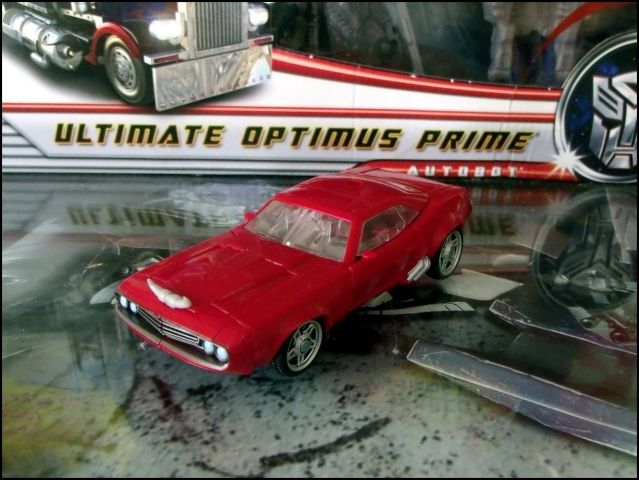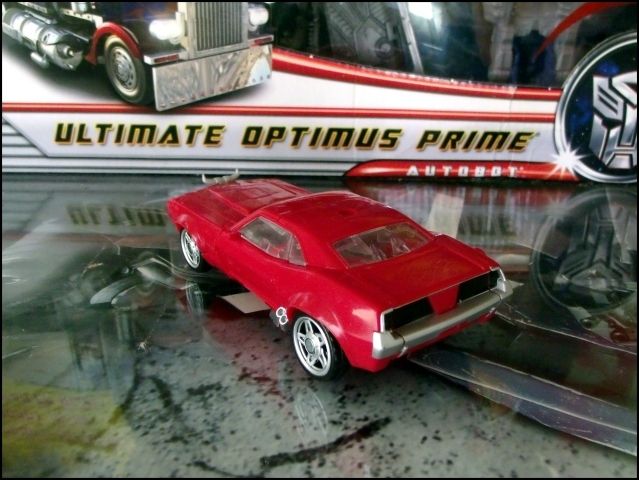 Front / side and Rear / side views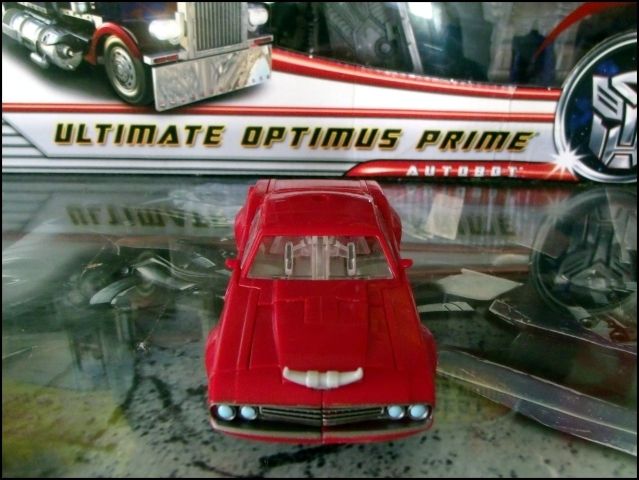 Front views, showing detail of grille and horns.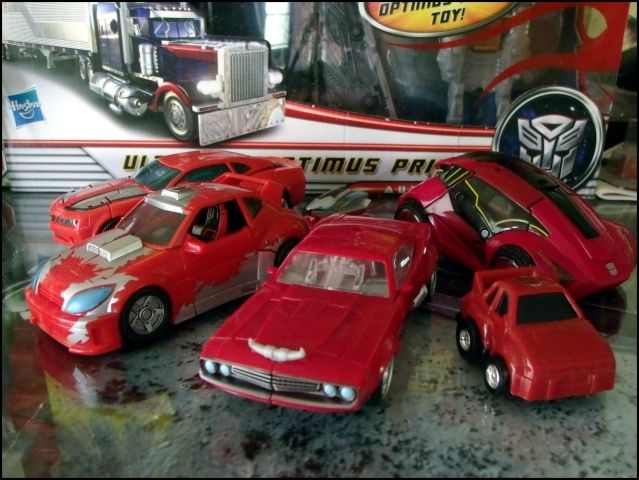 Comparison with other Cliffjumper toys (Movie, Classics, G1 and WfC)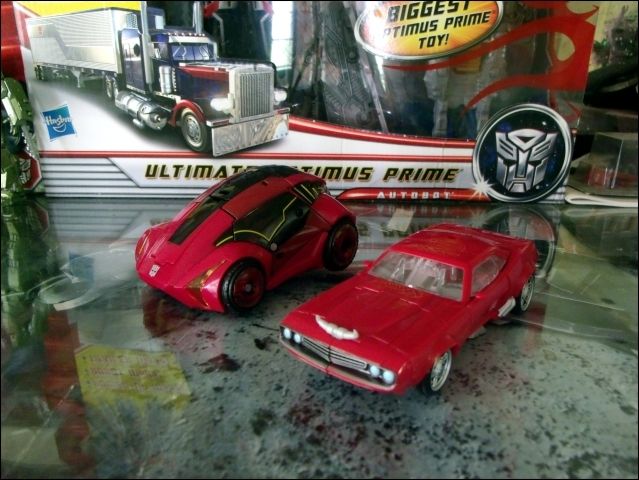 Comparison with his "previous" alt mode, WfC Cliffjumper
Cliffjumper's alternate mode is "a muscle car that crossbreeds the rear of a Plymouth Barracuda with the front of a Dodge Challenger (-TFWiki.net)". He's cast in a candy red, almost pinkish color, with gray plastic for the horns and internal workings, while the windows are clear plastic. The hood horns are done in soft rubbery plastic, most likely for safety reasons.

Compared to other Cliffjumpers in the same size class, Tf:Prime Cliffjumper is probably the smallest, taking into consideration overall size and mass.

Plastic used on toy is noticeably of lower quality compared to earlier Transformers toys, but that's pretty much normal already for TF's nowadays…

There's silver and blue paint detailing the car grille and bumpers, while the rims are painted silver and the taillights are painted black (apparently, he has smoked taillights…).

The car mode is solid enough, with no floppy bits. All four wheels touch the ground and roll nicely, though sometimes misalignment of the panels may interfere. Ground clearance is a tad low due to the visible robot feet, but not enough for the bits to scrape the ground / table / surface / what have you.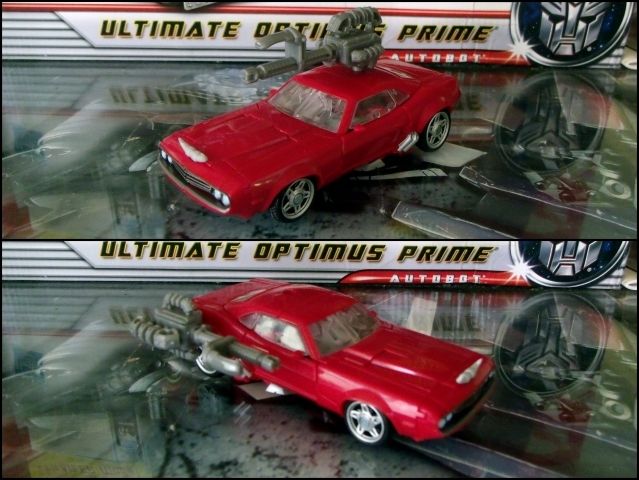 With Battle hammer accessory attached to either roof or side of car mode.
In car mode, Cliffjumpers Battle Hammer accessory can plug in either on a hole on the roof and on a port on the side, becoming some sort of gun, with the handle being the barrel. Not very subtle and it looks goofy at times, but I can live with it.

There are no c-clips here whatsoever, and unlike the Takara Arms Micron version, the car mode is smooth, since it doesn't have the molded minicon ports.
Transformation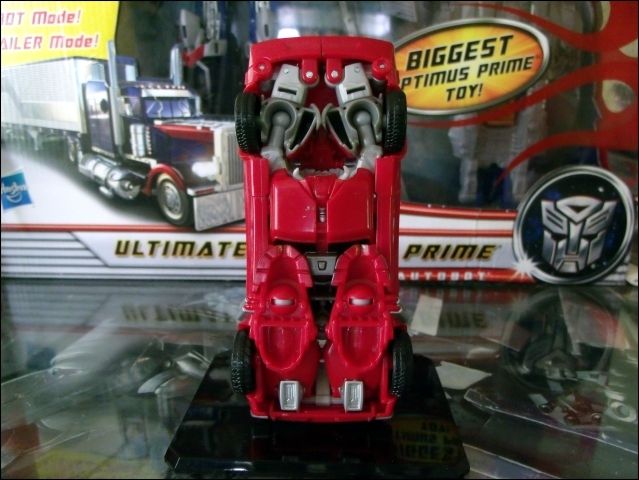 View of Cliffjumper's car mode underside.
Transformation scheme is simple yet engaging. The arms are formed from the front and sides of the car while the legs fold out from the back portion, with the hood, roof and trunk folding up on the robot's back. Going back to car mode entails some panel massaging to get the sides of the car to align, but otherwise is smooth and simple.

Due to the headlight portions of the car ending up in his arms and the roof on his back, Cliffjumper sports a fake car roof and headlights on his chest and torso.

As part of the Revealers sub-line, Cliffjumper has an nifty bit of automorph where pulling his arms down to his sides causes his head to be pushed up from his chest.
Robot Mode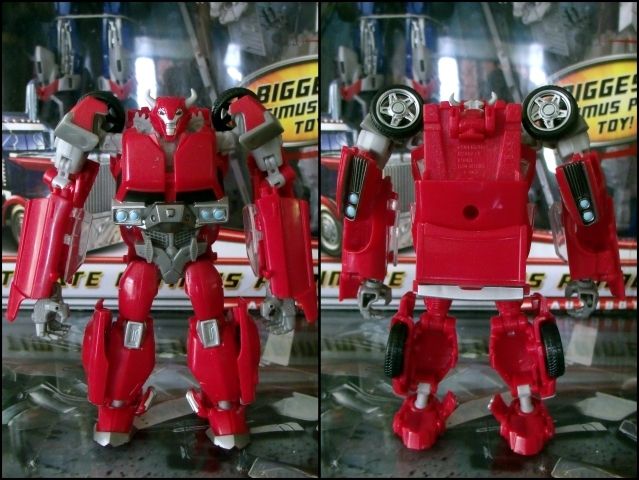 Robot mode, Front view (right) and Back view (Left)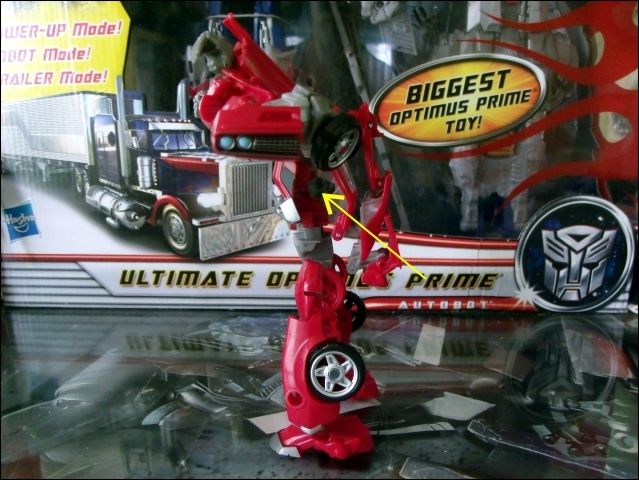 Side view, showing hollow torso.
Cliffjumper's robot mode, though relatively small, looks good and is screen accurate. His proportions are slightly off from the screen render, with the arms being longer than the legs. Mostly red and gray, the sculpt and detailing are good, with silver and red paint highlights.

While the robot mode is generally stable, I find that there are locking issues with his back panels (the roof and hood in car mode) as well as in his arms, which are formed from the folded car sides, as these pieces sometimes have a tendency to become unclipped during play.

Unlike the First Edition version of Cliffjumper, Tf:P RiD Cliffjumper sports an "angry" face, done up in silver, with cool blue light-piping. Just like the hood horns in car mode, the horns on his head are made of the same soft rubbery plastic.

A major issue with Cliffjumper is that a significant portion of his robot mode is hollow, such as his lower legs, forearms and his torso. If you look at him through certain angles, you can see right through him!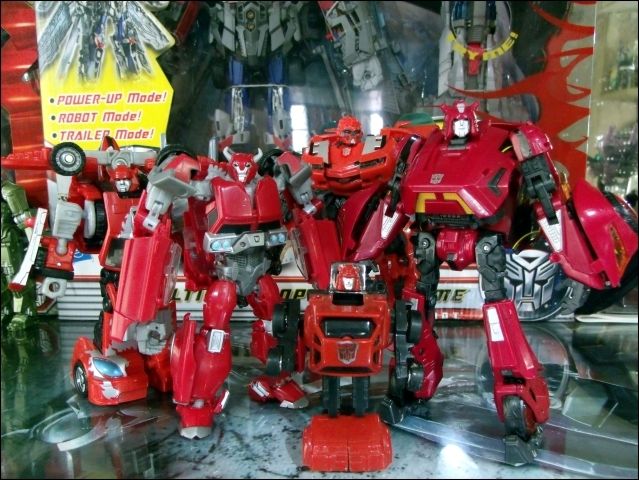 Comparison with other Cliffjumper toys (Movie, Classics, G1 and WfC)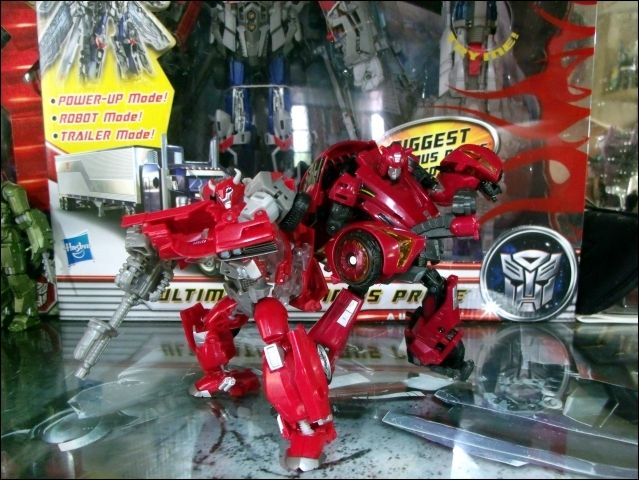 Comparison with his "previous" robot mode, WfC Cliffjumper, long range weapons deployed.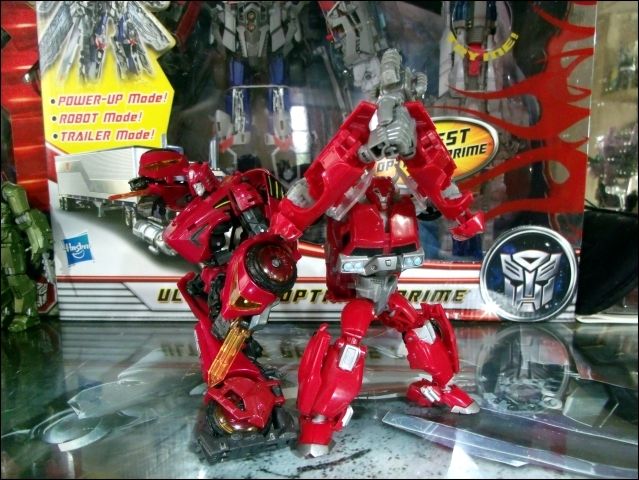 Comparison with his "previous" robot mode, WfC Cliffjumper, melee weapons deployed.
Cliffjumper is nicely articulated, with numerous joints to aid in posing. The arms are awkward at times, with the elbow and shoulder joints set at an angle, but once you get used to their range of motion, it's not much of problem. The legs are great, and the ankle joints, combined with his flat feet make him very stable.

Points of Articulation:


Neck: Ball-jointed neck, slightly obstructed by automorph gearing.

Shoulders: Ball joints, set at an angle, with swivel biceps. Double-hinged elbows, awkward ball-jointed wrist, due to how the hand connects to the arm.

Torso: Torso / Waist swivel slightly obstructed by backpack / car mode panels.

Legs: Ball-jointed hips, thigh swivels, 90° hinged knees, ball-jointed ankles.



Cliffjumper's accessory is something the bio calls a "battle hammer", which to some, looks like the Polarity Gauntlet on a stick.

The Battle Hammer is nicely detailed and looks good on Cliffjumper's hands, though it's more convincing as a melee weapon than as a gun. Thanks to Cliffjumper's articulation, he can wield the weapon as both.
Verdict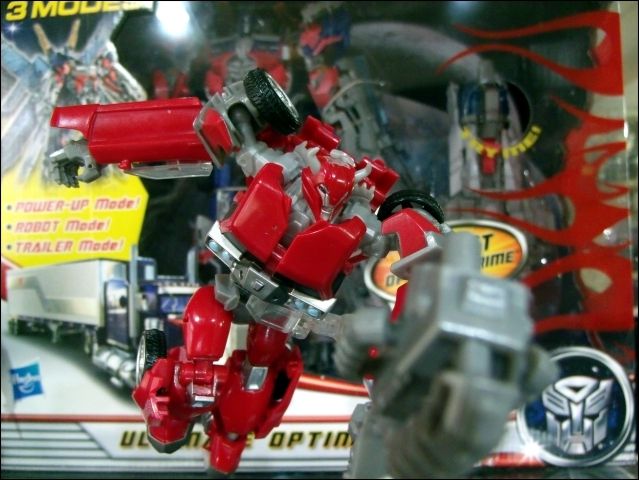 Transformers: Prime, Cliffjumper is quite the popular character, receiving quite a lot of figures for a character that appeared in less than one episode, and these are very good figures at that. While I'm going to stay away from comparing this toy to the earlier First Edition Cliffjumper (which I also have, although unopened…), I am going to say that this version of Cliffjumper is a very good Transformers action figure, and a decent representation of the character.
While the smaller size of the toy may be a turn-off for some, and despite some criticisms on the arm setup, I think P.RiD Cliffjumper is another solid entry in the Transformers: Prime toy lineup. If you ended up missing the First Edition version of the character, this version will do the job quite nicely.
Grade
and a half out of
Jya na!