Post by cybernaut on Oct 1, 2012 3:50:18 GMT 8
Notes:
- Credit is due to Cybertron Philippines where this review first appeared.
Transformers Prime : Robots in Disguise Voyager-class Thundertron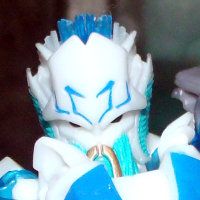 Thundertron
Allegiance: Star Seeker
Function: Tidal Wave Captain(?)
Bio
Ages ago, Thundertron swore that the creatures that caused the destruction of his world would pay for their crimes. Since then, he has wandered space in search of his revenge. His ship is primed, his crew is willing and at long last, Cybertron is in his sights.
Technical Data
Strength: 9
Intelligence: 8
Speed: 6
Endurance: 10
Rank: 9
Courage: 9
Firepower: 8
Skill: 7
Let's see…
Revenge-fuelled character, swearing vengeance on a yet-unnamed entity, travelling through a great expanse with a ship and crew?
Can anyone say "Ahab"?
Great tech spec numbers though.
Note: Thundertron is neither Autobot or Decepticon, but, as his faction sigil suggests, a Star Seeker.
In-Package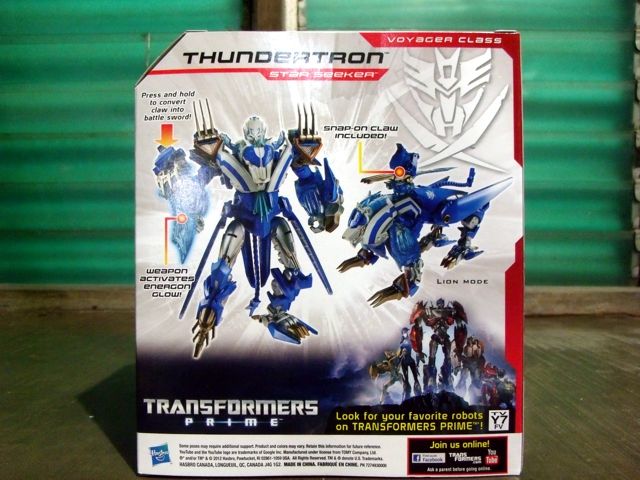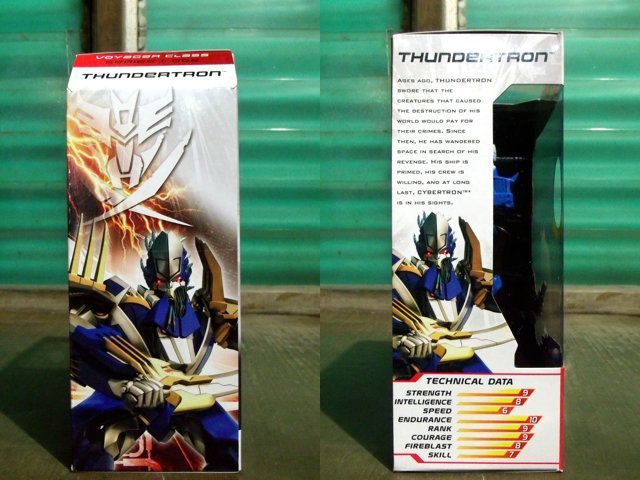 Thundertron, in package, showing front, back, left and right sides.
Out of Package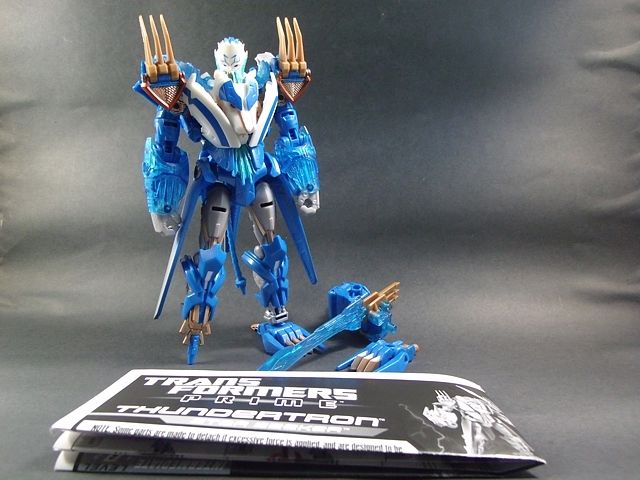 Out of package, showing the contents.
Thundertron comes with a Claw / Battle Sword accessory and an instruction manual, as well as a "Snap-On Claw" / removable foot.
Robot Mode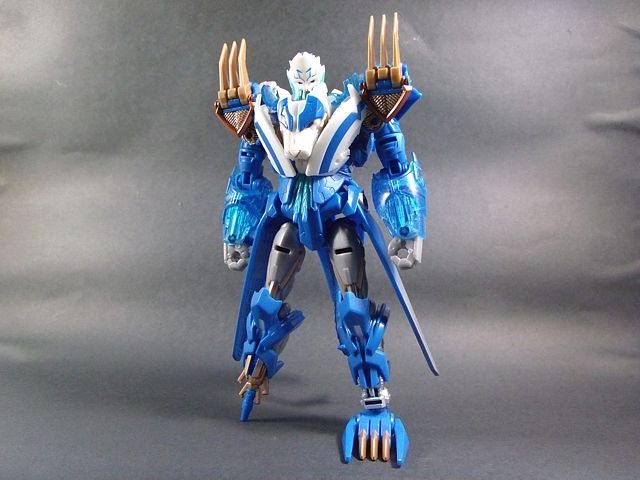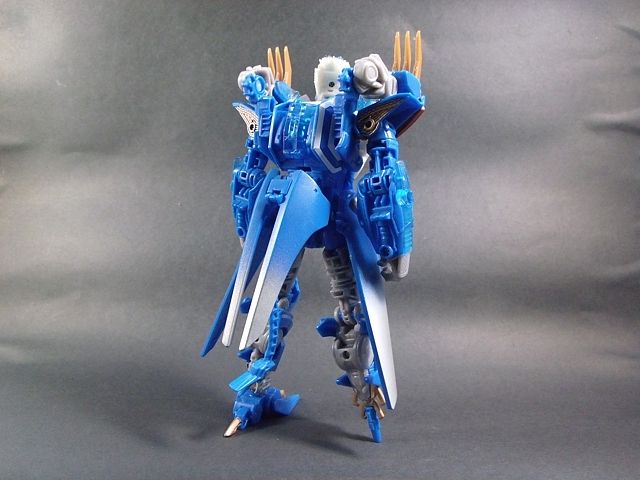 Thundertron, Robot mode, Front and back.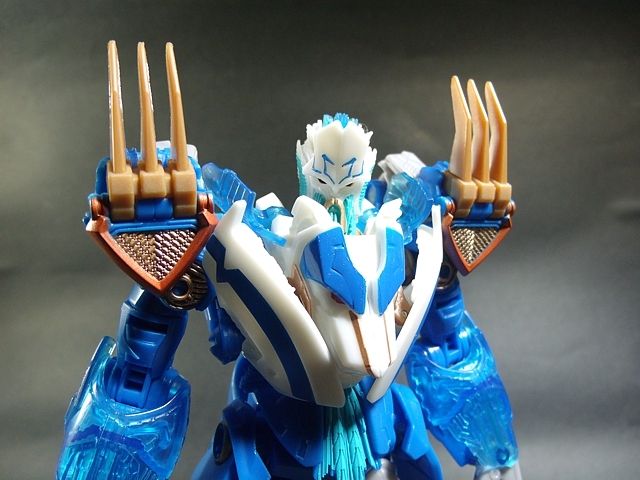 Thundertron, Robot mode, chest detail.
Thundertron is packaged in robot mode, so we'll start there. Note that while promo shots on the back of the box show him with only one foot, the actual toy comes with two feet (the "missing" foot is attached to his leg )
.

An as-of-late off-screen TF: Prime character, there aren't many visual references to of Thundertron, save the packaging art. His TFWiki article describes him as "'king-sized', blue and silver armor and brow plates and blue spiky protrusions on his head". The toy pretty much matches both sources except that, 1) he's not exactly "King-sized" (but still decent for a modern Voyager-class Tf toy..) and 2) the character art shows him with a more darker, royal blue color (which I would have preferred…) than the toy's sky blue.


Thundertron's has a very distinct and visually striking appearance, defined by visible beast elements (claws, tail, lion-head chest), his "aged"" appearance (one of the few TF's I know that has detailing synonymous to visible facial hair), and his peg leg. Yes folks, officially, Thundertron only has one foot, with a strut in place of his right foot. Arrr! Elements of his bot mode (shoulder decorations, forehead panel, as well as the hip / buttock plates) evoke a naval / pirate uniform, complete with epaulettes and flowing coat tails.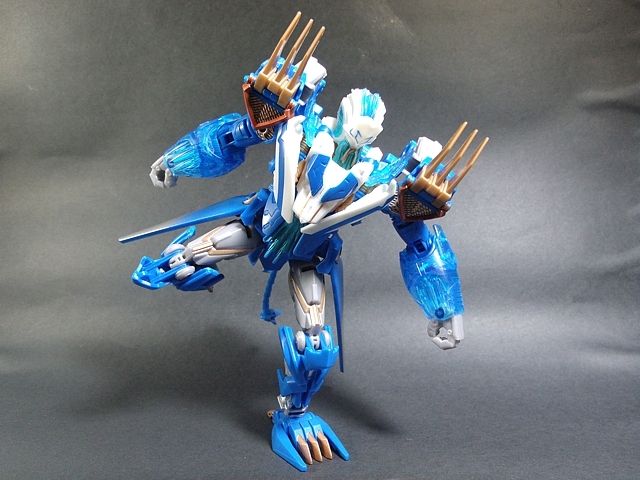 Thundertron, Robot mode, posed, peg – legged.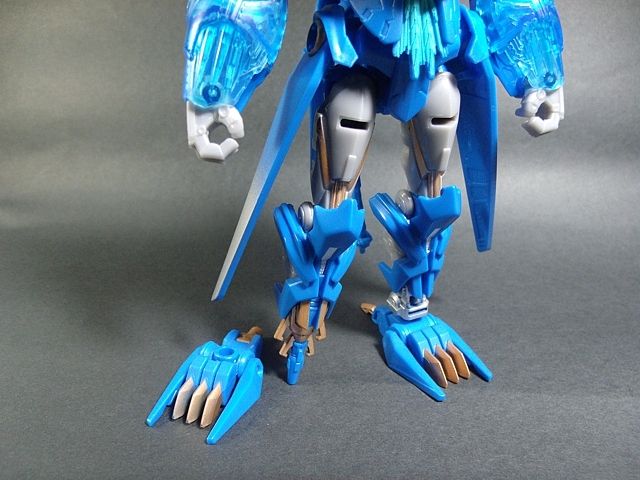 Thundertron, Robot mode, foot detail.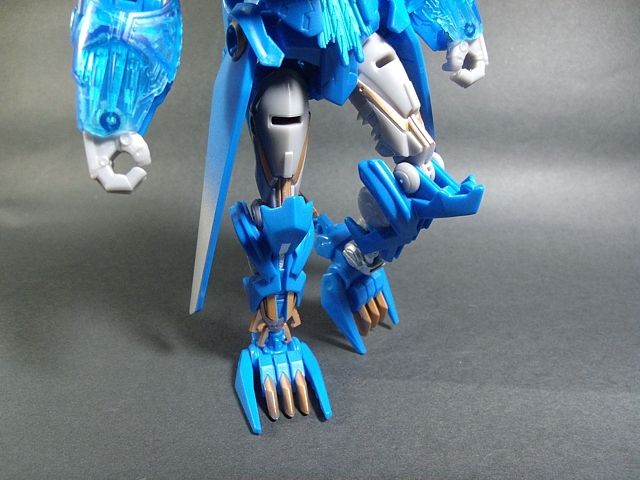 Thundertron, Robot mode, claw used as right foot.
Thundertron is molded in blue, white and gray plastic, while the claws, spikes and tail are made of softer plastics, most likely for safety reasons. There are also clear blue plastic bits on his arm, torso and head, but aside from the forearms, are not that visible. He's got good proportions and sports lots of sculpted armor and tech details. I wish Hasbro had used darker shades of plastic or panel lines to make the extensive details of sculpt pop up.


As far as paint goes, blue and white trim round out most of his detailing, as well as teal and gold highlights. The overall scheme is similar to TF: Cybertron Snarl, though the blue is lighter.


Toy-wise, the robot mode is solid, no hollowed-out parts and floppy bits. Almost everything locks in place while the accessories can be placed via 5mm pegs holes on Thundertron's fist, as well as his back and forearms. Thanks to the large footprint, Thundertron is stable in many poses whether the "Snap-on Claw" is attached to his foot or not, with the joints having just the right tension.


Articulation is decent, at par with modern standards, though sometimes the sculpting tends to hinder the movement of the joints, especially at the neck and shoulders. It's not a deal breaker and the toy is fun to pose, regardless. I'm just missing having ratcheting joints at the shoulders and thighs, since the're the ones supporting the toy in most poses. Size-wise, as noted earlier, Thundertron is decent, for a modern voyager, although he looks significantly downsized when placed alongside a same class toy from five years ago.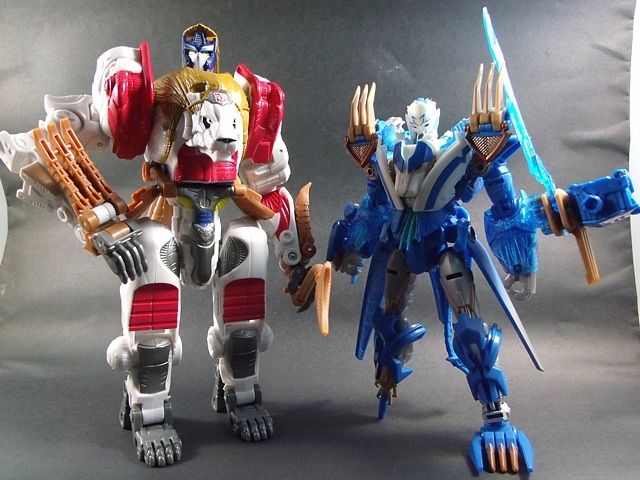 Thundertron, Robot mode, size-comparison, TFU Leo Prime
Points of Articulation:


Neck: Ball-jointed neck severely obstructed by facial details and cannot turn more than a few degrees side to side or tilt very far upwards.

Arms: Ball-joint shoulders, with swivel biceps, sometimes obstructed by shoulder armor. Soft-ratcheting elbows with a little over 90 degree bend; hands fold in at the wrist for transformation.

Torso: No torso or waist articulation. Side skirts are connected via ball-jointed pegs.

Legs: Ball-jointed hips obstructed by waist sculpt, thigh swivels, 90° hinged knees, ball-jointed left ankle, rocker joint on right ankle.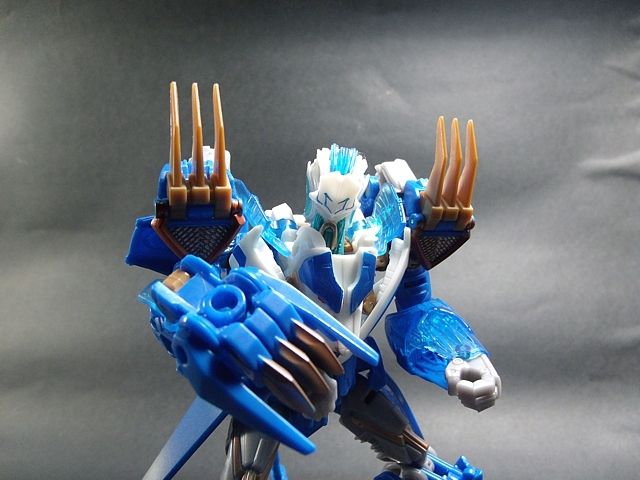 Thundertron, Robot mode, claw used as forearm-mounted melee weapon.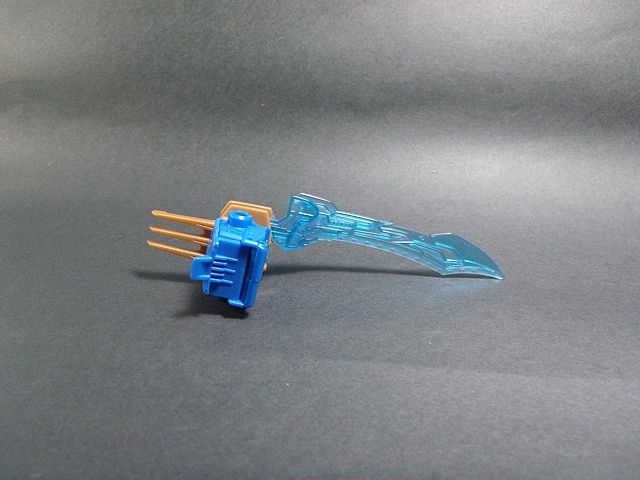 Thundertron, Claw / Battle Sword, default mode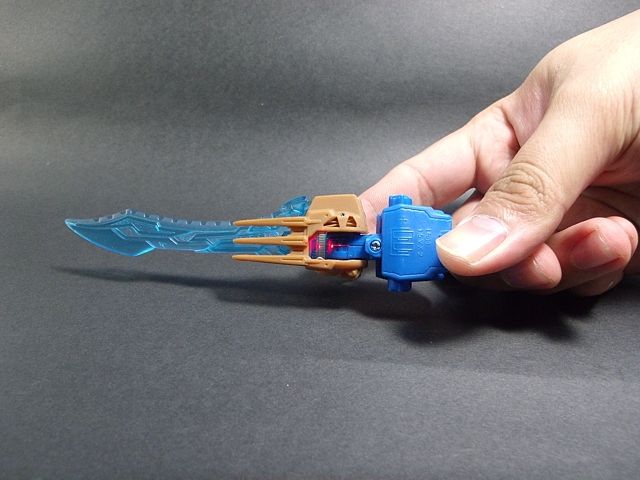 Thundertron, Claw / Battle Sword, deployed mode.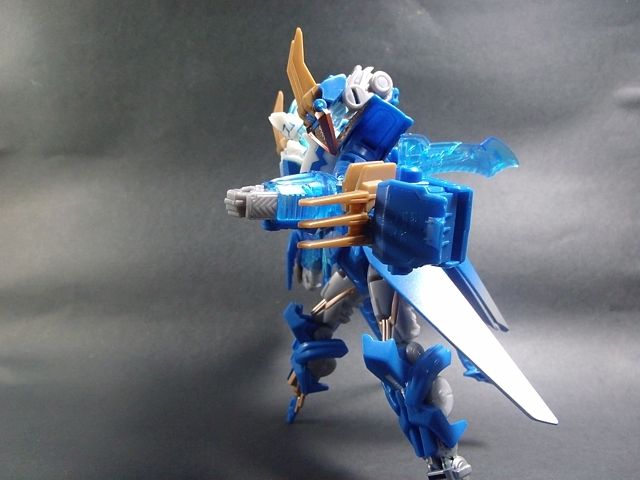 Thundertron, Claw / Battle Sword, default mode, mounted on left arm.
Thundertron, Claw / Battle Sword, deployed mode, mounted on left arm.
Thundertron's has two gimmicks:



Thundertron's "snap-on claw", which serves a dual purpose as his right foot, or attached to his forearm (which I prefer…) as a claw weapon.


Then there's the Claw / Battle Sword "Powerizer" accessory, standard to all Hasbro TF: Prime RiD Voyager- class toys. In this case, it's a translucent blue plastic (same as the forearms) "sword" attached via a mechanism to a claw with random plastic block (the battery compartment…). Engaging the mechanism flips the sword into a forward-facing position, while a red LED lights up, supposedly making the forearm and blade "glow with power".


IMHO, the "Powerizer" gimmick REALLY ruins this accessory. The translucent plastic blade is nicely sculpted and looks like some futuristic scimitar, but is ruined by the random blue kibble attached to it. Thanks to the non-locking mechanism, Thundertron can never hold the weapon properly (both the claw and the blade should face forward…) and the light-up function doesn't even reach past 1/4th of the blade.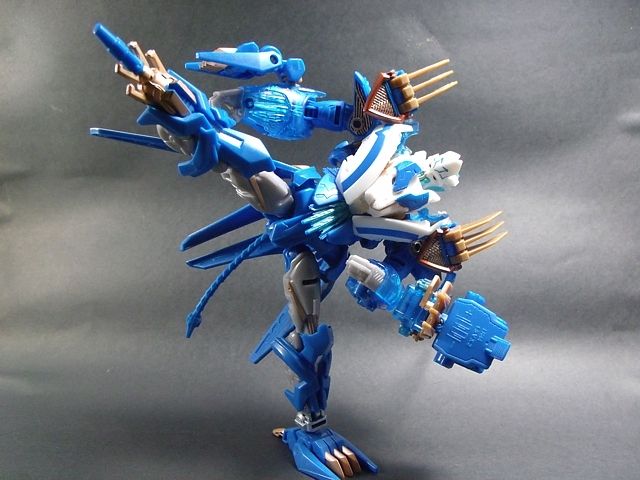 Thundertron, all weapons mounted. Kick Test™: Passed!
Transformation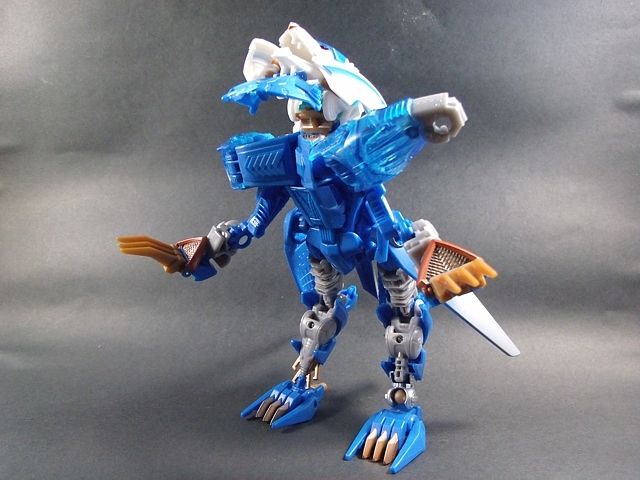 Thundertron, Mid-transformation shot.
Thundertron's transformation scheme is simple yet engaging. It's essentially, a "lie robot face down and rearrange limbs" setup typical to most quadruped / beast transformers with a few twists. Once you get the hang of how everything flows, it's actually easy.

The rear paws are basically the robot legs turned backwards (similar to BW2 LioConvoy), but the forepaws are NOT the robot arms (which end up in the beast chest…). The front paws are instead formed from the shoulder armor attached to struts (think TFA Waspinators extra arms) wrapping around and attaching to the forearms.
Alternate Mode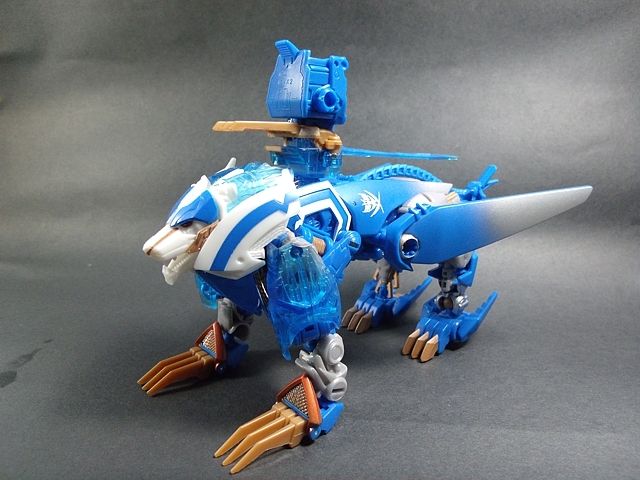 Thundertron, beast mode, front / side view.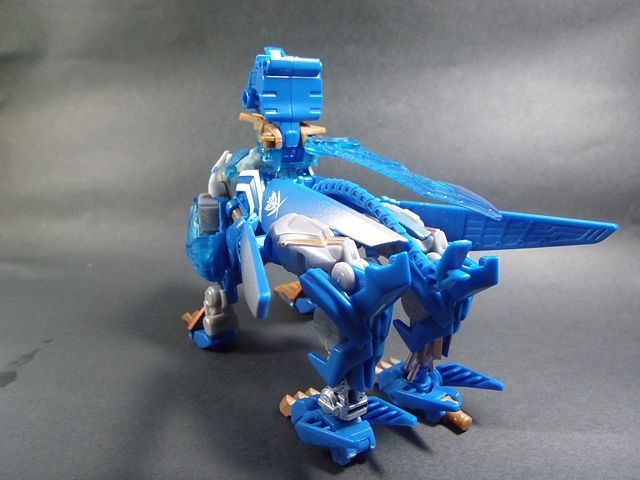 Thundertron, beast mode, rear / side view.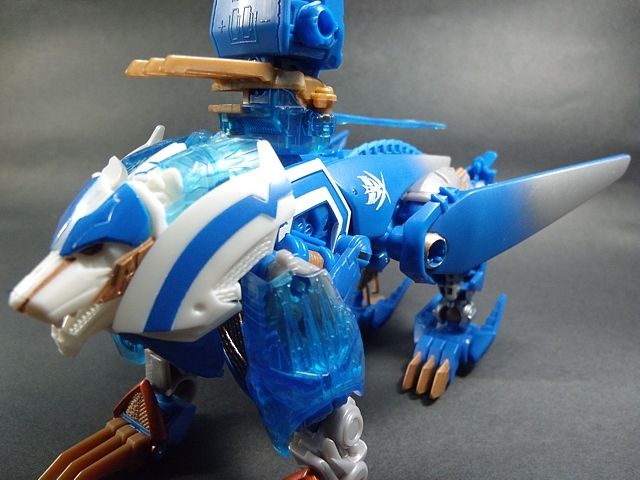 Thundertron, beast mode, detail.
Thundertron's alternate mode is robotic, blue and white lion. The overall aesthetic is, at first glance, very Zoids-like, specifically the Murasame Liger from Zoids Genesis, from the color scheme down to the single blade on the beast mode's back. In fact, I'm ALMOST convinced the reference was intentional…


Like the bot mode, Thundertron's beast mode is packed with great sculpted detail, washed out only by the sky blue and creamy white plastic. Everything locks in place nicely, and despite being relatively small in this mode, still manages to look dynamic and cool. A minor gripe is that in beast mode, the lion's mouth is molded partially open. A hinged jaw would have been a nice touch.


Main problem of the beast mode is that the articulation of the paws is very limited. Due to how the front paws are formed from the bot mode forearms, movement is limited to beast mode elbows and wrists. There is no shoulder articulation whatsoever, which makes more dynamic poses out of the question. The hind paws aren't that much better.


The Powerizer weapon attaches to the beast mode back and, via the same mechanism, results in an extending blade gimmick, reminiscent of pop-out blades common to Liger-type Zoids from the Zoids anime franchise.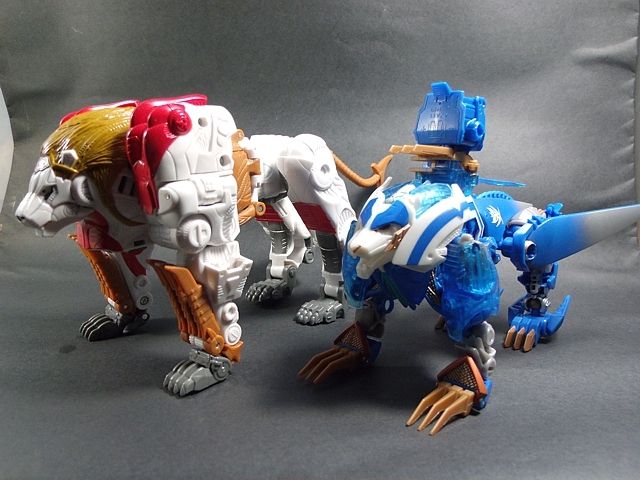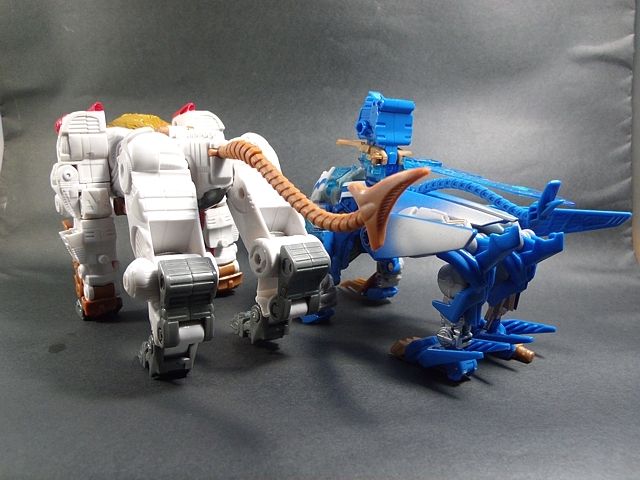 Thundertron, beast mode, size comparison, TFU Leo Prime.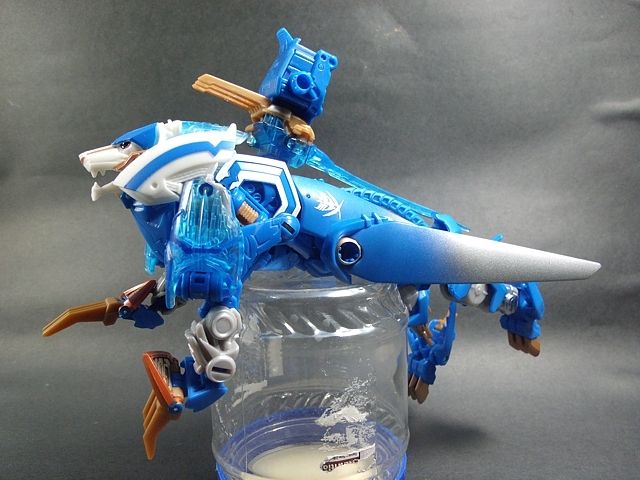 Thundertron, beast mode, posed, showing limit of articulation.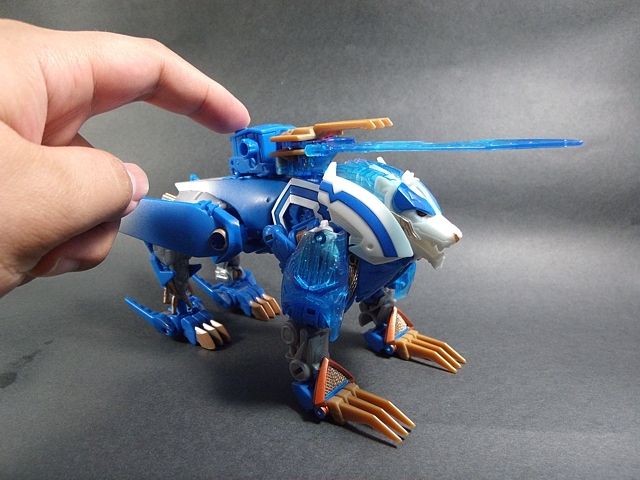 Thundertron, beast mode, Battle Sword deployed!
Verdict
Transformers: Prime Thundertron is a refreshing offering from Hasbro, a fresh new character, and a new mold. The design is very nice, with the beast-former concept very distinct amongst the vehicle-based forms of the TF Prime cast (Airrachnid doesn't count, and the Insecticons have yet to have toys…).
While not as high-profile as a character as his wave-mate Ultra Magnus, Thundertron deserves a second look, on the strength of the concept alone. While the execution ins't by any means perfect and the toy has few glaring flaws, Thundertron's positives make for a fun toy and a great addition any Transformers toy collection, TF: Prime or otherwise.
Grade
and a half out of
Jya na!