Post by fenrir72 on Feb 15, 2011 23:36:54 GMT 8
After nearly 20 years of searching.............Menasor is one!
I'll be doing a review of the gestalt only and not the individual 'cons that make him up.
Here's his high detailed artwork courtesy of Studio Ox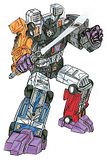 Menasorfunction:
Super warrior
Components:
Motormaster Kenworth tractor trailer
Deadend Porche
Wildrider Ferrari
Dragstrip F1 Race car
Breakdown Lamborghini Countach
1 Menasor mask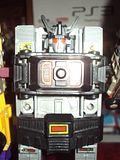 1 "roller car"/chest plate (Motormaster's poor mans version of Roller)
1 hip guard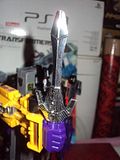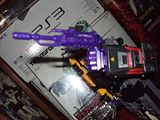 1 ionizing sword
1 cyclone gun
2 fists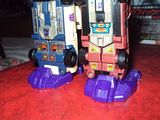 2 foot pads
Various angles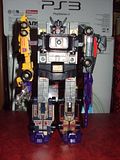 front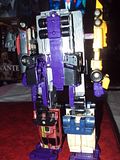 back
The Review:
Megatron's answer to the Autobots' supremacy of the road, the Stuntrons/Stunticons were a wild bunch of Sunday drivers. Armed with anti-gravity generators which allowed them to do incredible "stunts" and force field reinforced armor, they all but totaled the Autobots in
Key to Vector Sigma
and the
Pearl of Bahudin
episodes. Heck even Optimus and the gang "cosplayed" him in
Masquerade.
Screeching back to reality though, the detailed rendition of Studio Ox just barely reflects the figure's true appearance in toy form.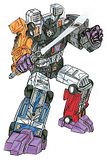 Motormaster makes up the main torso and head. A mask covers the head to create the Menasor persona. Connect the "Roller car" to the chest and the black hip guard we get.............nearly 90% of Menasor.
The other Stunticons makes up his arms and feet. But given the "scramble" gimmick of the figure, there are no permanent assignments for the cars. (Though nominally, Dragstrip makes up the R arm while Deadend the L arm while Wildrider and Breakdown does the legs)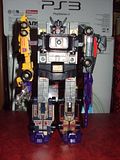 this is the Studio Ox formation
while this one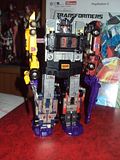 the toy catalog formation
Both of which are...................slaggin' unstable!
though the latter is more stable than the former. I tried the formation rendered in the gift set (courtesy of Botch the Crab)
which surprisingly was the most stable so go figure
Overall, the figure won't win awards with poseability, 'cause he is a literal brick! Detail wise, well he is very detailed, even for his time, the component cars' are easily recognizable from their real life counterparts (back then copyright wasn't probably that strict). It would have been better though if Takara used rubber tires instead of plastic (like Gobots' "Puzzler"). Now that would have made him awesome!
Rating:
In a scale of 1 out of 5, Objectively, I'd give him a 3.5. Why? Well, he is a literal box with arms and legs. Just that. Seeing how the japanese rendered him in a more humanoid form makes you wish it was better. But then again those were the 80's...........we weren't as demanding as we are now.
Fan mode wise, I'd give him a 4.9( arrgh! just the effort to find a complete and near mint Motormaster is enough to drive you nuts!)
Just wanting to share and hope you liked my review.